Setting up a dry cleaning and laundry services company is a huge task that takes time and effort. It requires buying expensive machinery, choosing the right location, getting the required permits and licenses, and marketing the business. In addition, business owners should consider the financial risks involved in operating a laundry and dry cleaning store and protect it from insurable losses if something goes wrong.
Moreover, customers expect dry cleaners to handle their apparel with care. A business where customers and employees can trust each other requires dedication and commitment. Thus, commercial insurance for laundry and dry cleaning stores is handy and protects against unfortunate incidents and third-party liabilities.
Risks and Liabilities
The business of a dry cleaning store is prone to numerous risks and liabilities, such as:
Instances of slip-and-fall accidents due to wet or uneven floors.
Fires can happen due to the gas dryers, excess lint, and chemicals used for the dry-cleaning process for clothes.
Employees can get physically hurt while working with the equipment or at the store.
Vandalism, theft, or other crimes may cause loss of money.
Loss or damage to business-owned property from covered hazards like lightning, hurricane, fire, riot, or theft.
Losses from equipment breakdown because of sudden and accidental malfunction.
Customers and visitors could get hurt at the shop from a fall and demand compensation. They can also file a lawsuit against the owner.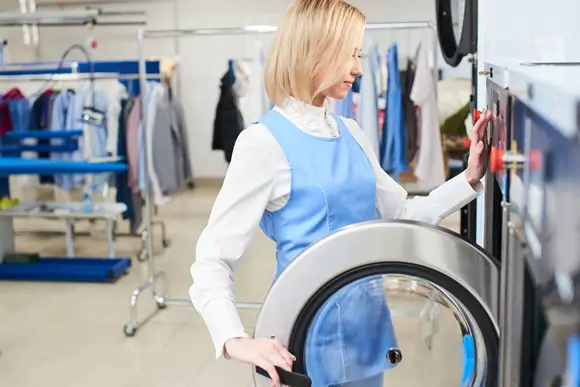 Coverages Included in Laundry Dry Cleaning Station Insurance
Laundry dry cleaning station insurance provides coverage against possible risks. Some of these coverages include the following:
General Liability Insurance (GL)
General Liability insurance protects the insured for third-party injuries or property damage caused by the business's operations. If a customer slips and falls at the laundry or dry cleaning station, GL can pay for damages resulting from medical care and economic loss suffered by the injured party when the insured is legally liable. General Liability will provide the insured with a legal defense when an injured party sues the business owner for the injury suffered.
This insurance can also provide coverage against personal injury- both libel and slander and advertising injury. Suppose the business owner accidentally uses a similar advertising idea of a competitor. General Liability insurance can provide a legal defense if you are sued for covered claims.
Some general liability policies include a Medical Payment provision with a lesser limit of $5,000 or $10,000. Medical Payment coverage is considered a "goodwill" coverage that the insurer may apply to pay for incidents of lesser severity. Legal liability is not required for medical payment coverage to apply.
Business Property Insurance
Also known as commercial property insurance, this insurance provides coverage for company-owned physical assets used to run the business. It helps protect old or rented equipment and the personal property of the company. The coverage can also include owned buildings, equipment, tools, appliances, furniture, inventory, computers, accounts receivable, and other valuable documents. These assets are covered under insurance in case of theft, fire, or damage due to natural disasters such as hurricanes.
Equipment Breakdown Coverage
The dry cleaning business relies on industrial washers, dryers, and machines. Hence, it's important to have equipment breakdown coverage that could provide coverage against the cost of repair and replacement of sudden and accidental breakdown of equipment. This can pay for losses when equipment breaks down due to covered internal forces such as power surges, mechanical breakdowns, and motor burnout.
Business Interruption Insurance
Also known as business income insurance, this provides coverage against lost income if the business shuts down temporarily due to a covered loss. It can help pay operating expenses like revenue, mortgage, rent and lease payments, loan payments, taxes, payroll, relocation costs, extra expenses, and training costs. This insurance could help the business get operational again after an unfortunate incident. These incidents can include a hurricane, fire, or riot.
Workers' Compensation Insurance
Businesses with more than one employee should opt for workers' compensation insurance. An employee could get hurt on the job as the dry cleaning business involves handling heavy machinery and other dangers. Workers' compensation insurance can pay for medical costs, partial lost wages, ongoing care, death benefits, and legal costs.
Employment practices liability insurance is a part of workers' compensation insurance and can provide coverage in case an employee sues the business owner for injury.
Commercial Auto Insurance
Laundry and dry cleaning businesses usually own or lease vehicles for picking up or delivery of cleaning orders. Commercial auto insurance can provide coverage against third-party property damage and bodily injury liability claims arising from the use of these vehicles for business purposes. This policy can also provide coverage for damage or loss to the company vehicle when one purchases comprehensive and collision physical damage coverage. The business owner can also include personal injury protection or no-fault coverage in No-Fault states and Uninsured Motorist Bodily Injury Liability coverage where applicable.
Cyber Liability Insurance
Laundry and dry cleaning businesses involve storing sensitive personal information of customers, such as credit card numbers, residential addresses, and social security numbers. The cyber world is exposed to data breaches and cyber-attacks. This can leak the personal data of clients to hackers, causing them harm. Cyber liability insurance can provide coverage in such incidents for both first and third parties.
Cost of Dry Cleaning Insurance
The cost of dry cleaning insurance depends on the following factors:
Business revenue
Company size
Number of employees
Location
Deductibles and policy limits
Type of policy purchased
Securing Your Dry Cleaning Business
Insurance for laundry and dry cleaning companies is an important aspect of the overall risk management strategy that is needed in this industry. The coverage can protect the business from financial losses due to potential accidents and other types of damage to the dry cleaning station or its vehicles.
Before buying an insurance policy, it's ideal to understand its terms and conditions along with the coverage limits. This can help you choose the right policy for your company's needs. Luckily, we at Insurance Advisor can help you find the right insurance for your needs. We offer commercial insurance for all business needs, comprehensive quotes, easy payment options, and helpful guides and business insights. Contact us today for a quote!
We Are a Trusted Service Provider