Built to Protect and Repair: Concrete Contractor Insurance
Concrete business operations include mixing, pouring, and casting concrete into foundations for residential and commercial buildings. Concrete business owners usually start by gaining skills in mixing and pouring concrete and understanding the processes and mixtures for concrete, depending on the material needed for the end use.
The owner decides which type of concrete construction business to start, either residential or commercial, foundations, driveways, sidewalks, road work, etc. These businesses may have to acquire necessary permits from the state and local authorities before establishing the business. Hence, a lot of effort and investment can go into setting up a concrete construction business.
Working in the concrete industry, the owner and their employees are exposed to potential dangers such as vehicle accidents, injuries from improper lifting, property damage, etc. To safeguard against such risks, a concrete contractor can purchase business insurance.
Loss Exposures for Concrete Businesses
A concrete construction business can be exposed to several risks and liabilities, such as the following:
Injuries to third parties resulting from work-related mishaps or accidents. For example, a person fractures their leg by accidentally falling at your job site by tripping over the electrical cord to your concrete mixer. In such cases, they may sue you for negligence and you may be liable to pay damages.
Injuries to third parties after a service has been rendered. For example, a customer tripping on a cracked cement staircase constructed by you and suffering a fracture in the hip. In this case, you may be liable to pay for their medical and legal expenses.
Property damages due to fire. For example, if a fire breaks out at your building and damages your building and equipment. Without property insurance, this creates a heavy financial impact on your business.
Automobile accidents create liability if your driver is at fault. For example, one of your cement trucks skids over ice and collides with another vehicle, injuring the driver. The other driver is injured because your truck came into their lane, your company will be responsible for the damages from bodily injury, property damage, pain/suffering, and economic losses.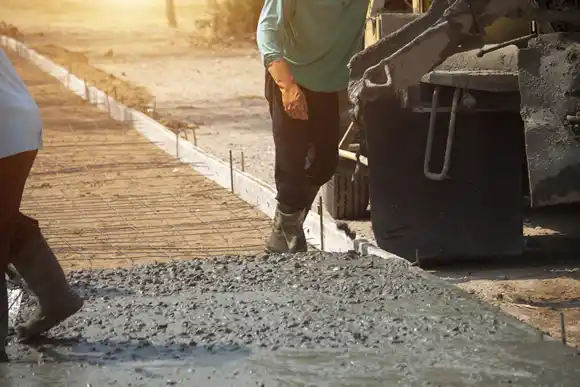 Tools and equipment damage from covered perils. For example, if expensive equipment were left by your staff at the job site, and they were destroyed in a windstorm. In this case, you may have to shell out money from your pocket to replace or repair those tools.
Injuries to workers due to workplace accidents. For example, one of your workers develops a severe back injury after lifting heavy equipment at the job site. Most state laws make a business responsible for the medical treatment for employees injured on the job. Other benefits will need to be paid, such as the employee's missed earnings, while the employee is noble to work.
In all these cases, having concrete contractor insurance can save you from paying hefty legal fees and other expenses in these situations.
Coverages included under Concrete Contractor Insurance
Concrete contractor insurance can provide coverage against many different types of losses, including the following:
General Liability
General Liability coverage can protect you from lawsuits filed by third parties who are injured or suffer property damage from your business's operations. If a visitor trips over an uneven floor, causing injury to themselves, general liability will respond to claims and lawsuits alleging your business's negligence for injury.
Accidents can burn a hole in the pocket of contractors. General liability insurance for concrete construction businesses steps in if a client's property gets damaged. It can pay for repair or replacement costs and defend your business if any party sues you over the damaged property.
You may accidentally copy a competitor's logo or slogan while advertising your concrete construction business. General liability insurance can also provide coverage against advertising injuries, including copyright infringement, libel, or slander.
General liability insurance can also provide coverage for completed work. Products and completed operations coverage is typically included with general liability insurance. This coverage applies once your product is sold or work is completed. If your product or work is directly responsible for third-party bodily injury or property damage, this coverage steps in.
Business Owner's Policy (BOP)
This bundles general liability insurance and commercial property insurance in one policy and can be cost-effective. The general liability portion of BOP can provide coverage against third-party bodily injury and property damage. It pays for damages awarded by a court for your business's negligence.
The commercial property insurance portion of a BOP provides coverage for business assets like damage to buildings, equipment, tools, and furniture. And fixtures from fire, burglary, wind, lightning, riot, vehicles, and vandalism.
Workers' Compensation Insurance
In the construction industry, workers often get hurt while performing physical labor. Workers' compensation insurance pays for the medical bills if a worker gets injured at work. It also pays for ongoing medical care, a percentage of lost wages, while the employee is recovering and unable to return to work. Most states mandate a small death benefit to dependents in case of a fatal injury.
Employer's liability insurance is typically included in workers' compensation insurance and can pay for defending the business if an employee sues for negligence involving their injury.
Commercial auto insurance
This insurance can provide coverage against third-party injuries and property damages caused by company-owned vehicles. Commercial auto insurance will defend the business against auto liability lawsuits, medical bills, and other expenses arising from an accident.
Contractors' tools and equipment insurance
This insurance can pay for the repair or replacement of the concrete contractor's tools and equipment if they are lost or damaged by a covered peril. Given that the concrete construction business involves regular and heavy usage of expensive equipment, the equipment could be damaged or stolen. Contractors' tools and equipment insurance can provide coverage for small tools, mobile equipment, and replacement cost on equipment less than five years old.
Professional liability insurance
This insurance is also known as errors and omissions insurance. This policy provides coverage if your business is sued for negligence in providing a professional service. It may not be needed for most concrete companies but those doing huge jobs may want to consider it. It does not pay for third-party injury or property damage; instead, it covers financial losses suffered by your client arising from your professional services. Perhaps a delay in the completion of your work caused a financial loss to your client by delaying a grand opening. This policy can offer defense for covered claims arising from your company's negligence in performing the service.
Cost of Concrete Contractor Insurance
The cost of concrete contractor insurance depends on the following factors:
Services offered
Payroll for workers employed
Business property and equipment values insured
Gross annual revenue
Type of insurance purchased
Policy limits and deductibles
Buy Concrete Contractor Insurance Today
Having concrete contractor insurance is a good option for most concrete contractors. Not only can it ensure financial protection, but it can also help you run your business smoothly. Concrete contractor insurance can cover a wide range of risks and can be customized to fit your business needs. If you are looking for an insurance provider, check out www.insuranceadvisor.com. At Insurance Advisor, we provide proper advice, comprehensive quotes, easy payment methods, and useful insights about commercial insurance that suits your preferences and business needs
We Are a Trusted Insurance Provider