Why you should get Insurance for Door and Window Installers
If you're a door and window installer, having insurance is crucial to protect your business from potential financial losses. Accidents and property damage can occur anytime, leaving you at an economic crossroads.
General liability coverage is an essential type of insurance for contracting companies, as most of the work occurs at clients' properties. Hence, if a customer or other third party suffers injuries because of your work or if the property is damaged due to an installation, your liability coverage can protect you from claims and lawsuits.
When purchasing insurance for your business, working with an experienced insurance agent who can assess your needs and risks is key. They can help you select the right policy for your business, freeing you to focus on more important things, such as increasing profits.
Important Coverages for Door and Window Installation Companies
Let's take a look at the different types of insurance available for door and window installers:
1. General Liability Insurance
Since the building installation business requires lots of work at client locations, general liability coverage can act as a safety net for business owners regarding certain risks and liabilities.
This type of insurance helps pay for costs such as injuries caused to a client during the installation process, damages to customer property, and advertising injury liability lawsuits stemming from claims of slander, libel, copyright infringement, and more.
Say your employee goes to a client's home to install some windows. While working, the employee's hand slips, and they knock over and break several expensive antiques on display. As the business owner, you'll be held responsible for paying for the damaged pieces, and if you have general liability insurance, it can kick in and help you settle the claim.
2. Inland Marine Insurance
As a door and window installer or building technician, you may often need to transport your tools and equipment to different job sites. Inland marine insurance can protect these tools from theft or other covered perils during transit.
For example, suppose you're transporting tools and equipment to a job site when your vehicle is involved in an accident. With inland marine insurance, you can file a claim to recover the cost of repairing or replacing your damaged tools and equipment, ensuring smooth business operations.
3. Worker's Compensation Insurance
It would be best to consider getting worker's compensation insurance to protect yourself and your business from the financial consequences of work-related injuries or occupational illnesses. This type of insurance can help protect your business from paying costly medical bills and lost wages when employees get hurt on the job.
For example, imagine one of your employees falls off a ladder while installing a window, resulting in a broken arm. Without worker's compensation insurance, you could be held liable for the cost of the employee's medical bills, rehabilitation, and lost wages.
4. Commercial Auto Insurance
Commercial auto insurance is vital if your business owns and uses vehicles. It can protect you and your business from the financial consequences of accidents or other incidents involving your company vehicles.
For example, imagine you're on your way to a job site with a van full of windows and doors, and you crash into another vehicle in front of you. If you have personal auto insurance, you may not be fully covered for the damage done to your company van or the other driver's injuries and damaged car.
On the other hand, if you have commercial auto insurance, collision coverage will help cover the costs of repairing your vehicle. The auto liability coverage will respond to liability claims for injuries to third parties and property damage to third-party property when your driver was negligent.
State-required auto insurance coverages are available on commercial auto insurance policies as they are for personal auto policies.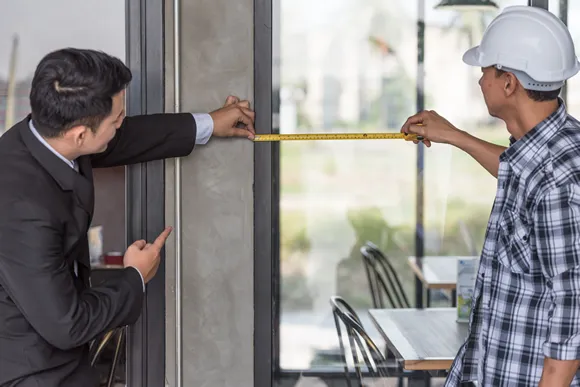 Benefits of Having Insurance for Door and Window Installers
Here's how insuring your door and window installation business can help:
1. Protection Against Unforeseen Events: Insurance can help protect you against unforeseen events damaging your business assets. These include thefts, fires, vandalism, lightning, and weather conditions like windstorms.
2. Professional Credibility: Insurance can help improve your professional credibility as it shows your commitment and sense of responsibility towards your company and clients. Plus, some customers prefer to work with insured companies to ensure risks and liabilities will be taken care of.
3. Financial Protection: Insurance for door and window installers helps protect the business and its employees by supporting property repairs, replacements, and medical expenses. Various policies also ensure the company can continue operating effectively and providing quality service to its clients even after an accident.
The Bottom Line
As a door and window installer, having insurance can provide you with numerous benefits, such as protection against third-party liabilities and property losses and boosting your professional credibility.
Choosing the right insurance coverage that suits your business needs is essential, and if you need help, Insurance Advisor can assist you with its team of credible and licensed agents. Their website offers various resources that can help ensure the proper protection of your business with verified small business insurance options.
Please don't wait until it's too late. If you are a door or window installer, invest in commercial insurance for your business today.
We Are a Trusted Insurance Provider