A Quick Guide to Business Insurance for Painters
Commercial painters are always in demand, and business operational costs are generally low; however, working in this industry still comes with certain risks. If you operate a painting business, it's good to understand the risks and liabilities involved and how they can affect your company financially.
Here's an example of potential liability: say your crew is painting a customer's office, and during this process, some paint accidentally falls onto expensive art pieces. The client will likely expect you to repair or replace the artwork since your employees caused the damage. Sound expensive? These costs can be! Without the right insurance for your business, such claims could become lawsuits, and paying these expenses could take a toll on your profitability.
Let's look at the benefits of purchasing business insurance for painters and how to choose the proper coverage.
Potential Risks in Commercial Painting
Workers spend most of their time at client properties in the commercial painting business. They must also transport supplies, equipment, and staff to various locations. Here are some examples of how accidents can occur during these processes and put commercial painting services at risk:
1. During one of the projects, your staff leaves a bucket of paint unattended. The client's dog and toddler start playing with it, and they and their surroundings are soon covered in paint. Commercial-grade paint is usually hard to remove, which could lead to the client suing for damages.
2. An employee falls off a ladder while painting a wall and injures his hip. He needs to be rushed to the hospital for urgent surgery. In this case, you, as the employer, are responsible for footing the medical bills and lost wages.
3. A walk-in customer visits your office to discuss a potential project. He slips and falls while walking around the premises and sued you for damages.
4. A fire in your office damages your laptops, appliances, and furniture, thus disrupting operations.
5. En route to a job site, the company van meets with an accident, and your driver is liable for the accident by running a red light. Your business owns the vehicle, and your employee was driving. The company will be responsible for bodily injuries and property damage to others involved in this accident.
Each of these scenarios can result in significant financial expenses for a company, but these costs can be covered by timely investment in business insurance for painters.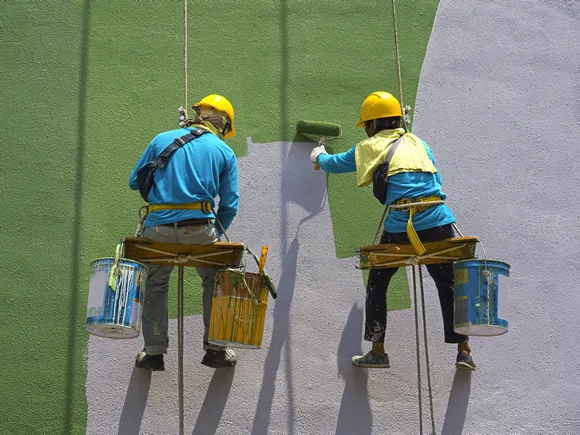 Types of Business Insurance for Painters
Painting insurance includes various coverages that can help protect against common risks and liabilities in the industry.
1. General Liability Insurance
This is one of the most needed types of commercial insurance and helps protect businesses from expensive third-party lawsuits. Here's what general liability insurance (GLI) usually covers:
1. Bodily Injury: If a client hurts themselves in your office space or at the painting site, the damages from medical/hospitalization bills may be covered.
2. Property Damage: These costs may be covered if you or your workers accidentally damage the client's property during the painting process.
3. Personal and Advertising Injuries: Claims such as libel, slander, and copyright infringement can be presented by your competitors. For instance, advertising injury coverage can help pay for legal costs.
2. Contractor's Tools and Equipment Insurance
Commercial painting businesses regularly travel to client locations for work, where contractors' tools and equipment insurance, a type of Inland Marine coverage, is useful. If your tools or equipment get damaged or misplaced while outside company premises. This insurance can help pay for repairs or replacements for mobile equipment.
Tools and equipment insurance is highly recommended, especially because painters take their equipment wherever they go. The coverage is generally valid for equipment that is less than five years old, and damage from lack of maintenance or general wear and tear is excluded.
3. Commercial Property Insurance
This type of painting insurance protects your business's owned assets. For instance, if your office is vandalized and laptops, furniture, and inventory are damaged, commercial property insurance can help cover the repair or replacement cost.
This type of insurance is also applicable in case of fires, theft, and specific weather events such as tornados, lightning, and hurricanes. For catastrophic losses to your building, include business income and extra expense coverage that helps your operations get back on track and minimize income loss.
4. Commercial Auto Insurance
Commercial painting businesses must transport their equipment and crew to both residential and commercial properties for work, and auto accidents are possible. That's why most painting businesses own business vehicles that should be insured with commercial auto insurance.
While employees are covered primarily under worker's compensation insurance for injuries, any third-party damages caused by company vehicles in at-fault accidents would be your responsibility as the business owner. With commercial auto insurance, you will gain coverage against the following:
Third-party bodily injuries
Property damage to the other vehicle or property if your driver is at fault
Comprehensive and collision damage to your vehicles
Uninsured or underinsured motorist coverage
Optional Hired and Non-Owned Auto Liability
Optional towing and rental reimbursement coverage
5. Worker's Compensation Insurance
This is an essential type of business insurance required in many states, depending on the number of staff employed. Plus, with your painting crew using scaffolds or ladders to do their job, the potential for injuries is high. Worker's compensation insurance covers employees who are hurt or become ill with an occupationally related-disease.
This type of insurance can cover the costs of medical and hospitalization expenses, a percentage of the injured/sick worker's lost wages, employer liability, and death benefits, if applicable.
Takeaways
Commercial painting companies and their crews spend much time on other people's properties. Hence, this line of work comes with high exposure to losses caused by third-party property damages, bodily injuries, and employee injuries.
As a business owner, investing in business insurance is advisable to safeguard your company's future. The best approach is to partner with an established insurance agency that understands commercial painting businesses' challenges and potential risks.
Insurance Advisor provides various commercial insurance options with helpful tips and guides to help you find the right policy to secure your business. Visit our website today and learn more about painting insurance and how to get the proper coverage.
We Are a Trusted Insurance Provider