Managing home or commercial remodeling projects requires multi-tasking, construction knowledge, experience, and time management skills. As a renovation contractor, you will face exposures on a daily basis that could lead to losses on your company's balance sheet. Accidents, physical injuries, and property damage are always possible. Getting renovation and remodeling contractor insurance helps companies in this industry manage the costs of such losses.
Why Renovation and Remodeling Contractor Insurance is Key
Construction work is laborious; workers must use power tools such as pneumatic nail guns, power saws, and generators. Ladders or scaffolds also create hazards at a job site. This increases the probability of physical injuries occurring on the job and can lead to employee injuries or third-party claims.
Since remodeling work is carried out at client locations and the contractor has to transport tools, equipment, and workers to the work site. This increases the risk of equipment damage, auto damage, and physical injuries due to the possibility of collisions.
Also, the risk of damaging a client's property while renovating their home is high. Doing damage to a client's belongings can lead to claims for repair or replacement expenses. These risks can be minimized with the help of home renovation insurance coverage.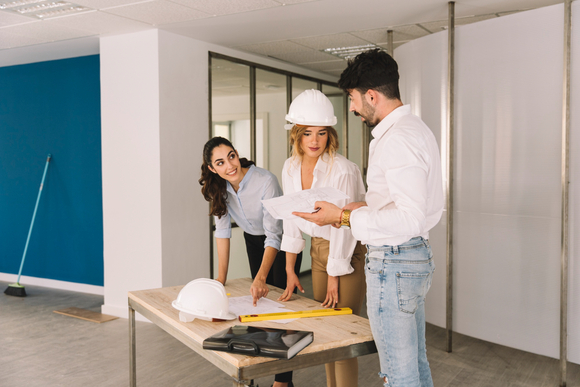 Coverage for Renovation and Remodeling Contractors
Here is a list of insurance policies that can help home renovation contractors get sufficient coverage.
1. General Liability Insurance
This insurance can cover the costs of third-party bodily injury and property damage claims. Liability insurance will cover the expenses of investigating third-party claims and paying the damages when the contractor is liable.
Covers third-party physical injuries caused by your company or its employees. This includes bodily injuries caused to customers or others at the job site from employee actions.
It may cover advertising injuries caused while marketing your business like copyright infringement.
It can cover damages caused to third-party property, such as damage caused to a client's flooring or furniture while remodeling their home.
2. Worker's Compensation Insurance
If you have employees working for the business, the possibility of them getting injured on the job is high. As a business owner, you should be prepared for such a situation.
A worker's compensation insurance policy covers various costs related to employee on-the-job injuries and occupational disease caused by work conditions. To be more specific, a worker's compensation policy helps cover the costs of:
Medical expenses of treating employee work-related injuries, such as if a worker accidentally amputates a finger while using a saw on a job
Wages lost while the employee is recovering from a work-related injury or illness
Retraining expenses for a new job in case an employee becomes disabled due to work and can't perform the same job.
Rehabilitation and replacement services if unable to care for self.
Death benefits in case of a fatal job-related accident or occupational disease.
3. Professional Liability Insurance
Professional liability insurance can be of great help in industries that require special skills and knowledge, such as home renovation. This insurance can help cover expenses and losses related to errors, omissions, and negligence in the services provided if you cause your client to suffer a financial loss. This policy does not cover physical injuries or property damage claims which are covered by general liability. To sum it up, a professional liability policy helps cover:
The financial loss of customers caused by your negligence. For instance, not finishing a remodeling job on time when working on a business. The business may lose revenue if it cannot open due to the delay in completion.
Legal expenses for lawsuits filed for financial loss caused by professional mistakes or negligence.
4. Commercial Auto Insurance
Renovation and home remodeling businesses may need vehicles to transport equipment and material to client locations. In most states, it's mandatory to have commercial auto insurance for all vehicles.
Auto liability pays for third-party property damage resulting from an at-fault accident.
Third-party bodily injury when negligent for the accident.
Business auto coverage includes state-required coverage such as Personal Injury Protection, No-Fault, and Uninsured Motorists coverage.
It may also cover repair costs for damage to your company vehicle due to fire, theft, vandalism, collisions, and certain weather events if you carry comprehensive and collision coverage.
5. Contractor's Tools and Equipment Insurance
As a contractor, you're likely always transporting your equipment from your place of business to the client's location. A contractor's tools and equipment inland marine policy can help cover the costs of repairing or replacing your tools when away from your location. This policy:
Repairs or replaces equipment damaged or lost by a covered peril
Covers equipment while transported or at a job site
Insures power tools such as drills, nail guns, jackhammers, and jigsaws
Will also cover heavy machinery such as excavators and backhoes
How Much Does Renovation and Remodeling Contractor Insurance Cost?
The cost of coverage for renovation and home remodeling businesses depends on various factors:
Revenue
Location of the company
Payroll
Value of equipment and tools
Number of commercial vehicles insured
Insurance coverage selected
Insurance Tips for Renovation and Remodeling Contractors
Selecting the right insurance policies is key to maximizing your coverage benefits. Here are things to think about when deciding to purchase insurance:
1. Consider Your Business Risks
List the various risks you face in your renovation and home remodeling business. Select insurance policies that can protect your business from the cost of the most common risks.
2. Talk to an Insurance Agent
The guidance of a reputed insurance agency, Insurance Advisor, can easily assist you. If you are confused about what policies cover what, talk to a licensed agent and to discuss your business's needs. They can easily help you buy the appropriate coverage.
Buy Commercial Insurance Today
It's important to protect your company from risks and the unexpected expenses they bring with them. Getting renovation and remodeling contractor insurance can help protect you against the costs of many common occurrences, and you can focus more on the growth and expansion of your company.
At Insurance Advisor, we provide various insurance policies for your business needs. If you are confused about what policies to select, we have a team of licensed insurance agents ready to help you. You can also explore more resources on our website to get business insights, helpful tips, and guides.
We Are a Trusted Insurance Provider