Financial advisors and investment planners running their practices are vulnerable to several risks. This is due to the unique nature and accompanying hazards of the profession. Despite their best efforts to optimize market opportunities, market conditions are unpredictable. The financial markets experience ups and downs, as the value of client investments can also go up and down.
Financial advisors use several tools to predict market trends based on the day they offer advice. Yet, the chances of committing errors can be high. Hence, a client can even consider suing them for inaccurate advice or omission of advice not-offered, resulting in a financial loss to the client.
The situation may force a financial advisor to spend heavily on legal fees. They may also need to hire a public relations consultant to control the damage to their image.
This blog covers the spectrum of risks and the business insurance options available to help financial advisors and financial planners build a thriving practice.
Potential liabilities
Financial advisors and investment planner enterprises are impacted by several scenarios that put their businesses at risk, which are as follows:
One of the most significant risks is that clients may not consider the advisor's performance up to the mark. If the client experiences financial losses, they may sue the financial advisor because of negligence or errors committed. Such cases can result in significant financial expenditures to the investment consultant.
Clients tend to visit financial advisors at their offices. There is a potential for an accident to occur where the client experiences an injury. They may decide to bring a lawsuit against the company for damages. These types of cases seem to happen in the US regularly.
Financial data is susceptible, and there is a growing risk of cyber-attacks worldwide. Thus, financial advisors need to be prepared for such attacks.
There is also the risk of employees being injured while on the job or maybe even a fatality. Having insurance to protect from such tragic outcomes is, therefore, necessary.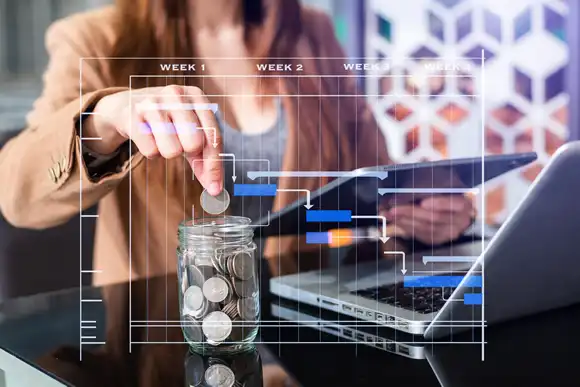 Hence, adequate commercial insurance can protect firms from these potential risks.
Types of Insurance
A financial advisor or investment planner running their firm must know the various insurance categories relevant to them. Here is a snapshot of the top insurance categories relevant for financial advisors:
1. General Liability Insurance
This common commercial insurance category supports business activities in an owned or rented office or even a temporarily leased space such as a co-working space. In such a setting, accidents are always possible, which can result in injuries to clients and other third parties who frequent the location.
Such incidents can result in lawsuits that can significantly cost financial advisors and investment planners. General liability insurance covers damage to third-party property, bodily injury, personal injury, advertising injury, medical expenses, and defense costs. General liability covers the actions of full-time employees, temporary staff, and volunteers performing work within their scope of duties.
Collectively, these expenses can amount to a significant figure, and general liability insurance protects the business from bankruptcy on account of such expenses.
2. Errors and Omissions (E&O) Insurance
The stakes in a profession such as financial and investment advisory are pretty high, and Errors and Omissions insurance also called Professional Liability, is necessary. Financial Advisors play a significant role in helping individuals and institutions grow wealth. Their decisions affect the fate of both personal lives and businesses. Hence decision-making plays a vital role in their business. However, despite having access to information, tools, and resources, they sometimes make the wrong decision even though decisions are based on integrity and judgment.
The wrong judgment call can cause clients to lose millions of dollars. There is also significant scope for miscalculation due to minor errors. For instance, a missing zero or an extra one can be devastating in terms of financial counseling. This is where Error & Omissions (E&O) Insurance can protect financial advisors against lawsuits that crop up when clients incur financial losses.
Taking on timely E&O insurance can support financial advisors with defense costs, legal fees, investigation expenses, and other charges incurred during lawsuits.
3. Workers' Compensation Insurance
Financial Advisors and investment planners may hire full-time or part-time staff such as accountants, administrators, assistants, and teams of financial advisors. Along with staff comes the need to invest in Workers' Compensation insurance. This policy covers the medical bills for any employee who may be physically injured at work. If the employee can't work because of the injury, this coverage also pays a portion of wage loss for the disabled worker. State-mandated death benefits for the employee's next of kin are also included.
4. Cyber Insurance
Financial data is susceptible to exposure due to the growing incidence of cyber attacks. Financial advisors and planners leverage a wide range of technology tools and digital software for their job and to store clients' financial data. Cyber insurance is an investment in protecting the firm from the exposures caused by cases of phishing and ransomware attacks. This insurance covers critical expenditures. The cyber insurer will provide legal defense to the insured facing cyber liability claims. Other covered costs include expenses for client notification, credit monitoring, forensic research, PCI fines, and regulatory penalties.
In conclusion
Today, financial investment and planning advisors are purchasing the necessary commercial insurance. No matter how much experience, credibility, or success they have had in the past, there is potential for adverse outcomes in the future. Small business insurance is even more critical as the business grows and scales. This is a step towards ensuring the sustainability and profitability of the company in the future.
Financial planners and investment advisors should consider partnering with an insurance agency like InsuranceAdvisor.com to identify comprehensive insurance coverage for their businesses based on the size and risk factors faced.
We Are a Trusted Insurance Provider