What Is Bakery Insurance?
Bakery Business Insurance promotes both commercial and home bakeries. It protects these businesses against financial loss from on-site incidents, employees injured during working hours, and other situations and ensures the smooth running of business operations.
Each bakery business is unique and ranges from the mass-produced offerings of large brands to the handcrafted products of mom-and-pop bakers. While the bakery café market has scaled USD 12 billion in 2022, the baked goods market is expected to grow by USD 165.49 billion from 2020 to 2025 at a Compound Annual Growth Rate (CAGR) momentum of 6.12 percent. (Source) Their diversity notwithstanding, all bakeries do have a point of confluence in how they define and mitigate their risks. Just one claim could wipe out thousands of dollars and damage the goodwill your bakery business has gained, which usually takes significant amounts of time and money to build and maintain.
You can select and tweak policies keeping in mind the unique needs of your baked goods insurance.
Type of insurance policies:
General liability insurance
Commercial property insurance
Business owner policy
Commercial auto insurance
Workers' compensation policy
Let us examine why getting bakery insurance in the form of the above policies is the right choice for you.
Why Do You Need Bakery Insurance?
While juggling all the tasks at hand, it is easy to miss out on the need for insurance coverage. A bakery business comes with its own set of challenges, such as properly managing perishable items, following delivery schedules, and adhering to food safety protocols while maintaining the quality of food and service.
Bakeries are often crowded with customers, employees, and delivery persons. They are also equipped with cooking equipment and utensils, kitchen appliances, inventories of perishable and non-perishable goods, etc. Anything uncertain can happen here, for example, damage to property, bodily injury, food poisoning, allergies, etc.
Any potential mishap in these areas can result in claims from third parties for damages. Protecting yourself from these occurrences is yet another challenge. The right policies can insure you against the following potential risks.
Risks and Liabilities
Bakery businesses follow risk management procedures. They can minimize certain exposures, but no workplace can be incident-free. As a baker, you must consider insurance to cover exposures unique to your business:
Refrigeration system failures leading to food and beverage loss
Cross-contamination during the baking process causing food poisoning among your clientele
Stoves and ovens are known fire hazards
Damage to business property
Injuries sustained by the customer – for example, a customer walks into your bakery, slips and falls on the wet floor, and breaks his ankle.
A Business Owner's Policy or BOP insures against these instances and can even pay the legal fees.
Let us elaborate on the various risks bakery businesses deal with: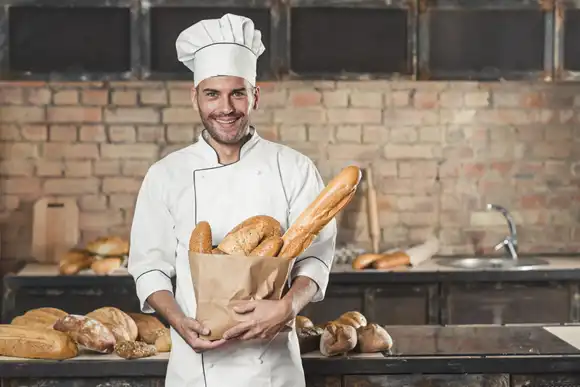 Food Poisoning or Allergy
Being in the food industry, a bakery business deals with products with a limited shelf life. Products like milk, eggs, and honey, even with all precautions, might get spoiled once in a while. You require proper inventory management to ensure that you do not supply customers with baked goods made with ingredients that have exceeded their expiration date. If a customer falls ill from something your bakery produced, you may become liable – this could have been due to food poisoning or the presence of foreign objects in your products. The product liability coverage included in a general liability policy can cover your liability arising from this exposure. What general liability will not cover is the damage to your reputation from such an outbreak, which is a separate, specialized coverage that may be available by endorsement or as a stand-alone policy.
Damage to Customer Property
This can happen while delivering your product when you accidentally damage customer property, leading to liability on your part. For example, your team delivers your product, such as a wedding cake, bread to your customer's premises. They accidentally collide against and knock over a table displaying an expensive piece of art. Your General Liability insurance for a bakery will respond to these types of claims.
Damage to Own Property
The property owned by your business could include real estate, cooking and refrigeration equipment, furniture and fixtures, and other supplies. These can get damaged in occurrences like a fire, windstorm, tornado, riots, vandalism, or vehicle and aircraft damage.
For example, the wiring of your electric oven sparks and erupts into flames, causing a fire to rage and engulf the place in smoke. Your property insurance in the Business Owner Policy would cover your losses.
Workplace Injuries
Employee accidents are unforeseeable, but the need to compensate injured workers becomes a certainty when such accidents occur during working hours. It could be burns, cuts, or back injuries, for which workers will claim financial compensation for medical bills and statutory lost wages. The workers' compensation policy will cover this.
Equipment Breakdown
The breakdown of large equipment like refrigerators, ovens, or commercial mixers can lead to financial losses due to interruption in business, repair or replacement costs, and food spoilage due to equipment malfunctions. This type of policy can cover property damage caused by equipment malfunctions.
To decide on the right insurance to cover your bakery, you should consider the size of your business and the number of people you employ, its location, and the sizes and the number of outlets you have, especially in catastrophe-prone areas. Finally, your decision is based on your business model, for instance, if your bakery is online or offline or a mix of online and offline. What your policies will cost will be determined by these considerations.
Gross Revenue
The gross revenue earned by the business affects the premium cost for a general liability insurance policy as well as the coverage limits you opt for. If the number of employees is higher, you may have to choose a workers compensation policy that covers them.
Place and Number of Locations
If your bakery business is in an area more prone to hurricanes, floods, or earthquakes, you will want to be sure you cover these exposures. If your business operates from multiple locations, i.e., you are running multiple branches, you want to insure each establishment.
Business Model
This refers to how your business earns its revenue. If your business makes deliveries based on online orders and has no retail shops, then your bakery insurance requirements will be different from a bakery business that runs entirely on physical retail outlets.
What Types of Insurance Policies Does Your Bakery Require?
Insurance policies with particular relevance to bakeries:
General Liability Insurance
If you have a retail location or not, this policy is for you. You will get third-party property damage, bodily injury, personal injury, product liability, and advertising injury coverage.
Scenario 1: Advertising injury – Your growing bakery has started delivering your products to a neighboring town. A local bakery feels threatened and starts an online slander campaign against your business. The competition's general liability should cover claims or suits your business files against them for slander by the Advertising Injury coverage included in that policy.
Scenario 2: Property damage – A customer is carrying an expensive purse. An employee of yours accidentally spills black coffee on it, damaging it. You're covered under General Liability insurance.
Scenario 3: Product-related exposure – Due to an oversight, a pie served at your bakery contains a metal object. A customer cracks a tooth while eating it. General Liability insurance for bakers would respond to their bodily injury lawsuit.
Commercial Property Insurance
In the case of damage or destruction of owned property, this insurance will fund the repairs, replacement, or rebuilding of the property. Bakeries have high exposure to fires due to owning equipment like ovens, stoves, and deep fryers, so this coverage is a must. Some other sources of property losses are windstorms, hail, fire, theft, vandalism, lightning, and vehicle or aircraft damage. However, floods are not covered in a property policy. You will need to get a separate flood policy if you are concerned about flooding in your locale.
Commercial property insurance covers the following:
Buildings owned by or leased by your business if required by the lease
Contents of the building: furniture, fixtures, equipment, and inventory
Business Owner's Policy or BOP:
This combines general liability, property, business interruption, and extra expense coverage. Commercial property insurance includes business interruption and extra expenses and has the same insured perils covered by the property coverage.
Scenario: Business disruption – You suffer roof damage at your business premises and are unable to continue your operations for a month. The property insurance will cover the repair or replacement of the damaged roof, while the business interruption would replace your net lost income until your business can reopen or until the time frame or policy limit is reached. The replacement income allows you to pay your continuing expenses, whether it is your rent or ongoing payroll.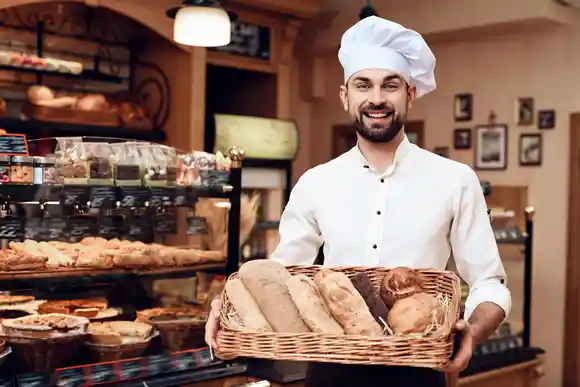 Commercial Auto Insurance:
Many bakeries transport baked goods to stores, restaurants, and customers' homes. If your bakery owns or leases vehicles or if your employees use their own vehicles for business, you must get commercial auto insurance.
Scenario: While driving a company van to a delivery, one of your employees accidentally runs a stop sign and hits another vehicle. Your commercial auto insurance would pay for the damages and injuries sustained by the other party involved, up to the policy limit.
Workers' Compensation Insurance:
It covers employees' medical expenses and a percentage of lost income if they suffer an injury or illness because of their work. Workers' compensation also provides financial benefits for an employee's dependents in the case of a work-related employee death.
Scenario: An employee suffers an accidental burn at your premises from hot oil while making doughnuts. Your workers' compensation insurance would compensate her for her medical bills and lost wages until she returns to work.
Comprehensive Costs
It is often a good idea to compare the quotes of several bakers' insurance carriers before deciding on the insurance program. The following factors may impact the premium that you will pay:
Annual revenue
Location and size of the shop
Annual payroll
Number of locations
Type of establishment, eat-in, take-out, etc.
How to Buy Bakery Insurance?
As we can see, the bakery business can be exposed to risks and liabilities based on various aspects of its operations. Analyzing all your potential risks and liabilities and then purchasing a comprehensive insurance package will protect you and your business from the losses arising from common mishaps while you focus on delivering premium quality baked products to your clientele.
You can find out more about bakery business insurance in general or request insurance quotes for your establishment online. You can call us at Insurance Advisor directly and speak to an agent who will assist you in picking the best option.
Benefits of Engaging an Insurance Advisor
Independent insurance advisors can help you find the right insurance policy for your bakery business. They will walk you through the multiple policy options and explain the policies required for your business from regulatory and business risk perspectives. Most importantly, with their knowledge about the ins and outs of the process, they can support you during the claim process and will ensure your claim is handled appropriately.
We Are a Trusted Insurance Provider