Top Businesses We Insure in the Health Care Facilities
Insurance for Healthcare Facilities
The essential nature of healthcare is unquestionable. Each provider within the healthcare industry has risks, and some can be addressed with specific Healthcare Facility Insurance coverage.
Because of the large number of companies in the healthcare industry, there isn't a standard insurance program that fits all. Nonetheless, there are many lines of insurance that most healthcare operations should examine for their operation, including Professional or Malpractice Liability, Commercial Property, General Liability, Worker's Compensation, Inland Marine, and Business Auto for those businesses that have vehicles on the road.
Finding the right healthcare operations insurance
Every patient requires a unique level of care based on their state of health. The same applies to the needs of each healthcare facility and how they will not have identical insurance concerns. For example, independent living facilities offer resources for a distinct population compared to drug and alcohol rehabilitation facilities, so they may need different insurance coverage. Hospitals, pharmacies, medical equipment providers, urgent care, and medical emergency transport companies also have their hazards to deal with.
Although many challenges come with being in the healthcare industry, you are still responsible for safeguarding the health of those under your care. Problems in your office may arise, such as damage to medical equipment, a refrigeration system breakdown, or an X-ray machine malfunction. It is crucial to protect your business the same way you'd protect your own home.
Who needs healthcare facility insurance?
Every type of healthcare provider, facility, physician, or practice group should have insurance.
Hospitals
Skilled Nursing Facility
Assisted Living Facility
Independent Living Facility
Memory Care
Continuing Care Retirement Community
Hospice
Physical Therapy
Dialysis Centers
Applied Behavior Therapy
Home Health Agency
Adult Daycare
Clinical Care
Urgent Care
Critical Access Hospitals
Drug and Alcohol Treatment Centers
Medical Laboratories
Blood Banks
Emergency Medical Transportation
Physicians Group
Dental Operations
Non-Emergency Medical Transportation
Surgical Centers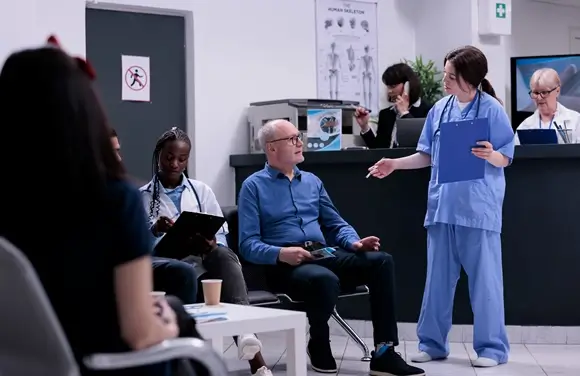 Medical operations have unique healthcare liability insurance needs
Medical Facility General and Professional Liability coverage is a requirement. While a medical director usually doesn't have a direct role in a patient's care, their administrative responsibilities also expose them to the possibility of lawsuits or mistakes. Medical providers and administrators, in addition to other health professionals, ought to think about administrative loss prevention and risk management. Professional Liability for the entity and individual licensed practitioners may cover the defense against actions taken by state licensing boards, peer review, and credentialing, among other regulatory demands, as well as patients.
Community living demands specific insurance policies
In the event of a disaster, a medical facility may need to evacuate patients urgently. Such an operation can be very costly. Emergency evacuation expense insurance may be included on your healthcare package policy, and it provides a limit available for reimbursement of these costs.
Caring for vulnerable persons can entail greater risks, too
Health facilities that cater to individuals of certain demographics may be exposed to allegations of abuse and molestation. In light of these claims, businesses engaged in such care must know how to implement defenses to help protect themselves. Abuse and molestation coverage can be included with your Professional Liability policy. The policy will provide a defense if accusations of abuse or molestation are made against your organization and pay financial damages for covered claims.
Healthcare operations must uphold their reputation
A trustworthy name and a good reputation are primary drivers when choosing a healthcare provider. False allegations of wrongdoing can have a rather detrimental effect. This includes everything from injuries caused by staff negligence to failures caused by non-compliance at medical facilities, as well as any other allegations involving abuse or wrongdoing.
Healthcare companies are businesses that must be covered by insurance
As your business requires specialized healthcare operations insurance, it is also advised to acquire policies that are common to other businesses. General Liability, Business Auto, Cyber, and Employment Practices coverage are a few options you should consider. Today's age of cyber hacks, ransomware, denial of service, and data breaches necessitates cyber insurance. Workers' compensation insurance ensures that your employees are covered for injuries sustained on the job. In case your building includes costly medical devices, it's important to secure the appropriate limits on a Commercial Property or Inland Marine policy for these devices as well.
Types of Business Insurance to Consider
You can safeguard your healthcare practice by acquiring the right insurance for your health provider's unique risks. Here are some suggestions to keep in mind:
Business Owner's Policy (BOP Insurance)
A Business Owner's Policy (BOP) safeguards small companies from lawsuits and liability claims due to their operations. The insurance policy also insures your business-owned property and loss of business income if your business must close due to damage to your building caused by a covered property peril because normal operations are impossible.
What Does a BOP Cover?
A business owner's policy (BOP) incorporates two types of coverage to guarantee your business against various claims. Its coverage features include:
Commercial general liability insurance
Commercial property insurance, often having business income and extra expense (BIEE)
The general liability portion of a BOP responds to someone filing a claim against you or your business for bodily injury or property damage liability. As it used to be called, public liability insurance offers protection from bodily injury lawsuits resulting from injuries such as someone slipping on wet flooring, a defective product injuring a client's property, or allegations that things you sold have caused harm. It can also protect against libel, slander, false arrest, and invasion of privacy claims related to personal and advertising injury liability.
The property portion of a BOP protects your personal property, including your buildings, equipment, furnishings, and inventory. It helps cover repairs and replacement costs relating to damaged or stolen property. The business interruption coverage can replace loss revenue (for covered damage to the building) which permits your business to continue paying your mortgage or cost of rent, employee payroll expenses, and other financial obligations.
General liability insurance
General liability insurance covers a broad range of standard business risks, including customer injury, customer property damage, and advertising injury. It helps your commercial venture with the costs associated with lawsuits, affording you the chance to qualify for leases and contracts.
Health care centers concentrate on the wellness of clients, but no medical center can completely prevent injuries or accidents from occurring on your premises. When you are a patient and trip on an uneven step or a staff member knocks over a patient's laptop, your business may be liable for damages. A general liability policy can help cover the costs of injuries or damage to property resulting from accidents. This insurance may be required by landlords when signing a lease.
Workers' compensation insurance
Workers' compensation insurance covers the cost of medical treatment and a percentage of lost wages for employees who get hurt at work. Most states require this coverage for businesses with a certain number of employees.
Even if you're careful to ensure that your healthcare business is a secure place to work, you can never guarantee that every conceivable accident can be prevented. From repetitive motion injuries caused by typing to back injuries from lifting patients, employee injuries can be costly for any size business.
Professional liability insurance
Professional liability insurance, also known as malpractice insurance, protects businesses by defending client liability lawsuits stemming from negligent professional services.
A mistake in the health care sector can often result in significant difficulties. If a patient files a malpractice suit because they were injured from services provided, litigation is expensive for everyone involved. Professional liability insurance can provide the legal assistance your institution needs to remain in business.
This policy protects against lawsuits filed as a result of allegations of:
Failure to deliver promised services
Professional negligence
Work mistakes or oversights
Commercial auto insurance
Commercial automobile insurance covers liability payments for bodily injury and property damage liability when a driver of a business vehicle is at fault for an accident.
Car crashes may result in extensive damage, especially if someone else is hurt. It's necessary to have commercial auto insurance in most states for individuals and businesses that own vehicles. This policy is essential when vehicles are titled in the business name.
Commercial auto insurance helps protect you against claims, property damage, medical costs, comprehensive, and collision coverage on your company's vehicles. In the event, your vehicle is stolen or damaged.
Your healthcare Commercial Auto policy can be tailored to fit your specifications. For instance, a van owned by a dental laboratory used to make one-time deliveries use is different from a mobile dialysis unit traveling daily, rates would be different for each of these.
Automobiles owned by businesses must carry commercial auto insurance coverage. Your commercial automobile insurance should satisfy your state's minimum liability insurance requirements.
Cyber Insurance
Cyber liability insurance helps protect small businesses from the substantial financial costs of a data breach or malicious software attack. It pays for customer notification, credit monitoring, legal fees, and fines. It is also called Privacy Act insurance and is meant to shield healthcare facilities and medical facilities that store sensitive information from costs related to cybercrime. A cyber insurance policy can cover damage to your computer system or network and reputation as it typically includes coverage for Public Relations expenses to effectively manage such crises as they occur.
Healthcare facilities may face several expenses following a data breach or cyberattack. Cyber liability insurance may help cover these expenses:
Notifying clients or patients that their data was exposed
Good-faith advertising or PR campaigns to restore the reputation
Credit monitoring services for affected clients
Cyber extortion demands
Loss of revenue
Denial of service attacks
Hackers regularly target hospitals and medical health facilities because of the massive numbers of personal data stored in their records. Due to this, more than 90% of healthcare agencies claim to have experienced a breach in the past three years. Depending upon the extent of the breach and its financial implications, the effect may last for some time, or it may never go away. A smaller facility can be affected for a long time or never fully recover if it experiences severe financial effects. As a result of the cyber insurance you have, you're reassured that there will be insurance for cyber attacks.
How much does healthcare facility insurance cost?
Insurance prices are influenced by several factors, including:
Services offered, such as surgery or long-term care
Staff experience and credentials
How many years in business
Loss experience
Business real estate, equipment, and property insured values
Revenue
Location
Payroll
Employee's job descriptions
We Are a Trusted Insurance Provider