Hospitality Insurance for Businesses
The hospitality and tourism industry includes restaurants, hotels, spas, resorts, theme parks, and many other businesses. Although they may vary a great deal in terms of the experiences they offer guests, there are also a lot of commonalities. For example, most businesses are primarily run for amusement, eating, fun, recreation, or travel.
Regardless of what category your business falls under, you should do everything in your power to protect your business, its employees, and its customers. Hospitality insurance comes in handy in these circumstances. If you have not purchased hospitality insurance previously, now would be a good time to learn about it.
Understanding Hospitality Insurance
Whether running a hotel, motel, spa, restaurant, or other commercial enterprise, you must keep your building safe from unforeseen occurrences that could cost you a lot of money. The best way to handle this is by having a hospitality insurance program designed specifically with your business needs in mind.
These policies can cover bodily injury accidents, property damages, or sickness resulting from the operations of your business. Legal costs are usually covered if your business is sued due to a customer getting hurt on your premises or because of your operations.
Hospitality Insurance Coverage
Hospitality insurance is not a unique kind of insurance sold, but rather a description used for the various customizable insurance policies commonly purchased by hospitality businesses. Commonly recommended coverages include:
General liability insurance
This insurance secures your small business against claims or lawsuits of bodily injury or property damage caused by the operations of your business. Claims of personal and advertising injury are also covered under General Liability insurance.
Commercial property insurance
This policy covers damage to your owned buildings and business assets, such as buildings, furniture, inventory, food, and equipment. Commercial property can also cover outdoor items, such as pool furniture and pool pump and equipment.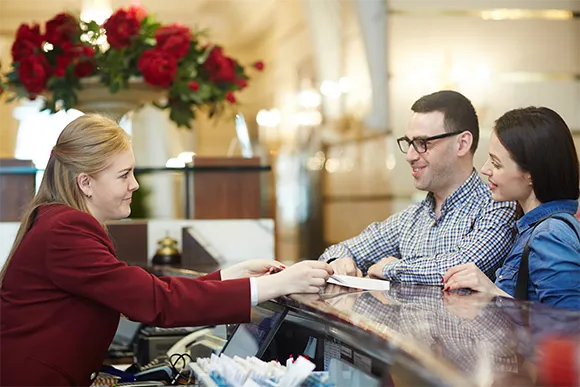 Business interruption insurance
Business income is a type of property insurance, it enables a business to replace a revenue stream when your operation must close due to covered damage to the building. For instance, if a hurricane severely damaged your hotel and you are unable to host guests, net business income can be recovered during the period of restoring your building to open again for business. Subject to the limits chosen and applicable deductible.
Other coverage options depend on your business's unique needs. Get in touch with an agent to hear about the hospitality insurance options available to you.
Workers' compensation
This coverage protects the employer against employee injuries and occupational illnesses resulting from their job. Employers' Liability, typically included in work comp policies, protects your company against liability arising out of employee injuries not covered by workers' compensation. Workers Comp is generally required by most states, depending on the number of employees, industry, and other factors.
Commercial umbrella liability insurance: This insurance provides additional insurance limits beyond the company's underlying general, auto, and employers' liability insurance policies. Umbrella insurance will step in to pay covered claims once the underlying limits, usually $1,000,000 are exhausted by paid claims.
Other Hospitality Insurance Policies
The various components of a hospitality insurance program will vary. However, the main thing to remember is that every hospitality insurance program should be customized for your business's concerns. Consider the following additional policies.
Cyber Insurance
Cyber insurance can provide protection for hospitality organizations against a range of risks related to cyber attacks, ransomware, denial of service, and network security breaches. Third-party liability coverage protects against lawsuits and claims from customers, employees, or vendors, whose personal information has been compromised due to a data breach. First-party coverage can help organizations cover their own costs associated with responding to a breach, including crisis management expenses, business interruption losses, and the costs of notifying affected individuals and providing credit monitoring services.
First-party cyber insurance can also cover costs associated with repairing or replacing damaged hardware or software, investigating the cause of a breach, and addressing any regulatory fines or penalties that may result from the incident. With the increasing frequency and severity of cyber threats, cyber insurance has become an essential tool for all organizations to manage their cyber risks and protect themselves against potentially devastating financial losses.
Employment Practices Liability Coverage (EPL)
Employment Practices Liability coverage is designed to protect an organization and its employees from various employment-related claims and lawsuits. These claims can include discrimination, sexual harassment, wrongful termination, retaliation, and violations of labor laws like the Family and Medical Leave Act (FMLA) and the Americans with Disabilities Act (ADA).
EPL coverage can provide financial protection for legal fees, settlements, and judgments associated with such claims. It can also cover the costs of investigating and defending against allegations of wrongful employment practices. This coverage is essential for businesses of all sizes to safeguard against potentially devastating lawsuits that can arise from employment-related issues.
Equipment breakdown
To get your business running, this coverage pays to protect the equipment you have invested money into, including air conditioning systems, laundry equipment, security systems, and computer, internet, and other communication systems. If a covered breakdown occurs and your business is inoperable, not only is it expensive to correct the problem, but you can recover the loss of income resulting from the equipment malfunction. Not every type of equipment breakdown is covered, for instance, lack of maintenance, wear and tear, and deterioration would not be covered under this policy.
Depending on the specifics of your hospitality business, browse your options with an insurance broker to determine the best policy to satisfy your particular needs.
Hospitality Insurance Cost
Each restaurant, hotel, or resort has its set of unique risks, so it is difficult to provide a "one size fits all" premium cost.
In most cases, the size of the facility, the range of clientele it serves, its location, its staff size, the services offered, property values insured, and annual revenue all impact the cost of a hospitality insurance program. Due to the wide variety of insurance companies, and their types of coverage, the premiums for hospitality insurance can vary from business to business, so it's crucial that you do your research before purchasing.
Restaurants may pay $20,000 annually while a hotel may be $100,000 and up, again depending on all the variables mentioned.
Frequently Asked Questions about Hospitality Insurance
1. What are the benefits of having hospitality insurance?
Loss control and prevention assessments can help to reduce claims and ultimately lower premiums paid. By avoiding losses altogether your business will be desired by many insurers, driving your premiums down from competition. Having defense for lawsuits brought against your business enables you to fight fraudulent or frivolous claims. Not to mention if you have a mortgage or business loan, these will require collateral to be fully insured.
2. What does hospitality business insurance not cover?
Hospitality business insurance is made up of many different policies such as General Liability, Commercial Property, Workers' Compensation, Cyber insurance, and more. However, insurance coverage is based on the specific policies you choose, and exclusions will vary depending on the policy and the insurer.
When purchasing property insurance remember that flood and earthquake coverage are not typically included in commercial property insurance, they may be able to be included but many times you must get separate coverage.
Employee dishonesty is not covered by a property policy, you would need a crime policy that covers theft of money by employees. Theft of money by anyone would also need to be addressed by a crime policy.
3. What to consider when choosing hospitality insurance?
Apart from a sophisticated atmosphere, exceptional food, and outstanding service, restaurants and hotels should be ready to cope with incidents and medical emergencies. Adequate insurance coverage can help respond when claims or lawsuits come in. Protecting your company's hard-earned money, time, and work input during your establishment's time in business is essential. If you're interested in purchasing hotel and restaurant insurance, the below points will help you understand it.
Choose the type of establishment you want to get insured
Select the types of insurance you require
Understand the factors that influence the cost of your insurance.
4. What businesses need hospitality insurance?
Although the hospitality industry encompasses a diverse number of services, it can be generally described through five main categories:
Food and beverage
Lodging
Recreation
Travel and tourism
Meetings, conventions, and events.
All businesses falling under these categories will need hospitality business insurance.
We are a Trusted Insurance Provider