Top Businesses We Insure in the Installation Services
What Insurance do Installers need?
Just like most businesses, the basic insurance needed starts with General Liability and Business Property Insurance, and when coverage is available on a Business Owners policy, this is the way to go. Read on for more information on these important insurance types.
Installation coverage is a type of inland marine insurance often purchased by installers, contractors like HVAC installers, elevator contractors, plumbers, and electricians. An installation floater as it is sometimes referred to be designed to protect a business's material and equipment received that is to be permanently installed at a job site. Coverage applies during shipment to your warehouse (if needed), while in transit to the job site, and while at the job site, through installation completion.
Installers are probably the unnoticed individuals behind the sleek stovetops, microwaves, refrigerators we see next to our neighbors' new granite countertops, and industrial-grade kitchen sinks. As an owner of an installation company, you know about the hazards involved during the process of bringing clients' dream houses to life.
General Liability
General Liability Insurance protects installers from third-party liability. It covers the kinds of business damage that your company may incur, such as customer injury, damage to property owned by customers, voluntary medical payments, and personal and advertising injury. It enables you to apply for leases and bid on contracts since the legal agreements require general liability. This insurance is necessary for any type of installer of cabinets, flooring, etc. Since your work occurs at your customer's location, you risk injuring a customer or unintentionally damaging their property.
This policy provides liability coverage related to:
Customer injuries
Customer's property damage
Personal injury
Advertising injury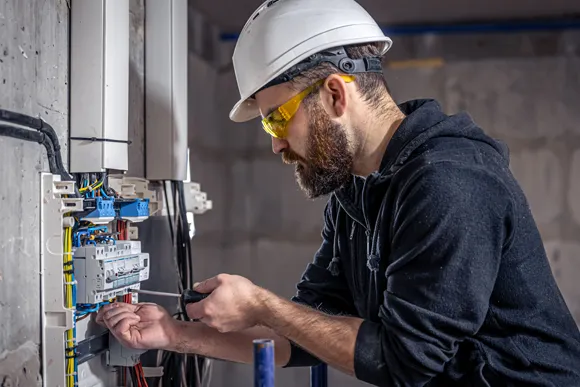 Third-party bodily injury
When mounting a dishwasher, the installer loses his grip and the plates and cups fall and break inside the machine. The customer reaches in to get a dish and gets badly cut, needing stitches. The customer feels your business is at fault for the injury and may file a claim against you for their medical bills, economic loss, and pain and suffering from the injury.
Third-party property damage
Small installation businesses must be diligent regarding insurance. General liability insurance protects your business from financial repercussions if a customer's property is damaged during installation. For example, suppose the installer scrapes a wood floor while moving in the new refrigerator for installation. In this type of incident, general liability insurance should cover the cost of repairing or replacing the portion of the floor that was damaged.
Personal and Advertising Injury
Your business could be vulnerable to legal liability from advertising injury claims when promoting your services and company. For instance, a competing installation firm might sue you for copying a logo or slogan. An owner could also be sued for personal injury if he was heard saying something detrimental about a competitor's business in a public space. Limited Personal and Advertising Injury claims can be covered by general liability insurance.
This includes:
Accidental copyright infringement
Defamation of character, both libel (written) and slander (spoken)
Wrongful detention, false arrest, invasion of privacy, etc.
Also, Read: What types of business insurance are required for businesses in Delaware?
Products and completed operations
Products and completed operations are covered under a general liability policy also. This coverage applies when your installation job is completed. Problems can occur after a job is complete and then bodily injury or property damage occurs. Under the Products-completed operation insurance, contractors are covered for claims or lawsuits for bodily injury or property damage liability after they have completed the job.
For illustration, a brand-new window might leak, having rainwater come in and damage the flooring within a client's living room.
If the homeowner files a claim against you, your liability insurance carrier would contact the client/claimant and handle the claim for the damage, thereby avoiding a lawsuit. If the carrier doesn't pay the claim, they may then face a lawsuit from the client. You might also think of it as product liability insurance.
Workers' compensation insurance
Workers' compensation insurance covers medical expenses for injuries occurring on the job. Illnesses may be covered too but only if the illness is directly related to the job performed. For instance, catching a virus is not a work-related illness because the virus could have been caught at the grocery store, at home, or maybe even at the gym. This policy is required by most state governments for businesses that employ a certain number of workers. Once an employee misses 7 days of work, then the lost wages are reimbursed, usually 2/3 of normal pay when the employee is not well enough to return to work.
Make no mistake, physical labor can be dangerous. Professionals that earn their money Installation, for instance, are at risk of experiencing serious injuries as a result of workplace accidents. Even something as simple as tripping over a loose wire can result in massive medical expenses if a bone is broken or the back is injured.
Workers' comp pays for an injured employee's:
Immediate health care, such as ambulance rides and emergency room visits.
Ongoing healthcare costs, including prescriptions, replacement services, and physical therapy.
Partial lost wage while the employee is unable to work
Death benefits as required by state law
Typically included in workers' comp policy, Employer's Liability insurance provides protection when an employee feels they were a victim of employer negligence which caused the injury or illness. Think of a contractor in the asbestos removal business, he doesn't inform the employees what they are walking into and doesn't provide personal protective equipment. Several of these employees develop cancers caused by asbestos exposure and sue their employer for gross negligence. This is when the Employer's liability insurance is necessary. It will provide:
Defense for the employer
Payment of court costs and fees
Payment of settlements or judgments
If the court considers the employee's lawsuit to be unfounded and dismisses it, your business may still incur large legal expenses. Even if your business is not required to carry workers' compensation, even with one employee, the coverage is well worth the cost.
Commercial auto insurance
Commercial auto insurance covers the business for state-required coverage and more. It is a package policy of sorts, including liability coverage for bodily injury and property damage for at-fault accidents. Some states require you to cover driver and passenger injuries in the form of personal injury protection (PIP) or No-Fault coverage. In addition, Uninsured Motorists coverage, comprehensive and collision physical damage to your business-owned vehicles, rental car reimbursement, towing, and other options are available.
You can prepare your employees for their tasks, but you cannot always avoid unpredictable occurrences. An at-fault automobile accident may result in serious injuries to another person and their vehicle. Commercial auto insurance presents financial protection from liability lawsuits resulting from an accident.
The policy can be tailored to suit your installation company's needs. Whether your salespeople drive company cars or you have a van for the transportation, you should have these insured under a business auto policy.
Inland Marine: Contractor's tools and equipment insurance
Like the installation coverage mentioned above and below, another type of Inland Marine coverage is for contractors' equipment. When you have expensive equipment that you need to take with you to do your work, this is the coverage that is needed when items are mobile. While at your business location, these are covered as contents but once you take them away from your location, there is no coverage on a business property policy.
For instance, maybe you need a forklift to move in a massive refrigeration unit to the installation site. If that forklift gets struck by lightning or stolen, this is the policy you want to have.
As you progress from one installation job to another, you require insurance that covers your equipment regardless of the location you enter. If your installation tools are stolen from your van, the inland marine insurance may provide replacement cost valuation (RCV is usually available if the equipment is less than 5 years old).
What other costs does an installation insurance policy cover?
An installation insurance policy covers the cost of cleanup and potential development team debris compensation after a covered loss or disaster. Construction and contracting business owners have 180 days after an incident to submit paperwork to receive reimbursement from their insurance policy.
It is critical for building and contracting businesses to be able to safely clean up damages following a covered accident. This cost may be covered under the installation insurance policy.
This coverage can also pertain to any documented losses resulting from a covered incident, including:
Additional interest on construction loans
Additional engineer and architect fees
Additional taxes incurred as a result of a delay in completion of an installation project
Coverage is available for individual installation sites
How much does insurance cost for installers?
Several factors are likely to cause installers' insurance rates to vary, including:
Installation services offered, such as HVAC
Business equipment and property values insured
Revenue
Location
Payroll
Types of coverage needed
Number of business autos
Limits and deductible options
We Are a Trusted Insurance Provider