General Liability Insurance Workers Compensation Insurance Umbrella or Excess Liability Insurance
Fence installation is a tough job that involves skill and expertise. Yet, the installer's job is crucial: inspecting locations, advising clients on appropriate fencing materials, measuring the length of sections that require fencing, pulling building permits, and preparing the site by digging holes where the fence will be installed.
Considering the nature of the fence installation business, insurance protection against mishaps at job sites is a must. Since fence installers work on someone else's property, it creates a higher risk of property damage liability.
Risks and Liabilities Associated with Fence Installation Businesses
A Fence Installation Business owner has plenty of logistics to take care of, such as ordering suitable material in the correct amount and transporting it to the job site on time. Since the installation may include erecting the fence around mature landscaping, attaching it to a neighbor's fence in the process, or just getting the material to the backyard without damaging something is an accomplishment.
Loss to business property: Valuable property such as tools and equipment could be stolen from a warehouse. Risk of damage to material or equipment in transit or on the job site. A fence installation job may be delayed if materials are destroyed in transit.
Property damage liability: The fence installation job involves employees spending ample time on customers' premises and around their property. A fencing contractor's business is liable if a customer claims an employee damaged their property. For instance, while digging holes to install a fence, one of the employees hits an irrigation pipe. The fencing contractor will have to pay for the repair costs or replace it with a new line. Employee theft of cash or inventory: A dishonest employee could steal some of the material or equipment from the warehouse or at the job site. An employee dishonesty policy will pay for the financial loss incurred due to employee theft.
An ex-employee filing a lawsuit: A former employee can file a lawsuit against the business owner for firing without cause. As a result, the business owner would need to hire a lawyer to defend his case. An employment practices liability policy would be a good investment for this incident.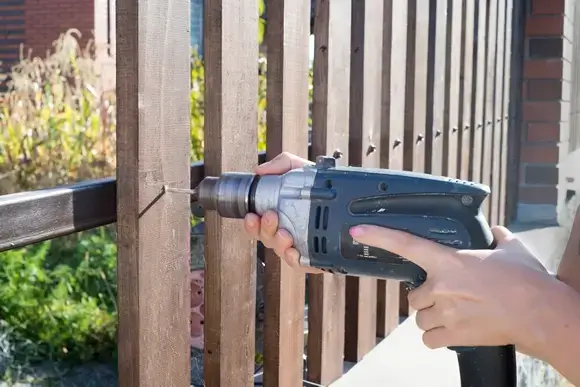 Insurance options for Fencing Contractors
Commercial property insurance
This policy covers damage to the owned building and its content due to perils like tornados, riots, fire, and other occurrences. It can pay for the cost of repairs, replacement, or reconstruction less your deductible.
Commercial general liability insurance
This type of insurance helps pay for third-party bodily injury or property damage arising from the business's operations. An employee may accidentally damage a client's vehicle while installing a fence or cause harm to a neighbor. Commercial General liability comes to the rescue for claims for medical care reimbursement or property repairs. This policy provides defense and pays the damages for covered liability incidents.
Workers compensation insurance
A business that employs more than three employees may be legally required to purchase a workers compensation policy, depending on the state. Even if not required to buy a policy, the employer may still be required to pay for employee medical bills and lost wages if an employee is hurt on the job. For example, an employee could get badly cut on the job site while working with aluminum fencing or hurt their hand with a power tool. Workers' compensation insurance pays for a portion of the employee's lost wages and medical bills until they can return to work.
The Employers Liability coverage, typically included in a workers compensation policy, provides legal defense to the employer if an employee files a lawsuit claiming the employer's negligence caused the accident.
Crime coverage
There can be an unfortunate situation when an employee steals fences, tools, or cash at the workplace. An employee can indulge in fraudulent activities at the job site. Employee dishonesty, a type of crime coverage will pay for the financial loss to the employer in such a case.
Commercial auto insurance
Commercial auto insurance provides coverage for property damage and bodily injury to a third party caused by a fencing company's vehicle when their driver caused the accident. Comprehensive and Collision physical damage can be purchased to cover damage to the business's owned vehicles. Medical payments, rental reimbursement, towing, and other state-required coverage would be available for No-Fault, Personal Injury Protection, and Uninsured Motorists.
Inland marine insurance
There is always a chance of damage to or theft of equipment and tools when traveling to and from worksites. Property insurance protects assets at the business's physical location but not away from it. For example, inland marine contractors equipment covers tools and equipment in transit, kept at a storage facility, sitting in a parked vehicle, or tools left at the job site.
Cost of Fence Installation Insurance
The cost of Fence Installation Insurance depends on the following:
Business property and equipment values
Revenue of the business
Installation services offered
Number of vehicles insured
Payroll
Types of tools and equipment owned
Types of coverage and limits purchased
Location of business and job sites
Summing up
It's not uncommon for fencing installers to have accidents or unfortunate events occur. Insurance for Fence Installation Businesses adds a layer of financial protection for costly accidents. Review your business operations and insurance needs with a licensed agent who should recommend the appropriate coverage. Understand the coverage provided by the policy before purchasing and always spend a few minutes reviewing the exclusions too! To get a quote for your business insurance, please visit us at www.insuranceadvisor.com
We Are a Trusted Insurance Provider