Glass and glazing contractors specialize in the installation, repair, and improvement of all kinds of glass. They can help with many types of glass installation, including shower doors, car windshields, or windows. Glass installers are skilled professionals who work on commercial and residential projects. They can install new windows or replace old ones.
The U.S. contract glazing market size was USD 7.9 billion in 2019 and is expected to grow at a compound annual growth rate (CAGR) of 4.7% from 2020 to 2027, as per the U.S. Contract Glazing Market Size Report by Grandview Research 2020–2027.
Considering the growing market size of this industry, glass and glazing contractors are a booming growth industry. Despite the success, every glazier business faces daily risks in its operations. Workplace injuries, fire damage to business property, vandalism—the list goes on. To protect against financial loss from such threats, glass and glazing professionals should buy Business Insurance for Glass contractors.
Risks and Liabilities
Glass and glazing contractors face various unexpected exposures to loss or liability, which can negatively impact the finances of a company. These include:
A client may get injured by glass chips on the floor when the glass professional is cutting new glass for installation at a client's home. The contractor may be liable for paying the damages resulting from the injury.
The glazier employee might have a back injury due to lifting heavy sheets of glass daily. The employer is liable to pay for the employee's medical bills, lost wages, and other statutorily required benefits in your state.
The glass installation business requires the transportation of glass and employees to job sites, usually in a company-owned vehicle. Even if the employees are skilled drivers, mistakes are made, and an accident could occur. If the company's driver is at-fault, the business could be liable for the other vehicle's damage and the injuries to the driver and passengers.
Tools and equipment of glass installation professionals can be stolen at the job site or get damaged due to workplace incidents. Replacement or repair costs of glazing and installation equipment can be expensive for glass contractors.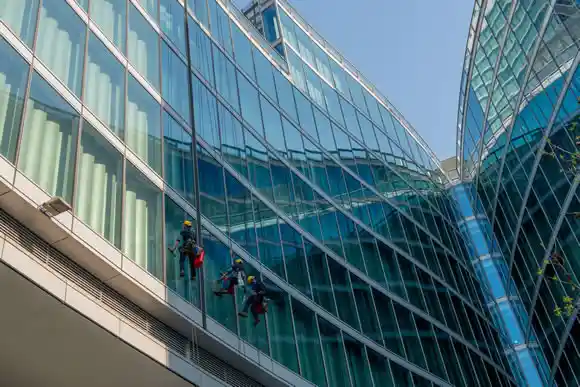 Hence, business insurance for glass and glazing contractors can help protect against such hazards and threats to the business.
Glass and Glazing Contractors Insurance
Business Insurance for glass and glazing contractors includes a combination of different business insurance policies, such as:
1. General liability insurance (GL)
General liability provides coverage against third-party risks such as bodily injury to customers, damaged customer property occurring at a job site, and products-completed operations coverage for completed work. If someone is injured at the business location or job site, incurs medical expenses, or misses work, they may file a lawsuit against the glass contractor. If found to be legally liable, the company must pay the court-awarded damages, including the cost of medical care, pain, and economic loss incurred by the injured party. GL also pays attorney's fees for defense and court fees. If an employee accidentally damages the customer's property while doing a job, General Liability also covers third-party property damage. This policy will pay for replacement or repair costs if the customer makes a claim.
While advertising about the glass and glazing business, the company can be susceptible to advertising injury claims. For example, a competitor can sue the business for copying a logo or advertisement. GL may cover claims or suits alleging defamation of character (libel and slander) and copyright infringement.
The products and completed operations coverage in the general liability policy covers property damage or injury resulting from the product sold or the job performed. These incidents occur after the product's sale or completion of the job.
2. Workers' Compensation Insurance
Most states require this coverage for businesses with a certain number of employees. Considering the nature of their job, glass and glazing professionals may have a higher risk of injury due to working with glass. An employee could easily get cut while working with glass. Workers' Compensation pays for immediate medical costs, ongoing medical costs, and a portion of wage loss due to an employee being unable to work due to injury. Employer's liability insurance is included in a worker's compensation policy, and it will defend the employer if an employee files a negligence lawsuit against the business owner over an injury. Employer's liability pays for attorney fees, court costs, and settlements.

3. Commercial Auto Insurance
The Business Auto Liability provides coverage in the event of an accident involving a glass company's vehicle. The business can be taken to court over an auto accident that causes injuries when its driver is ticketed with the accident. Legal battles are very expensive to defend and pay settlements if lost. This policy will pay for legal expenses such as lawyer's fees and court settlements for liability claims when the insured is legally liable.
Business Auto can also include coverage for loss or damage to owned vehicles caused by vandalism, collision, or vehicle theft when comprehensive and collision coverage is purchased. The state-required coverage for autos is included in a business auto policy. These may include (depending on your state) Personal Injury Protection (PIP), Uninsured or Underinsured Motorists, and optional endorsements for Medical Payments, Rental Reimbursement, or Towing.
4. Contractor's tool and equipment insurance
Glass and glazing businesses work off-site, traveling to the customer's location. Thus, there is always a risk of tools getting damaged or stolen. Inland Marine insurance provides coverage for repair or replacement in case the equipment gets stolen or damaged by a covered peril while away from the business location. It can provide coverage for equipment such as hand tools, power tools, heavy equipment, forklifts, etc. This policy usually offers replacement cost coverage for equipment under five years old. It should be noted that this policy doesn't provide coverage for age or wear and tear damage to equipment.
Cost of Glass and Glazing Contractors Insurance
The cost of glass and glazing contractors' insurance depends on several factors, including:
Revenue size
Installation services offered
Business property and equipment insured value
Payroll
Number of vehicles
Types of insurance purchased
Policy limits and deductibles
Summing up
Glass and glazing contractors need reliable insurance coverage Insurances will help protect the company from financial loss in an unexpected situation. Before buying commercial insurance coverage, it is important to assess one's business needs and determine what type of coverage is best. Glass and glazing professionals can also speak to an insurance agent to get advice on the right type or amount of coverage. This will help prevent any financial problems in the future. For more information, request a quote at www.insuranceadvisor.com.
We Are a Trusted Insurance Provider