Sign Installation Business Insurance
Are you in the sign installation business? If so, you should know the importance of proper business insurance coverage. As a sign installer, your work may involve working at great heights, handling heavy equipment, and working with electricity. These activities can be risky, and accidents can happen no matter how hard we try to prevent them.
The right insurance coverage for your sign installation business can protect against financial losses from liabilities such as property damage, employee injuries, and customer lawsuits.
Insurance coverage can also help meet the legal requirements for business operations in your state and local jurisdictions. Let's take a look at the types of insurance you may require.
1. Worker's Compensation Insurance
Consider buying worker's compensation insurance to protect your employees in case of work-related injuries and occupational diseases. This coverage pays the costs for your employees getting injured on the job, including medical expenses, lost wages, and death benefits to the employee's family in case of a fatal injury.
For example, suppose one of your staff falls off a ladder while installing a building sign and suffers a broken arm. In this case, worker's compensation insurance will cover the cost of their medical treatment and replace a portion of lost wages during their recovery.
Without this type of coverage, you may have to pay for the employee's medical expenses and lost wages out of the company's bottom line, which can be a substantial financial blow, especially for small business owners.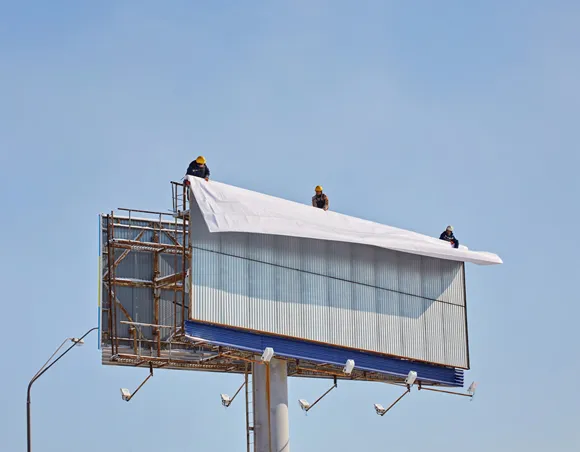 2. General Liability Insurance
Consider purchasing general liability insurance to protect your company from claims arising due to third-party bodily injuries, property damage, and advertising lawsuits. Public liability insurance (as this coverage used to be called) can help cover legal defense costs, fees, and settlements resulting from such claims, providing valuable protection for your firm.
For example, if one of your employees accidentally damages a customer's property while installing a building sign, the customer could file a claim against your company for property damage. In this case, general liability insurance can help cover the property damage costs and the legal fees associated with the claim.
3. Equipment Breakdown Insurance
This type of insurance protects your sign installer business from losses caused by sudden and accidental equipment malfunction or breakdown. It covers repairing and replacing damaged equipment for covered claims. This policy can include coverage for business interruption losses incurred due to the covered breakdown.
The definition of covered equipment includes:
1. Equipment built to operate under internal pressure, like boilers
2. Electrical or mechanical equipment used in the generation, transmission, or utilization of energy
3. Communication and computer equipment
For example, suppose your sign manufacturing equipment breaks down during a job. Equipment breakdown insurance would cover the costs of repairing or replacing the equipment and lost income resulting from the breakdown for covered incidents. Equipment breakdown coverage does not apply to vehicles and what's attached.
4. Commercial Property Insurance
This coverage protects your business property from damage or loss caused by covered perils like fire, theft, lightning, riots, wind storms, and vandalism. It covers repairing and replacing damaged property, thus providing valuable protection for your company assets.
For example, commercial property insurance would cover the repair and replacement costs if a fire breaks out in your workshop and causes damage. Without this coverage, your business would be on its own for repairing or replacing assets and business income loss caused by the disruption.
Why Sign Installation Insurance is Necessary
Here's why insurance can be crucial for your company:
1. It protects against liability claims for injuries and damages caused by the company's products and services.
2. It helps you meet your legal requirements as a business owner—depending on state and local regulations, sign installer firms may be legally required to be insured by specific types of coverage.
3. Insurance policies can cover repairing and replacing damaged property due to unexpected events such as fires, thefts, vandalism, and other covered perils.
4. Property insurance, when business income and extra expenses are included, covers lost income and other costs when a company must cease operations due to covered building damage which prevents normal business operations.
5. Workers' compensation and employee liability policies provide coverage for employees injured on the job or third-party lawsuits filed by workers' families.
Costs of Sign Installation Business Insurance
It's crucial to understand insurance coverage costs, including premium amounts, deductibles, coverage limits, policy fees, and any additional coverage needed.
The premium is the amount paid for insurance coverage; opting for a higher deductible can lower the premiums, but it also means higher out-of-pocket costs in case of a claim.
Coverage limits refer to the maximum amount the insurer pays out in case of a claim. Selecting higher coverage limits may increase the premium and provide more protection against potential risks.
Your business's risk factors can also affect the premiums you pay. For example, operating in high-risk areas or employing workers in hazardous conditions can increase the premiums. Furthermore, depending on the nature of your company's operations, you may need additional coverage to ensure comprehensive protection.
Secure your Company with Business Insurance
Sign installation business insurance is an essential investment for any business owner, and Insurance Advisor can help you find the appropriate coverage. Working with a reliable insurance agency is crucial, and Insurance Advisor offers comprehensive quotes and easy payment options to make the insurance process as stress-free as possible.
Protect your firm from unexpected losses and liabilities by partnering with a reputable insurance agency. Get your company insured today with Insurance Advisor and safeguard your business's financial future.
We Are a Trusted Insurance Provider