Protect Your 'Precious' Business With Jewelry Manufacturers' Insurance
Jewelry making is an intricate and creative art. A jewelry manufacturing business creates each piece of jewelry with the utmost care and caution, using delicate metals, wires, and stones. These businesses need skilled workers and specialized equipment to craft the jewelry. Jewelry businesses require a significant investment, so don't jeopardize your capital by not getting Jewelry manufacturers' insurance to help manage various business risks.
What Businesses Need Jewelry Manufacturers' Insurance?
This insurance is designed for jewelry makers who manufacture earrings, rings, necklaces, and bracelets. There are two main types of jewelry manufacturing businesses - those that make costume jewelry and those that make precious stone and metal jewelry. Precious jewelry is made of gold, silver, and platinum. It is studded with precious stones like diamonds, rubies, and sapphires..The jewelry created by such businesses is costly.
Costume jewelry businesses create jewelry from non-precious metals, beads, plastic, glass, and other materials. This type of jewelry is relatively inexpensive. Two kinds of jewelers can benefit from business insurance for jewelry manufacturers, but the risks faced and the coverage needed might be different depending on their business needs.
Do Jewelry Businesses Need Insurance?
All businesses have to face some loss exposure, and it's part of owning a business. However, while jewelry manufacturing appears low-risk, it's wise to be prepared for unforeseen situations. Here are some reasons why jewelry manufacturers must get insurance.
Employee Injuries
The chances of employee injuries and illnesses are high because jewelry manufacturing involves exposure to tools, equipment, chemicals, metal dust, and heat. These substances can cause allergic reactions, eye irritation, and long-term diseases.
Environmental Damage
The chemicals, paints, and colors used in the jewelry production can pollute the soil, water bodies, and air around the manufacturing facility. The business may have to bear heavy fines, penalties, and clean-up costs to reverse such environmental damage.
Fire Hazards
Jewelry manufacturing requires highly flammable substances like plastics, polishing liquids, and chemicals that can create potential fire hazards. Fires can cause significant damage to the premises, the equipment, and the stock of raw materials.
Theft
Precious jewelry producers' inventory is delicate and high-valued. These businesses often face the risk of employee theft, customer theft, burglary, robbery, and inventory damage. Buying jewelry manufacturer's insurance can help handle some of these daily risks.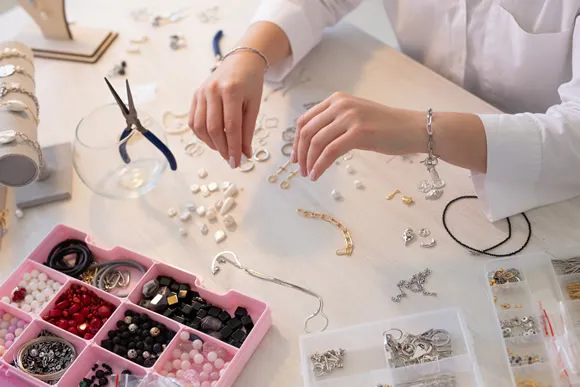 Suggested Policies for Jewelry Manufacturers
Insurance coverage needs vary for different types of jewelry-making businesses. For example, a costume jewelry manufacturer may not require protection from burglary. However, we can come up with a list of jewelry manufacturers' insurance policies that can be helpful for most jewelry businesses.
General Liability Insurance
Like any other business, jewelry producers are exposed to the financial effects of third-party liability lawsuits. Companies with general liability insurance will be provided a defense by the general liability carrier. The insurance company will assign an attorney to defend the business in court cases brought by third parties who have suffered physical injury, property damage, or advertising injuries like libel and slander due to your business operations. For example, a competing jewelry manufacturer could file a lawsuit against your business for imitating their copyrighted designs. Legal fees and associated expenses can be exorbitant for businesses when paying out of pocket.
A jewelry manufacturing business may occasionally have to deal with lawsuits related to their products. For example, a customer could sue your company because a piece of costume jewelry caused an allergic reaction despite being labeled hypoallergenic. Product liability is included in the general liability policy. The carrier will provide an attorney, which will also pay settlements the business is legally liable for on covered incidents.
Commercial Property Insurance
This is an essential coverage of business insurance for jewelry manufacturers. This policy safeguards your manufacturing facilities, stores, and contents inside. This policy protects the business's assets from fire, wind or tornado, theft, vandalism, and other perils. It does not cover your precious stones, metals, and inventory; you will need a Jewelers Block policy for those assets.
Workers' Compensation Insurance
As discussed above, this industry has a high risk of employee injuries and illnesses. Workers' compensation policy covers the medical expenses and a portion of lost wages for employees injured on the job. Imagine a worker getting a deep cut on their arm while working with a sharp tool and being unable to do their job for a few weeks. Your business could be liable for paying for the employee's medical treatment and their lost wages because of their injury. Workers' compensation policy would cover this cost.
Insurance Costs
Insurance Premium
An insurance premium is the amount your business pays to the insurance company for purchasing the insurance coverage. The premium amount depends on factors like the business location, asset values insured, annual revenue, annual payroll, limits of insurance purchased, and the policies required.
Deductibles
A deductible is the amount your business must pay before the insurance company pays the claim. Insurance companies charge deductibles as a dollar amount, a period like a specific number of days, or as a percentage, depending on the coverage type and where you are located.
Administrative Fees
Insurance companies sometimes charge administrative fees to cover inspection fees, broker fees, and state surcharges. Terrorism coverage is an additional cost, but you may exclude it in certain instances. These fees and expenses can vary according to your location, the policies you have selected, and other factors.
Protect Your Jewelry Business With Insurance Advisor
Safeguard your business from unexpected expenses and losses by getting business insurance for jewelry manufacturers. Insurance Advisor provides various insurance policies for small businesses in multiple industries. We provide competitive quotes with easy payment options for your convenience.
If you have questions about insurance, you can discuss these with a licensed insurance agent. We have a nationwide team of licensed insurance agents to help you out. We also publish helpful tips, guides, and business insights on our blog to help you understand insurance better.
We Are a Trusted Insurance Provider