General Liability Insurance Workers Compensation Insurance Umbrella or Excess Liability Insurance
Understanding Barber Shop Insurance
Barbershops deal with a range of daily risks that could cause injury resulting from professional errors of judgment, genuine oversights, or premises exposures. Such incidents could directly impact their reputation. A wet floor without a warning sign could cause a customer to slip and injure himself, and a trim or shave could go wrong. Accidentally nicking a customer's ear might make a customer irate.
The size of the US hair salon industry touched $47.4 billion in 2021. As the industry has grown, so has the need for insurance. We address the unique risks associated with the barbershop industry, allowing barber shops to avoid paying claims from their bottom line and allowing them to stay in business. We customize policies to protect your business assets and pay claims for which you are legally liable.
Business and Professional Risks
If your efforts to style your customer's hair don't achieve the desired result or a mistake is made by your stylist, your customer could sue you. The suit could result in financial damages being awarded. Some customers are difficult to please, but negligence also occurs despite the best intentions. It could result from working with sharp scissors, using the wrong hair dye, or any mistake by your stylists, barbers, and other staff. Some risks you have to deal with are listed below:
Property damage
Fires or disasters
Customer bodily injury
Injured customers
Loss or damage to business-owned assets
Employee injury
Scenario 1: No 'wet floor' sign, and your customer slips and falls.
Scenario 2: Your business location is demolished by a tornado.
Scenario 3: A customer has sensitive skin. Your stylist uses a demo shampoo on him. His skin breaks out.
Scenario 4: Your employee gets pain in his right wrist. He needs treatment for work-related musculoskeletal pain.
Scenario 5: A short circuit in the wiring at your shop causes a fire, damaging some of the equipment.
Scenario 6: A burglary takes place in your barber shop.
When deciding on the right insurance for your barber shop, consider the size of your business, the number of people you employ, your business location, the number of shops you have, and your claim history. What your policies will cost will be a function of this mix.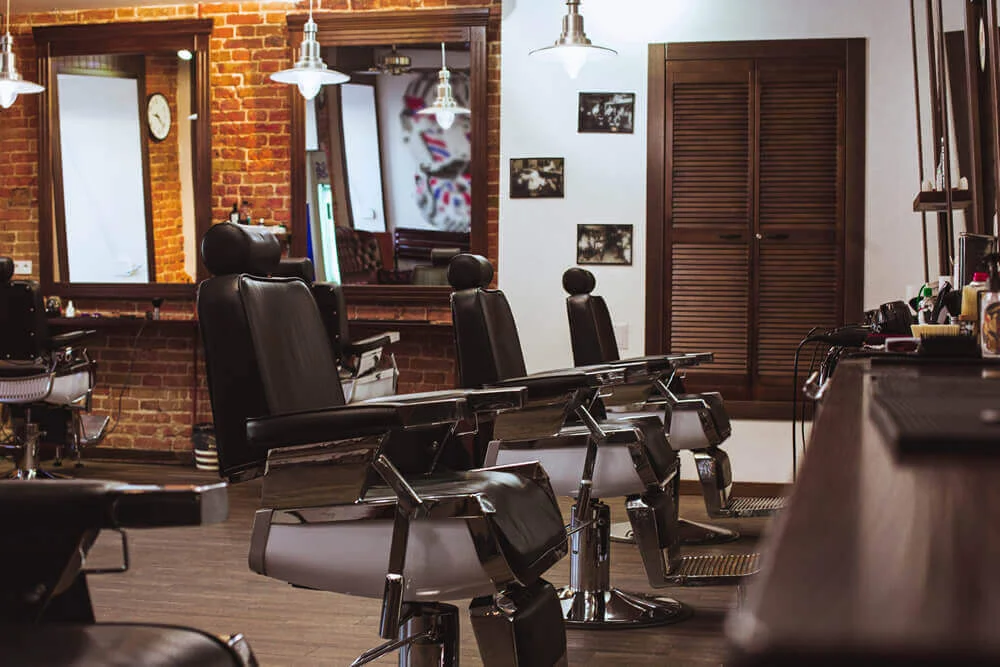 Recommended Policies
Risk management procedures are generally followed by businesses to avoid losses and ensure business continuity. But can any workplace be incident-free? Insurance policies stand by you in times of uncertainty. As a barbershop owner, you should consider the following insurance plans to address the risks unique to your business:
Professional liability insurance
General liability insurance
Workers' compensation insurance
Commercial property insurance
Commercial crime insurance
Professional liability insurance
Sometimes, the smallest of mistakes by your barber or stylist could cause your client to be hurt by your services. Your customer could sue you for your alleged negligence if he was accidentally cut or if his hair was damaged while you rendered your services. In such a case, your professional liability coverage will kick in.
Scenario: Several customers who got their hair styled at your shop develop head lice. They sue you, alleging your barber shop was at fault. Your professional liability insurance will respond.
General Liability Insurance
In cases of accidents, your business may receive claims from third-party property damage, bodily injury, personal injury, and advertising injury. General liability insurance is important as many clients visit your establishment, and even though your establishment is safe, accidents need to be covered. If a client sustains unintentional bodily harm or damage to his personal property, he will expect a reimbursement from you. If that happens, your general liability insurance will protect you and let your business function uninterruptedly.
Product liability insurance is included in the general liability policy and provides coverage for bodily injury or property damage caused by your product to the consumer. It is particularly required if you sell hair care products or other retail items from your barber shop. Bodily injury or property damage caused by the products you sell could attract lawsuits. This policy protects you from it by paying for the legal fees or any settlements arising from your operations while you focus on running your business.
Scenario1: Your barber shop promotes its proprietary hair gel. After using the product, a customer gets a severe allergic reaction and sues your business. Your general liability policy will protect you.
Scenario 2: Bodily injury: There are hair clippings on the floor in the restroom of your salon. Your customer walks in and slips on the hair clippings on the floor and injures himself. Your general liability will handle his claim.
Scenario 3: Property damage: A client keeps his expensive phone on the table next to him. One of your barbers accidentally spills water on it. The general liability insurance will pay the damage.
Workers' Compensation Insurance
It covers employees' medical expenses and a portion of lost income if they suffer an injury or illness because of their work and cannot perform their duties. Workers' compensation also provides financial benefits for an employee's dependents in the case of a work-related employee death.
Scenario: One of your barbers accidentally cuts himself with a razor and requires stitches. Your workers' compensation will reimburse the medical expenses and lost wages if he cannot return to work for a while.
Business owner's policy (BOP)
This is not exactly an additional or separate policy, but a plan that combines Commercial Property Insurance, General Liability Insurance, and Business Interruption Insurance. A BOP is excellent for small businesses.
Scenario 1: Business disruption: Your barber shop suffers water damage when the roof is blown off by strong winds. The BOP will take care of the repair expenses. The business income coverage will reimburse for the lost revenue so you can pay your rent and other expenses until you reopen.
Scenario 2: Business continuity: The wiring in your office sparks during a short circuit, causing a fire. Your BOP will respond to your losses.
Commercial Property Insurance
It protects your owned premises and equipment. It covers your building, tools, supplies, and equipment in the case of a disaster like a fire that destroys your barber shop.
Commercial Crime Insurance
It covers your business from employee dishonesty, robbery, forgery, burglary, and fraud.
Scenario: Discrepancies in your cash register reveal that one of your employees has stolen money. Here, your commercial crime insurance will provide the requisite protection.
We Are a Trusted Insurance Provider