Running an animal rescue shelter is a demanding experience. Caring for so many animals on a tight budget takes a lot of effort. But despite all your efforts, there is potential for the shelter to be impacted by events that affect your financial standing.
For instance, if a shelter animal attacks a staff member or visitor, you may need to pay for damages for economic loss, medical care, pain and suffering. You may also be faced with a lawsuit if they sue the shelter. Paying for attorney fees, court fees, and settlements are costly, and paying them from your bottom line is an unsustainable way to run the shelter.
This is where animal shelter insurance comes in handy. A customized insurance program based on your shelter's needs can help prepare for incidents that negatively impact the shelter's goals. Let's understand potential risks and the various coverage components that should be a part of your insurance portfolio.
Potential Risks
Running an animal welfare organization comes with daily challenges. Despite taking all precautions, some events are just beyond your control. Here are some common incidents that can have financial repercussions:
An act of vandalism destroys the shelter's medical facility and equipment. You need to relocate some animals to a new location. The damaged property must be repaired or replaced before the shelter is operational.
A visitor looking to adopt a pet comes to the shelter. They are interacting with a dog that ends up biting them. The injured party wants compensation for medical expenses and may sue the shelter.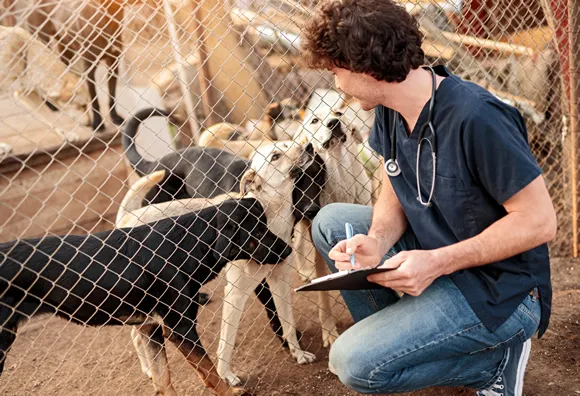 A rescue pet attacks an employee during feeding time. They are hospitalized and need to receive ongoing medical care. The shelter must bear the expenses. When the driver runs a stop sign, the shelter ambulance collides with another vehicle en route to a rescue. The ambulance and the vehicle hit are damaged, and people are hurt.
Animal shelters can face these challenges quite frequently. Hence, paying out of pocket for these incidents is impractical and impossible. Investment in animal shelter and pet rescue insurance can help mitigate the resulting expenses.
Important Categories For Animal Shelter Insurance
Here is a snapshot of the categories you must consider for your animal shelter insurance policy:
General Liability Insurance
Volunteers, inspectors, and potential adopters may visit your animal shelter. You may also have pet owners visiting your onsite clinic for its services. This is where general liability insurance plays an important role. It protects your shelter from third-party liability lawsuits for claims related to bodily injuries, property damage, and advertising injuries. General liability insurance covers attorney fees, court fees and penalties, and potential judgments or out-of-court settlements for covered incidents.
Commercial Property Insurance
Since the shelter's physical space plays a vital role in animals' lives, it must be protected at all costs. There is potential for the property to be destroyed due to incidents of fire, theft, vandalism, wind damage, and lightning.
Commercial property insurance helps pay for the repair and replacement of business-owned property. You can also purchase business interruption coverage to replace your revenue stream if covered damage to the structure forces your business to close. Your business can meet its ongoing financial obligations during restoration, like your mortgage, payroll, insurance premiums, or utility payments.
Directors and Officers Insurance
The decisions by board members and officers play an essential role in the functioning of a shelter. However, lawsuits may also be filed against them due to the consequences of their decisions, putting their personal assets at risk. Claims can include mismanagement of funds, breach of duty, or other wrongful acts as defined by the policy.
Directors' and officers' insurance provides board members, directors, and officers with liability protection for suits from employees, shareholders, or others. It will provide a defense and pay settlements that the entity, the directors, or officers are legally liable for covered claims.
Workers' Compensation Insurance
An animal shelter's staff plays an essential role in the smooth functioning of the shelter. Workers' compensation insurance helps protect them if they suffer injuries while working. This type of insurance pays for medical care, prescriptions, the cost of hospitalization, rehabilitation, and a portion of lost wages.
It also offers a small death benefit, which comprises financial support to the family of the deceased staff member for funeral expenses. The laws of the state determine the amount payable for this benefit.
Commercial Auto Insurance
Typically, shelters own a vehicle for transporting rescues. Commercial auto insurance helps your shelter cover third-party liability for bodily injury or property damage when your driver is at fault for an accident. You may want to include physical damage collision and comprehensive coverage on the business-owned vehicle. Other state-required coverage like No-Fault or Personal Injury Protection, Uninsured Motorists, or Underinsured Motorists coverage is available.
Animal Shelter Business Insurance Costs
The cost of your animal shelter insurance policies varies based on the specific needs of your operation. Here are some factors that matter:
The shelter size and the total number of animals
The number and type of business vehicles
Annual payroll
Property values insured
Location
Coverage types and limits of liability
The Takeaway
Comprehensive animal shelter business insurance helps secure your shelter against the long-term consequences of everyday incidents. This is an important step in building a cushion to protect the project from financial fallouts due to lawsuits and property damage.
Your shelter can partner with an insurance agency like Insurance Advisor, which understands the challenges and needs of businesses across various industries. Visit our website to start the quoting process. Instant quotes may be available depending on the type of insurance you're looking to purchase.
We are a Trusted Service Provider