General Liability Insurance Workers Compensation Insurance Umbrella or Excess Liability Insurance
Understanding Fabric Store Insurance
Fabric distribution businesses sell fabric, garments, and accessories like hats and caps for men and women alike. The inventory carried by a fabric merchant can be a significant investment and needs protection from accidents, natural calamities, mob disturbances, or burglaries, any one of which could potentially wipe out a store. So, like any business, fabric stores mitigate their risks via processes that protect them against such exposures. Yet, fabric store owners not carrying a general liability policy may face hefty insurance claims. Unpredictable threats, therefore, need to be managed by buying relevant insurance policies.
The US apparel market revenue in 2021 amounted to approximately US$317.6 billion. The US fabric retailer market is estimated to be US$4.86 trillion in 2022. The insurance industry has protected fabric retailers from litigation, thus ensuring the good health of the sector.
Business Risks
Fabric stores are exposed to certain unique risks that require appropriate insurance coverage. Let's say the quality of a certain fabric was treated with some chemical, as a result of which claims are raised by consumers who developed a rash. Some of the particular risks fabric stores are exposed to be:
Example 1: An electrical fire – A malfunctioning circuit breaker causes a devastating fire and threatens to wipe out the fabric store.
Example 2: Theft – Shoplifting crimes and even theft by a store employee can be a recurrent problem in retail store environments.
Example 3: Personal Injury – A dad wanted to surprise his son, who lives in a different state, with a gift and ordered a T-shirt for him online with a family-oriented caption. When his son receives the package and opens it, he finds a T-shirt with lewd sexual content and is highly offended. The fabric retailer is sued for personal injury.
Example 4: Data breach – A fabric merchant sells clothes online, exposing him to a breach of his customers' credit card and other private information.
Example 5: Copyright infringement – A fabric retailer runs an advertisement campaign for his hoodies using a motivational tagline trademarked to a sporting goods store and gets sued for it.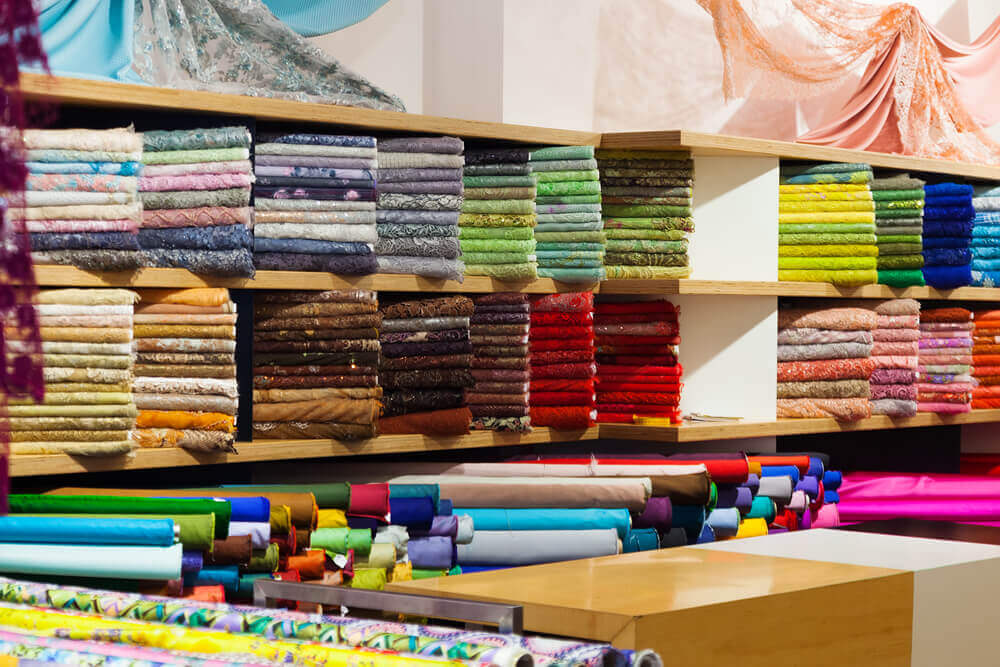 Recommended Policies
Fabric stores deal with multiple exposures, and some policies can mitigate the risks specific to them while the stores focus on running their business. Insurance policies with particular relevance to fabric stores are:
General liability
Professional liability
Commercial property coverage
Commercial auto insurance
Workers' compensation
Business Owners' Policy (Property & General Liability)
Cyber insurance
General Liability Insurance
This is the primary policy that a fabric merchant needs to purchase. If a client trips over a carton lying around on the shop floor – general liability will cover medical costs and other damages. Retail store environments draw crowds of shoppers, and the risks of injury or property damage increases. These risks are either avoided by the use of safety procedures, or insured. Bodily injury, property damage, and personal injury liability are some of the claims that could be made, which can be covered by general liability insurance policies. Any legal costs are also picked up by the general liability insurance for covered claims.
Example 1: A client trips over a roll of fabric and fractures his elbow.
Example 2: Copyright infringement – A fabric retailer runs an advertisement campaign for his hoodies using a motivational tagline from a sporting goods store and gets sued for it.
Commercial Property Insurance
Commercial property insurance protects the physical structure, premises, equipment, and inventory, whether owned or rented (but the lease must require the tenant get insurance on a building, if it is not owned). It covers a fabric distributor's building, inventory and equipment in the case of a covered disaster, a theft, or an act of vandalism that destroys the shop.
Example: A fabric retailer has burst a water pipe in her store. Property insurance will cover replacement costs, repairs, and revenue loss while the store is not operational.
Commercial Auto Insurance
If a fabric retailer has company-owned vehicles used to transport the merchandise, commercial auto insurance is required.
Example: While driving a van for business deliveries, the employee driver runs a stop light and has to swerve the vehicle to avoid hitting a pedestrian crossing the road. In doing so, the driver collides with a vehicle waiting at the stop light. Property Damage and bodily injuries to the other vehicle and its occupants would be covered by this policy.
Workers' Compensation Insurance
Medical expenses of employees are covered, as is a percentage of their lost income, in case they suffer some injury while working at the fabric store. Workers' compensation insurance also requires the fabric store owner to financially compensate an employee's dependents if the employee loses their life while working at the establishment.
Example: An employee's chronic back injury resurfaces while lifting a heavy roll of fabric. The fabric merchant's workers' compensation insurance would pay the medical bills and compensate her for a percentage of lost wages until she returns to work.
Additional Coverages
Business Owner's Policy or BOP
This is a combination of general liability, property, business interruption, and extra expense coverage. Smaller fabric stores, in particular, prefer this cost-effective policy.
Cyber insurance
Cybercrimes are rampant. The risk is particularly high if a fabric store sells its products online.
Example: A fabric store is hacked. The cybercriminal steals the social security numbers and bank account details of the store's employees. He sells the information to an individual who creates false identities. The liability claims, first party damages and legal defense run into hundreds of thousands of dollars, which are covered by the cyber insurance policy.
Comprehensive Insurance Costs
To decide on the right set of policies to cover a retail fabric store and what it would cost, a review of the following variables is recommended:
The revenue size of the business
Annual payroll and number of people it employs
Its location, construction type, and property values insured
The number of retail outlets it has
Prior claim history
Who Benefits?
A safely functioning fabric store, insured against its loss exposures, benefits all its stakeholders:
The public
The business entity
The employees
The customers who visit the store
We Are a Trusted Insurance Provider