Understanding Jewelry Store Insurance
The U.S. is dotted with both high end and costume jewelry stores. Designer jewelry has created hype amongst customers like never before. Whether you sell high-value precious metal and stone jewelry or costume jewelry, your jewelry business requires insurance. If you offer services like jewelry repair, design, manufacture, resetting or sizing, insurance for jewelers will provide coverage to protect your business from many insurable risks and liabilities.
Potential Business Risks
Most jewelry stores sell high-value items. Expensive, expertly designed jewelry, precious metals and stones as well as the intricate manufacturing or servicing equipment are all part and parcel of a jewelry store. Loss or damage to property or liability claims could set your business back financially. This high-stakes business requires some risk assessment. Here are a few possible loss scenarios that could happen to your jewelry store.
Scenario 1 - An elderly customer slips and falls in your store and is taken away by ambulance.
Scenario 2 - Your store is burglarized after hours, most of your inventory and materials are stolen. There is damage to the door and glass where the burglars broke in.
Scenario 3 - While your employee is changing a battery in a Rolex, the watch is dropped damaging the crystal face and inner workings.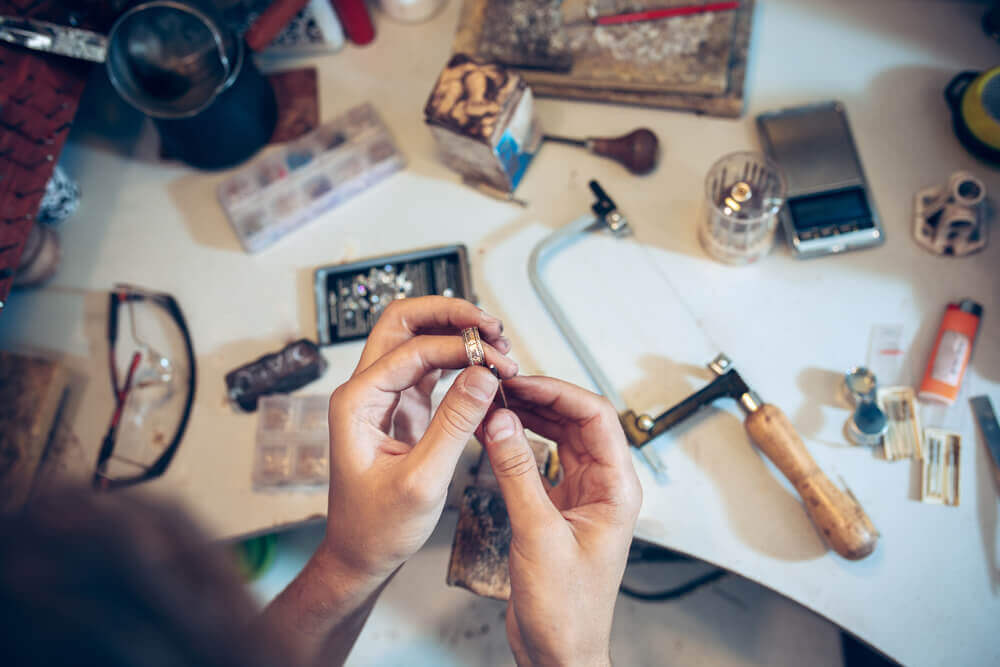 Recommended Policies
General Liability Insurance
General Liability Insurance for jewelry store includes:
Premises Liability - This coverage protects your business from third-party property damage and bodily injury liability claims that happen at your business location.
Products & Completed Operations Liability - This policy covers claims for bodily injury or property damage caused by your product, arising after the purchase of the jewelry by the client.
Commercial Property Insurance
Commercial Property Insurance protects your store building, inventory and other contents for loss or damage from covered perils such as theft, fire, tornado, or hurricane to name a few. Such events can damage your building or contents and jewelry theft, in any forms is always a concern. This insurance covers the cost of repair and the replacement of damaged items for covered claims.
Inland Marine
Bailee coverage - also referred to as "property in your care, custody and control" insures loss or damage to property of others left with you for repair or service for specified perils in the policy.
Another type of necessary inland marine coverage is Jewelers Block insurance. Jewelers Block coverage is needed to cover your precious metals, stones and finished inventory from loss or damage and can provide broader coverage than if you insured these items on a property policy. Check this policy for coverage exclusion as not all perils are covered. This coverage applies anywhere your jewelry is within the territory stated in the policy and includes transportation so you have coverage for shipments. Most US policies include the US, its territories and Canada in the definition of territory.
Business Income Insurance
Business Income Insurance covers lost income due to the suspension of operations caused by direct physical damage to your building, which prevents you from operating your business. If a fire burns down your building, business interruption insurance will reimburse you for your net lost revenue. If you purchased extra expense coverage with your business income, extra expense incurred to expedite return to normal business operations can be claimed, such as your relocation to a new or temporary location.
Worker's Compensation Insurance
Workers' Compensation is mandated in most all states. Workers' Compensation insurance covers a portion of lost wages and medical expenses for the employee injured on the job. In case of a fatality, death benefits for the employee's family will be paid provided the death is resulting from a workplace injury. While working in a jewelry store may seem low-risk, purchasing this insurance will pay the state mandated benefits so you don't have to.
Crime Insurance
Crimes such as theft, burglary, shoplifting, or employee dishonesty like forgery or embezzlement can result in large losses. Crime insurance helps you recover from criminal acts and lessens the blow of these types of incidents.
Comprehensive Costs
Jeweler businesses function differently depending on the products and services offered. Those offering high end products demand heavy initial investments thus putting the business at high risk. We at Insurance Advisor, understand that each business is unique and requires suitable insurance coverage. Our experienced agents evaluate your insurance needs and provide quotes based on the following parameters:
Insured values
Annual revenue
Location and construction type
Annual Payroll
Products & Services offered
We Are a Trusted Service Provider