Starting a school supplies business is not an easy feat. The business owner must register the legal entity, get the necessary permit or license, define the brand, create the website, etc. Since owners invest a lot of money to set up the store, purchasing the right business insurance to safeguard the business against hazards or risks is a must.
School supplies store insurance is an essential investment for all businesses. A small business owner is responsible for hiring people, paying them, and statutorily responsible for employee injuries on-the-job. Suppose an employee gets injured in the workplace- whether due to negligence or faulty equipment—the business owner would be responsible for high medical costs incurred by that employee. School supplies store insurance, specifically workers' compensation provides coverage for such claims. It also protects business assets by insuring the damages caused by fire or windstorm.
Risks and Liabilities
Exposures to loss are always present in a business, and it is important to be aware of them. Some of the risks that school supply businesses can be exposed to include the following:
While moving merchandise around the store, an employee could trip and hit their head on something hard, resulting in a severe injury. This injury could result in expensive medical bills and the employee's loss of income while recuperating.
A customer is browsing the store when they accidentally trip and fall. This can cause serious injuries that require hospitalization. In these cases, school supplies store insurance will pay for the damages suffered by the customer for medical costs.
A customer is browsing the store and using their mobile device when an employee accidentally knocks into the customer, causing the cell phone to fall on the floor. This causes severe damage to their device and results in a costly repair or replacement. In these cases, school supplies store insurance will provide coverage for repairing or replacing the customer's device.
If a burglary at the store causes damage to the building and theft of inventory, it will cause a sizeable financial loss to the business owner. School supplies store insurance pays for these types of incidents.
A child is playing with an item from the store, such as scissors. The child can suffer a severe cut that requires stitches. If the store is liable for the child getting the scissors and hurting himself, school supplies store insurance can cover the damages owed for the costs of treating the child, expenses, and suffering.
The store has a fire, which destroys all the merchandise. Property insurance of the school supplies store will cover the loss of merchandise; if the building is insured, the policy will also cover rebuilding or repairing the structure.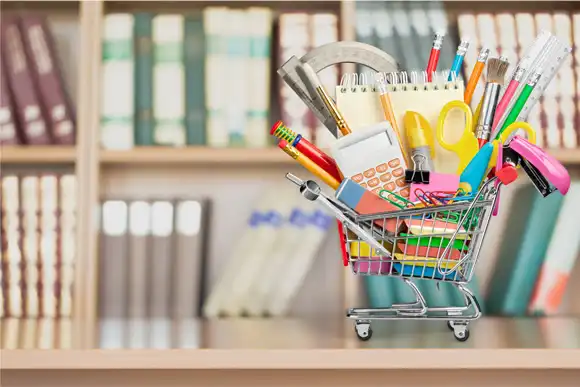 Coverage Included in School Supplies Store Insurance
Business Insurance for School Supplies Stores consists of different policies to cover different types of losses. Some common types of insurance policies are as follows:
General Liability Coverage
General Liability coverage protects store owners from claims of bodily injury or property damage to customers or visitors. For example, suppose someone slips and falls while shopping and breaks their leg. In that case, general liability protection will pay for medical costs associated with this injury when the store is legally liable. This policy will also provide a defense if the business is sued for negligence.
Business Owner's Policy (BOP)
It combines general liability and commercial property insurance. It protects the business owner and the building itself from various losses. The policy will provide coverage to the business owner for bodily injury, property damage, and personal liability claims. It also includes coverage for the building in case of fire or wind damage. A BOP is economically a good idea because it's much more affordable than buying separate policies for each type of insurance.
Product Liability Insurance
This coverage protects the store owner from claims of bodily injury or property damage related to products sold. For example, suppose a customer buys a school supply kit that causes their child harm when using it at home. Product liability insurance will cover damages owed for legal liability, including medical costs associated with this injury. It will also cover legal fees if the business owner needs to defend themself against a lawsuit.

Commercial Property Insurance
This insurance provides coverage for the store's building, fixtures, inventory, and equipment in case of theft, fire, or damage from covered perils such as hurricanes.
Workers' Compensation Insurance
Workers' compensation insurance is an essential type of coverage for any business with employees. It protects the employer from paying for medical costs if one of their workers gets injured on the job. The most common injuries are back strains, sprains, and carpal tunnel syndrome, but there are many others. Workers' compensation insurance provides medical coverage for injured employees and wage replacement benefits if they can't work. It also pays for the death benefit to the employee's family if they die from an on-the-job injury.
The employer's liability component in workers' compensation insurance provides coverage for the employer against employee lawsuits of negligence or fault for an employee's injury. It can be costly to defend against such claims, and this part of workers' compensation insurance helps protect employers from such costs. It pays for attorney fees, settlements, and court costs.
Business Interruption Insurance
Business interruption insurance protects businesses if an unforeseen event, such as a fire or hurricane that directly damages the building and disrupts its operations. This policy typically provides coverage for lost revenue and expenses related to keeping the business running until it can reopen after the disaster.
Cost of Insurance Coverage for School Supplies Store Businesses
The cost of insurance coverage for school supply store businesses depends on many factors, including the revenue, size, location, payroll, and type of products or services offered. Limits of coverage purchased also affect the premium cost. The industry of the business plays a big part in premium because certain industries are associated with higher risks than others.
Conclusion
Insurance can be an important part of any business, but it's especially critical for school supply stores that operate mainly on a cash basis. This type of business should consider carrying various insurance coverage to protect against losses from theft, accidents, and property damage caused by covered perils.
For more information, you can log in to www.insuranceadvisor.com.
We Are a Trusted Insurance Provider