A Quick Guide to Personal Trainer Insurance
Being a personal trainer can be very rewarding for those passionate about health and fitness. It's a dynamic business where you learn something new each day with every client. But every new day also comes with fresh challenges.
There's always something that could go wrong. You could misdirect and injure a client, hurt yourself, damage the gym's property, or need to fight legal battles against customer claims. Protecting your small business with the right insurance policies is important.
Risks and Challenges Faced By Personal Trainers
As a fitness instructor, you provide one-on-one fitness training to clients and face several risks and challenges while doing so.
Physical Injury
Your clients could get physically hurt while training with you due to slip-and-fall events, injuries during workouts, and accidents involving workout equipment. You could get injured yourself while providing physical training. Such injuries can lead to medical expenses, revenue losses, and business disruptions.
Property Damage
If you provide personal fitness training to your clients at their homes, you could accidentally cause damage to their property. For example, you could damage a client's workout equipment while demonstrating an exercise, and the client would expect you to repair or replace the damaged items.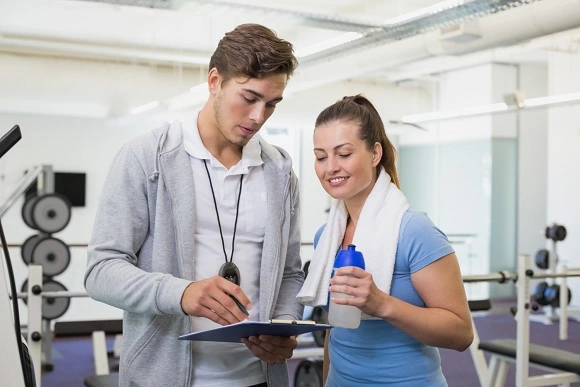 Vehicle Damage
If you use a vehicle for your personal trainer business, you face the risk of auto accidents caused by your negligence. The resulting bodily injuries and property damages will be your responsibility. You risk having to pay for the costs of these, including third-party liability damages owed for hospital bills, vehicle and property damage, legal defense, and settlements.
Cyber Attacks
Suppose you store your clients' personal health-related data and payment information on a digital system. In that case, the data is at risk of being hacked, misused, or held for ransom by cybercriminals. This could lead to expenses for notifying customers about the breach, repairing the brand image, and settling lawsuits.
Reasons Why Personal Trainer Insurance is Crucial
Personal trainer insurance represents several policies that can help your company handle common industry risks and challenges. Apart from this, there are other reasons why you should consider getting insurance for your fitness training business:
1. Gaining the Trust of New Clients
Potential clients may ask if you have business liability insurance before hiring you as their trainer. New clients may look at whether your business is reputable or not based on whether you have insurance.
2. Protecting Employees
If you're looking to hire employees, prospective candidates will expect protection from workplace injuries. With the right insurance coverage, you can cover your employees for injuries associated with their work. This can include medical expenses due to injuries or income loss due to medical leave required because of a workplace injury.
3. Safeguarding Business Assets
A fitness training company may have business assets such as workout equipment, owned location, company vehicles, and so on. Personal trainer insurance can help you safeguard these assets from damage. Some insurance policies can also cover the equipment and property that you travel with from client to client.
Primary Business Insurance for Personal Trainers
You can consider getting the following insurance policies for protecting your personal training business with optimum coverage:
1. General Liability Insurance
General liability insurance can help you cover the costs of third-party claims for bodily injury and property damage you or your employees cause. Generally, this insurance covers:
Medical expenses for physical injuries caused to a third party during work. For example, you accidentally drop a weight on your client's foot
Repairs or replacements for damages caused to the property of a client during a job.
Personal or advertising injuries caused while marketing your business.
2. Professional Liability Insurance
This insurance policy can help cover losses caused due to errors, omissions, or negligence while providing personal trainer services. This includes client injuries caused due to the trainer's negligence, losses due to failure to provide proper training, and more.
For example, your trainer's failure to provide proper training to an athlete leads to them missing an important tournament. Professional liability insurance may help cover the costs of defending the claim filed by the client against such professional errors.
3. Worker's Compensation Insurance
If you have hired personal trainers to help you with your business, this insurance policy is for you. It will take care of expenses related to employee on-the-job injuries or occupational diseases. It can cover the following:
Medical expenses for diagnosing and treating a work-related injury or illness
Reimbursing a percentage of lost wages while an employee recovers from a work-related injury or occupational disease
Cost of retraining the employee for a new job in case of permanent disability
4. Commercial Auto Insurance
If you use a vehicle for your personal training business, commercial auto insurance would be helpful for you. Insurance is required for any vehicle in almost all states. The coverage may include depending on your state's requirements:
Costs of repairing a third-party's damaged vehicle or property due to an at-fault collision
Legal expenses for lawsuits filed for property damage or physical injury caused by your company's vehicle and negligent driver
Medical expenses for bodily injuries caused to a third party due to vehicle accidents
Damage to your vehicle due to collision, fire, vandalism, and flood
5. Cyber Liability Insurance
This coverage can help protect personal trainer businesses from liabilities related to cyber-attacks and data breaches. A first-party cyber liability insurance policy covers costs such as:
Informing the affected clients
Credit monitoring
Handling the brand's reputation
Loss of business income
A third-party cyber liability policy can help cover the legal expenses of handling lawsuits filed by customers over their damages caused by cyber-attacks.
Costs of Personal Trainer Insurance
The costs of insurance for fitness instructors depend on various factors, including the following:
Services offered by the trainer
Business revenue
Location of services provided
Types of coverage selected
Value of business assets insured.
Protect your Firm with Small Business Insurance
Whether you are a Pilates instructor, a yoga teacher, or a regular personal trainer, you face various risks daily as part of your job. Get your business insured to protect it from sudden significant expenses caused by customer claims, cyber-attacks, workplace accidents and injuries, and more.
Visit the Insurance Advisor website today to find the right insurance policies for your business needs. We have a team of licensed agents who can help you select the right coverage. Explore our tips, detailed guides, and other helpful resources to understand insurance coverage requirements and limits easily.
At Insurance Advisor, we offer the following:
A wide variety of insurance products
Easy payment options
Instant quotes for certain insurance type
We Are a Trusted Insurance Provider