Unlike the role of other teachers, teaching yoga comes with some unique risks. Here is an example. A client in your class may try some of the techniques. In the process, they injure themselves. They may file a claim or lawsuit against you and want compensation for damages from medical costs and lost wages.
This is just one example of the potential risks involved in this industry. Having a yoga practice can also result in general business hazards. For instance, there could be property damage to your yoga studio, which can disrupt regular operations.
Timely access to yoga teacher insurance can help protect your business against a spectrum of liabilities. This post covers the various business risks, essential types of coverage, and details about the insurance cost.
Potential Liabilities
Yoga instructors may experience several potential hazards in their line of work. The liabilities can vary depending on the actual operations of the business. Here are some examples of common things that can happen:
A client visiting your yoga studio slips and falls on a wet floor. They must be hospitalized and cannot report to work for a few weeks. They want to be compensated for economic loss, pain, and suffering.
A fire breaks out inside your studio. Property like laptops, furniture, and fixtures are destroyed. You need to repair or replace these items to get the space up and running again.
A yoga class participant gets injured and files a bodily injury liability suit. It may not be your fault, but you may need to shell out for a lawyer to defend you and potentially pay for awarded damages.
By investing in adequate yoga insurance, instructors can expect to mitigate specific risks covered in the policy. Now, let's understand the relevant categories of insurance for this industry.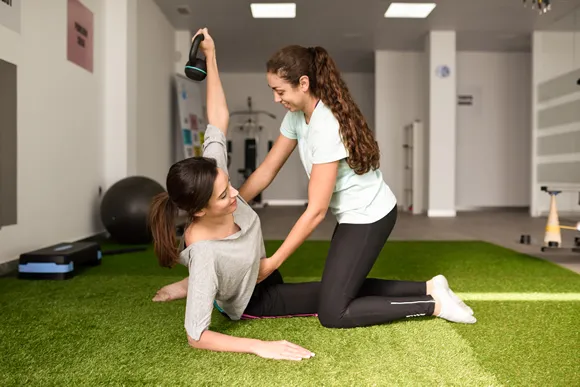 Snapshot of Insurance Policies
Yoga instructors have access to several different types of insurance. Here's a list of coverages that can help safeguard your business from common liabilities:
1. General Liability Insurance
General liability insurance is relevant to most businesses across various industries. This type of insurance protects one's business against third-party liability lawsuits. The liabilities here fall under three categories:
Accidents and bodily injuries sustained by a third party because of your business. For instance, a client visits your office and experiences a slip-and-fall event that requires hospitalization or gets hurt in class.
Third-party damages caused by one's business to someone else's property.
Advertising injuries; for example, a third party accuses your business of causing reputational damage and a loss of sales because of comments made by your company, such as slander or libel.
In such cases, general liability insurance can help yoga teachers cover the costs of legal fees and settlements.
2. Professional Liability/Errors and Omissions Insurance
Business insurance for yoga teachers can include professional liability coverage, also known as errors and omissions insurance. This type of insurance can come to the rescue in cases where a client sues a business over a financial loss (not due to bodily injury) caused by professional services rendered.
Other covered acts under professional liability include negligence that results in your client experiencing a financial loss. This insurance provides a defense lawyer and pays court fees and potential settlements for covered claims.
3. Commercial Property Insurance
Yoga instructors with a studio benefit from purchasing commercial property insurance. This type of insurance covers damage or loss to business property, such as a fire, vandalism, theft, hail, wind, and other perils.
The property covered includes buildings owned by the company, furniture and fixtures, inventory, and equipment. The covered costs can include repairs and replacement of the lost or damaged property. Without this type of insurance, out-of-pocket expenses can be significant.
Commercial property insurance excludes property damage caused by earthquakes and floods, and you have to purchase separate policies to obtain this coverage.
4. Business Owner's Policy
This package policy offers the benefits of both general liability and commercial property insurance. So, instead of purchasing them individually, yoga teachers can purchase one comprehensive package – the business owner's policy (BOP).
Buying a BOP helps reduce your company's vulnerability to costs from third-party bodily injury and property damage liability claims or suits, personal and advertising injury, damage or loss to business-owned property, and business income coverage caused by insured perils.
5. Workers' Compensation Insurance
This type of insurance is valuable for yoga studios that employ staff such as instructors, yoga training teachers, and other support personnel. It is mandatory insurance in most states if you have a certain number of employees.
Workers' compensation insurance covers the medical expenses and lost wages for workers who get injured on the job or suffer an occupational disease directly related to their work environment. Benefits provided are statutory and vary from state to state.
What is the Cost of Yoga Insurance?
It's important to carefully assess how much insurance you need and what types of insurance are required. The cost of yoga tutor insurance can depend upon several factors:
The size of your yoga business; are you a one-person business, or have you hired more instructors and support staff? What is your annual revenue?
Do you teach in your studio, or do you do private sessions in clients' homes?
Do you have just one studio or several of them?
Location of your studio and the potential for property or liability losses.
If you have employees and the annual payroll cost.
The Takeaway
Yoga instructor insurance is an essential investment whether you do private sessions only or have a full-service studio. No matter how careful and skilled you are in delivering your classes, things can always go wrong.
If you've chosen the appropriate types of coverage, commercial insurance will help protect your firm from ordinary and unique risks. This lays the foundation for building a sustainable, thriving yoga training practice.
Yoga tutors and business owners can partner with an insurance agency such as Insurance Advisor to build a robust insurance program to help protect your business during tough times.
We Are a Trusted Insurance Provider