Choose the Right Business Insurance for your Delaware Business
Delaware has a great business environment, with approx 67% of Fortune 500 companies incorporated in Delaware alone. This makes Delaware a unique state where ease of business has created jobs and taxation with an additional 1.5 million companies incorporated. However, like most companies, they protect their livelihood by seeking business insurance to preserve their earnings from work-related incidents like a customer-related accident or an employee sustaining an injury at work. The Diamond State is home to more than 27,000 small businesses that provide the financial backbone for the state's companies. You'll need the right business insurance coverage to keep your business successful in Delaware.
Federal laws determine what businesses are required to acquire general liability protection anywhere in Delaware, from Wilmington to Dover.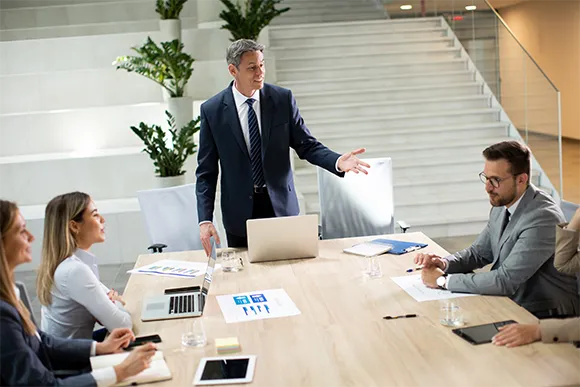 Professions in Delaware that can get insured:
Architecture & Engineering
Beauty
Commercial Maintenance
Consulting
Fitness
Health
Home Services
Marketing
Property
Retail
Therapy
What Types of Commercial Business Insurance are Offered in Delaware?
Depending on your company's specific circumstances, you will most likely need to carry some or all of the following types of coverage. Among these, certain policies are necessary and required as per mandatory insurance laws of Delaware:
Essential Insurance Policies in Delaware:
Most businesses in the state of Delaware must acquire workers' comp insurance. If your firm does not carry this coverage, employees who are injured or sick on the clock may sue your business. You may also find yourself fined by the State Department of Labor.
In Delaware, all privately owned vehicles must be covered by commercial auto insurance. Such an insurance policy covers the costs associated with work-related traffic accidents. Trucking companies may need additional coverage to ensure that they abide by regulations.
1. Workers' Compensation Insurance
Delaware law requires you to carry workers' compensation insurance if you have one or more employees, whether full-time or part-time. Employers cannot charge an employee for the costs of coverage.
Workers' comp is required in almost every state for businesses that have employees. In Delaware, small businesses can gain exemptions from getting Workers' Comp by filling out the DE-EXCL 12/04 form. However, despite certain reservations by some businesses, we recommend this policy since it can provide significant protection against medical and surgical expenses and employer liability for workplace injuries, such as a slip and fall in the office, an injury from tools or machinery, or an occupational injury.
This plan covers wages for work-related injuries regardless of their severity. The plan may also extend to payments if disability benefits are enabled while the worker is still recuperating.
When the expenses associated with medical care escalate quickly, you can count on workers' compensation to cover medical treatment and missed wages if you've injured yourself while working or if an injured employee files a lawsuit against you for neglecting to prevent an accident.
2. Commercial Auto Insurance
Delaware law mandates that all business vehicles be insured by commercial motor vehicle insurance. This policy pertains to accidental death and injury associated with work vehicles.
Delaware's auto insurance requirements are:
$25,000 bodily injury liability per person
$50,000 bodily injury liability per accident
$10,000 property damage liability per accident
$15,000 personal injury protection for any one person
$30,000 personal injury protection for all persons injured in any one accident
Trucking companies may need to follow more maintenance regulations. Although not required, when driving a personal vehicle for work reasons, it should be covered by hired and non-owned automobile liability insurance (HNA) and personal automobile policies. It can be added to general liability insurance or a business owner's policy (BOP).
Commercial auto insurance covers legal costs, medical expenses, and property damage when a company vehicle is involved in a collision.
If your organization owns cars, you will likely need commercial auto insurance. You can depend on commercial vehicle insurance whenever you or an employee require medical care or become involved in legal proceedings due to an auto accident. If you do not buy commercial vehicle insurance, your company will be responsible for all medical and legal expenses, which can become quite expensive. But more importantly, Delaware Laws have fines to the tune of $1500 and above for violations and lack of insurance policy.
Non-Essential Recommended Insurance Policies:
1. General liability insurance
General business liability insurance covers common dangers like customer injury, customer property damage, and public liability. It helps protect your business from the high cost of litigation and helps you obtain leases and contracts. In Delaware, such incidents cost an average of $20,000 in compensation claims.
Business liability insurance coverage offers compensation payments for injuries or damage to a client at your business or if you cause damage to another individual's property caused by negligence on your part. This insurance policy also covers personal injuries and court-awarded settlements.
This policy is essential for all Delaware businesses. It's best for:
Customer injuries at your business
Damaged customer property
Libel and other advertising injuries
2. Professional Liability Insurance
Professional liability insurance is also called errors and omissions insurance, and it's designed to protect professionals and small businesses from the expenses of lawsuits related to unsatisfactory work.
Professional liability insurance is designed specifically for businesses making income off their specialized knowledge. Even the most experienced and meticulous service provider makes mistakes. Unfortunately, prospective clients might need to be more understanding when your mistake loses them time or revenue. Professional liability insurance protects your company from losses if you must go to court due to an unsatisfied customer. It's best for:
Work mistakes and oversights
Professional negligence lawsuits
Late or incomplete work
3. Cyber Liability Insurance
Cyber security insurance, also called cyber liability insurance, safeguards small businesses from the financial consequences of a data breach or malicious software attack. We have covered more details on what cyber insurance can do here. It covers the costs of customer notification, credit monitoring, legal expenses, and fines. Cyberattacks and data breaches are costly and increasingly common for small businesses. With their limited IT security, small businesses are frequently a weak target for cybercriminals.
A cyberattack doesn't just cause disruption; it can also cause businesses to close their doors permanently. In fact, 60% of small companies drop within six months of being hit by a cyberattack. Cyber insurance helps you recover from the financial consequences of losses caused by cyberattacks and data breaches. It is best for:
Data breach lawsuits
Client notification expenses
Fraud monitoring costs
4. Business Owner's Policy
A business owner's policy (BOP) package comprises general liability insurance with a commercial property insurance policy. It is usually cheaper than buying the policies separately. If you own a business or rent a workspace, you may need a business owner's policy (BOP). In addition, client contracts typically include general liability coverage.
A BOP is an intelligent selection for small service providers who serve the general public and own valuable business property even when no liability is needed. This option protects against monetary losses because of customer accidents and incidents, like fires and burglaries. It is best for:
Customer injuries
Damaged customer property
Damaged business property
How Much Does It Cost for Business Insurance in Delaware?
A median of $49 per month is the typical business insurance cost in Delaware across all industries our business engages in. However, the costs vary for each insurance policy. Commercial insurance may be very affordable for Delaware small business owners.
Factors that influence insurance rates include:
Type of business and its risks
Business revenue and location
Number of employees
Type of insurance purchased
Policy limits and other coverage options
Why Choose an Insurance Advisor for Commercial Insurance in Delaware?
We can provide quotes with many different insurance carriers, and you can request quotes from the comfort of your home, office, or anywhere by visiting us at InsuranceAdvisor.com. Once you create an account, your business information is stored, and you can come back at any time to request other lines of insurance, get a certificate of insurance, and update your information.
Also, Read: What are the seven characteristics of organizational culture?
FAQs for Delaware Business Insurance
The Penalty amount is three times the premium amount that could have been paid if your business opts for Workers' Comp.
If you want more occurrences and claims to be covered, you will pay more for insurance. The cheapest insurance is never the best insurance. We recommend that you get more than one quote from different insurance companies. This way, you can see how one insurance company's rates compare to another's. Always read the exclusions in the policy. This is where you find what is NOT covered. Get an affordable option with the most common mishaps likely to happen to your business insured and not listed under exclusions. The old saying, "You get what you pay for," is very accurate with business insurance.
Like our agents at Insurance Advisor, an experienced Delaware commercial insurance agent can determine the best insurance company for your business. Insurance companies often specialize in specific business industries, which can vary from state to state. We will match your Delaware business with carriers that know your industry and can meet your company's insurance needs. Visit us at InsuranceAdvisor.com to request a quote for General Liability, Workers' Compensation, Business Property, Business Auto, or Umbrella insurance.
Make an appointment with your vendor to request a copy of their public liability certificate, which will provide the policy number with information and documentation related to this insurance. Call the insurance provider and request confirmation of the insurance's validity by calling the reference number given on the certificate.
We are a Trusted Service Provider