Does it Make Sense to Have Business Insurance in Florida?
Florida is the Sunshine State of the United States of America. With a $1.4 Trillion economy and over 3.6 million employees working in 3 million small businesses, it has an envious fourth rank among the many states. Florida provides a business-friendly environment for most LLC sole proprietors who are exempted from income tax. This has resulted in a business boom. But like most states where you're a small business owner, keeping an insurance backup makes perfect sense in such a competitive state as Florida.
This is because Small business insurance in Florida can offer you protection from financial losses due to different risks, such as:
Third-party Bodily injury
Third-Party Property damage
Employee Injuries
Business property damage due to human-related accidents and natural disasters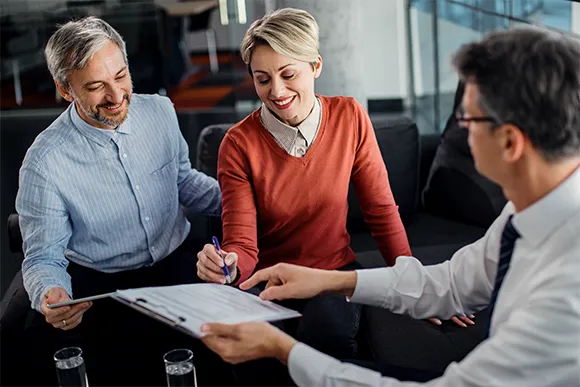 Most bundled policies in Business liability insurance aren't mandatory by law in Florida. However, many municipalities require that a business maintain general liability to operate within its jurisdiction. Florida employers must purchase workers' compensation insurance depending on the industry and the number of employees to ensure that their workers are protected if injured on the job.
For instance, the coverage requirements for construction companies with only one employee are different from those for non-construction businesses with one employee.
Sole proprietors and business partners are exempted from mandatory liability insurance. However, just because there is no state-mandated requirement for businesses to carry general liability does not mean your local municipality may not require it. And certainly, if you plan on leasing commercial space, your landlord will need it as well as your bank, which provides business loans.
But besides the legality of insurance in Florida, it is important to note that Florida is a tornado & hurricane-infested state with commercial & residential property insurance premiums higher than US national rates in some cases. This is a natural consequence of the frequency of national disasters occurring in Florida. This is why Insurance in Florida can decide the very fate of your business.
What Types of Commercial Business Insurance are Offered in Florida?
As a state with a large number of mushrooming Small businesses, Florida offers many options. Most small companies commonly buy these types of insurance.
1. Business Owner's Policy
A Business Owner's Policy (BOP) package combines commercial general liability insurance with commercial property insurance. The bundle is generally less expensive than when the policies are purchased separately. You need a BOP or a commercial package policy (CPP) if you own or rent your business location. In addition, client contracts typically require evidence of general liability coverage.
General Liability Insurance:
General Liability Insurance protects your business against typical incidents, such as customer injuries, property damage, and advertising injuries. It enables you to qualify for licenses and leases and may assist you in getting work since clients may request evidence of this coverage.
Commercial Property Insurance:
Florida's commercial property insurance is an absolute must (see the hurricane link above) for protection against losses resulting from covered events that damage your property. These events typically include various natural disasters like floods, windstorms, hail, earthquakes, fires, vandalism, tornadoes, hurricanes, and similar occurrences. When such events are explicitly listed as covered within the policy, the insurance kicks in to help mitigate the financial impact of the damage incurred by the business property. However, it's important to note that not all policies cover damage caused by flooding.
2. Workers' Compensation Insurance
Workers' Compensation Insurance covers medical costs and lost wages for work-related injuries. The Florida 2023 statutes provide an extensive definition for the terms and jargon used in State laws interpreted for compensation to workers. Workers' compensation policy is essential for all business owners with employees in most states, including Florida.
Workers' compensation laws vary by state, but small companies usually should have a policy in place as soon as they hire their first employee if they don't want to pay out of pocket for an employee's injury and wage loss. In the case of Florida, the rules vary for different companies involved in the fields of construction, agriculture, and other allied services. For Construction companies with even a single employee on Payroll, Workers' Comp is mandatory without exception.
3. Commercial Auto Insurance
Commercial Auto Insurance covers those sums the vehicle owner is liable for resulting from an 'at-fault' auto accident. When someone is given a ticket for an accident, they are usually at fault and responsible for paying the damages incurred by the other vehicle driver. These damages include the cost of medical care for injuries, economic loss from missing work, and the cost to repair the damage to their vehicle.
As per Florida's auto insurance laws, PIP (Personal Injury Protection) & PDL (Property Damage Liability) shall form essential coverage for any kind of accident involving the driver. 'No-fault' coverage ensures at least a prior compensation up to the limits of $10,000 or less (for both PIP & PDL), after which the relevant legal case to follow may then decide the verdict of guilt or innocence. If your company owns an automobile used for business purposes, your business will require 'No-fault' commercial auto insurance.
4. Professional Liability Insurance
Professional liability insurance also called errors and omissions insurance, protects professionals and specialized servicing businesses from the costs of client litigation arising from negligence in performing professional services. Professional liability insurance is for companies and professionals relying on technical expertise for income. Even the most knowledgeable and seasoned professional may make a mistake or miss a step. Unfortunately, clients may not be forgiving if your error costs them a lot of money. And this is especially true of patients who might suffer health complications arising from medical neglect.
This is why there are strict requirements for medical professionals in Florida to have their own form of liability insurance called Malpractice Insurance Policy. However, while other professionals like Technology professionals, Building design businesses, Contractors, and construction businesses & even Insurance professionals are not required to have Professional liability insurance, they can still protect themselves from civil lawsuits caused by clients who suffered a financial loss due to neglect in their services.
5. Commercial Flood Insurance
Due to the unique geography, heavy rains, and hurricane-prone conditions in Florida, it makes sense to invest in Commercial Flood insurance. Many business owners assume that their commercial property insurance can cover this event. This assumption has consequences for business owners facing losses when the last heavy rains struck Florida. As a business owner in Florida, it's crucial to explore both federal National Flood Insurance Program (NFIP) options and non-NFIP policies for commercial flood insurance. Non-NFIP policies offer distinct advantages, such as paying out full replacement costs (unlike NFIP, which considers depreciation) and including coverage for business interruption during the rebuilding phase, a benefit not covered by NFIP policies.
Also, Read: How Much Does Commercial Flood Insurance Cost?
Is Florida Small Business Insurance Required at all times?
Although you may not be legally required to have small business insurance (especially comprising all the necessary policies bundled together and discussed in this article) in Florida, it may offer protection from many risks you will encounter in your operations. As we mentioned earlier, Florida is a disaster-prone region with high rates of damage.
Yet, despite this, Florida has many thriving small businesses, and the wide variety of industries includes everything from selling vitamins to creating a documentary television show.
With small businesses accounting for nine out of every ten firms within the state and employing 56.9% of their available personnel in the private sector, it is a testament to the importance of small businesses in Florida's thriving economy. Nonetheless, despite the growth of business in Florida, there are exposures to business liability that you must be conscious of to protect your company.
Even though the business laws in Florida are favorable, the state is known to be incredibly litigious, and lawsuits in a state like Florida often award large sums of money to the plaintiffs. However, thankfully, the old rule of paying for litigation costs has been repealed. Yet, many small firms in Florida still continue to purchase multiple types of insurance in hopes of getting a better verdict upon filing an insurance claim.
Several factors help establish the type of business insurance your business requires, including:
The industry you're in
Number of employees
Risk exposure. For example, construction companies may have more directions to claims than retail stores.
Small businesses in Florida tend to buy general liability, commercial property insurance, workers' compensation, cyber insurance, professional liability (if applicable), and commercial auto insurance.
Also, Read: What is the Benefits of Seasonal Business Insurance?
How much Does Business Insurance in Florida Cost?
Small business insurance premiums vary depending on what risks a business faces in Florida. Since many companies are dissimilar and face unique threats, insurance rates vary accordingly. An insurance provider considers a variety of factors when determining premiums. Some of the elements are:
Location
Type of business
Number of employees
Revenue
Claims history
A company's industry can greatly impact costs. For example, your costs for general liability coverage may be different than a neighboring business if it's in another industry. The easiest way to determine how much insurance will cost you is by requesting an estimate.
Commercial insurance can be affordable for small business owners. Typically, median costs in Florida are:
General liability: $45+ per month
Workers' comp: $46+per month
Professional liability/E&O: $61+per month
Let's consider the overall bundle of insurance policies mentioned here. The annual cost of a general liability policy for a small business in Florida often ranges from $300 to $5,000 per annum. However, the specific price varies significantly among industries. Factors influencing this cost include the business's SIC code or the insurer's classification system, the nature of the company, its location, past claims, and years in operation.
In the case of Workers' Comp Insurance, the average cost turns out to be around $1.30 per $100 of Payroll. This is slightly lower than the National Average in other states.
Also, Check: Looking for Small Business Insurance in Georgia?
Why Choose an Insurance Advisor for Commercial Insurance in Florida (FL)?
We can provide quotes with many different insurance carriers, rs and you can request quotes from the comfort of your home, office, CE, or anywhere by visiting us at InsuranceAdvisor.com. Once you create an account, your business information is stored, and you can come back at any time to request other lines of insurance, get a certificate of insurance, and update your information.
FAQs for Florida (FL) Business Insurance
If you are new in business, you may want to check with your agent who insures your home or car first to see if they can help you. If that doesn't work out, you can visit us at InsuranceAdvisor.com to request a quote.
Inexpensive business insurance may sound like a good idea and it is, if it covers the types of loss scenarios your business faces. A good premium on a policy that doesn't provide coverage for what your business's loss exposures are, is a waste of money.
Contact your vendor to request a copy of their liability insurance certificate, which will provide the policy number with information and documentation related to the insurance they hold with that agent. Companies may have a different agent on each policy. Ask to see a vendor's general liability and workers' compensation, at minimum, on a certificate of insurance before hiring them. Call the insurance agent or insurance company listed on the certificate for confirmation of the certificate's validity.
The cost of general liability insurance varies based on your company's operations, as explained above. Public liability insurance policies with $1 million in coverage are pretty standard for small businesses. This includes:
$1 million per-occurrence limit.
$2 million aggregate limit during the lifetime of a policy (usually one year)
You'll pay more if you require business automobiles, workers' compensation, or any other coverage that pays for a broad range of occurrences. If you opt for a policy with higher limits, expect to pay more than you would for lower limits.
Yes, commercial property insurance often includes coverage for damages caused by hurricanes. However, it's crucial to review your policy to ensure it adequately covers hurricane-related risks, including windstorm damage and flooding.
While insurance premiums themselves aren't tax-deductible for most small businesses, the cost of insurance may be considered a legitimate business expense, reducing taxable income and overall tax liability. Consult a tax professional for specific advice.
We are a Trusted Service Provider