Understanding Insurance for Answering Service Businesses
An answering service is a type of business that manages incoming phone calls for its clients. These services may also include providing a live receptionist, offering 24x7 support, recording and transferring calls, scheduling appointments, answering general questions, admin work, virtual answering service, customer support, and converting inbound leads to prospects.
The virtual nature of this service may increase risk exposures because there is no direct supervision of the employees who carry them out. Common risks that can occur to any business and risks unique to answering service business can arise at any time and in any manner. Businesses need to protect themselves against various adverse outcomes through appropriate insurance policies.
Probable Risks in Answering Service Business
Professional Liability: Any error, omission, oversight, or negligence in work could result in your client losing a customer or spoiling the relationship your client has with a vendor or partner for which your answering service business can be held liable.
Bodily Injury: Customer's injury during your delivery and installation of equipment if applicable.
Natural Disasters: Answering service businesses can be interrupted due to natural disasters and other threats. For example, fires can occur at anytime, anywhere, resulting in loss of revenue and damage to property.
Cyberattacks: Leakage of your customers' or employees' personal information, details of your suppliers and your company's confidential information can happen at any time.
Theft: Some assets or equipment used by answering service businesses are susceptible to acts of theft or burglary.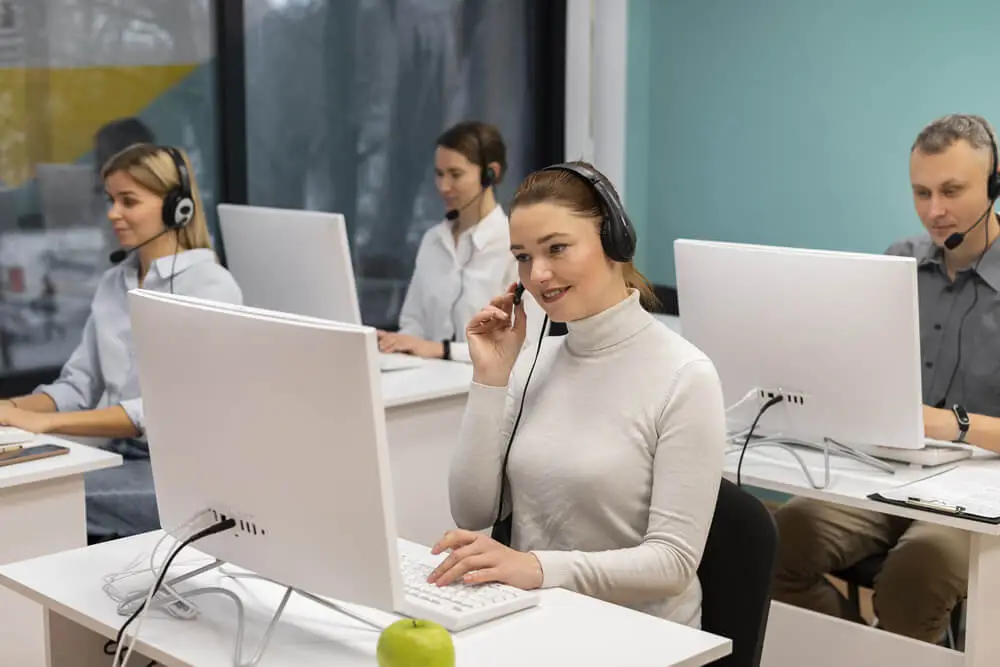 Recommended Answering Service Insurance
Your advertising agency follows risk management procedures to keep your exposures at a minimum. And yet, no workplace can be incident-free. As an advertising firm owner, you should consider insurance to assess and secure against the risks unique to your business.
Business Owners Policy (BOP)
This is an affordable insurance package meant for small businesses. It combines general liability, commercial property, and business income. External threats like hurricanes, riots, civil commotion, fire, tornado, and theft can be compensated by the property insurance included in a BOP, extending to most of the company's assets. This policy contributes to the smooth functioning of the business even after an insured claim.
General liability insurance
This insurance redresses liabilities arising from property damage or bodily injury liability (that do not fall under professional errors) caused by your answering service business operations. An unfortunate incident that causes injury to the client can be covered by this insurance which compensates for the property damage, bodily injury, medical expenses, and legal fees from the client's claim or lawsuit. It also includes compensation for some claims of advertising injury liability.
Premises Liability: This includes damages and injuries caused to visitors – customers, employees, vendors, or the public – on your business premises or while actively performing your work off premises.
Products and Completed Operations: This policy protects you from customer claims of bodily injury or property damage arising after completion of your work or after the sale of your product.
Business Property Insurance
Unexpected damage to company assets, including buildings, equipment, and furniture, is protected under this policy. This insurance reimburses the expenses incurred due to damages by fire, windstorm, hail, riot, vandalism, and other perils.
Business Property Insurance
Business interruption coverage, a.k.a. business income insurance, compensates the answering service business for any income lost due to direct physical damage to the building, which prevents the business from carrying on normal business operations from a peril included under the property insurance.
Professional Liability Insurance
This policy protects your answering service business from claims by your client against financial loss due to oversights or unintentional errors, or negligence. The policy sees to legal expenses that your company may have to bear due to insured claims or lawsuits from third parties. Timely grievance, reparation or out-of-court settlements can also be secured with this type of insurance.
Workers' Compensation Insurance
Having a workers' compensation insurance – mandatory in most states for businesses depending on the number of staff– protects employees for their medical expenses and compensates for a portion of lost wages during the medical leave taken due to getting injured while working. It can also protect the company from heavy expenses in legal fees for employer negligence claims from employees.
Cyber Insurance
This policy protects your business from claims arising from leakage of the customers' business information, confidential information, lead data, etc., and private data stored for your suppliers and employees. The first-party insurance protects the answering service business from incident response expenses, cybercrimes, system damages, and business interruptions. The third-party insurance includes regulatory fines, network security expenses, privacy liabilities, and legal expenses.
Business Auto Insurance
Damages due to accidents caused by your vehicles used for business purposes are secured under this policy. At-fault accidents could lead to unexpected expenses to fix the other party's car, bodily injury suffered by driver and passengers as well as any other property damage incurred during the accident. Your vehicles are compensated for damage by purchasing comprehensive and collision on each. Auto insurance is statutory, and each state can have different requirements for Liability limits required, No-Fault and Uninsured Motorists coverage.
Commercial Umbrella Insurance
This policy provides additional limits over the existing primary liability insurance for general, auto or employer's liability. In other words, an umbrella or excess liability policy protects your business from claims covered in the underlying liability policies that exceed said policies' provided limits.
Employment Practices Liability Insurance
This policy protects your business from liabilities arising from legal action by a current or former employee, including claims of sexual harassment, wrongful termination, discrimination, breach of employment contract, failure to employ or promote, negligent evaluation, causing emotional distress, and deprivation of career opportunities. This policy can also provide liability coverage for third-party discrimination claims.
Comprehensive Costs
The comprehensive costs for answering services' insurance policies vary based on several factors:
Annual revenue
Location and assets insured
Number of employees and annual payroll
Types of services provided and risks associated
Getting comprehensive insurance to suit your company's unique needs is essential for the cost-effective protection of your business from insurable risks that could derail your business.
How to Buy Answering Service Insurance
You can request quotes for insurance policies by clicking here, or you can also call us directly to discuss your requirements with an insurance agent who will assist you in selecting the best option for businesses like answering services.
Benefits of an Insurance Advisor
Independent insurance advisors can help you find the right insurance policy for your answering service business. In addition, they can offer support during the claim process. Insurance Advisor has a nationwide team of licensed insurance agents specializing in insurance for businesses. They combine the relationship of a traditional agent with the flexibility and convenience of online services.
Frequently Asked Questions (FAQ) about Answering Service
1. What is a business answering service?
A business answering service company specializes in managing incoming calls and messages on behalf of a company. It ensures that all calls are answered by a live person and responded to promptly and professionally, often providing services like message taking, appointment scheduling, call forwarding and customer support.
2.How Much Does Answering Service Insurance Cost?
AThe cost of answering service insurance varies. Mostly these variations are based on factors such as the range of services offered, the size of the business, the location, type of insurance, and the coverage limits. It's recommended to request quotes from insurance providers to get an accurate estimate tailored to your specific business needs.
3. Why Do Answering Services Need Insurance?
Answering services need insurance to protect themselves from various risks and potential liabilities arising from their operations. These risks could include errors or omissions in message delivery, data breaches, employee injuries, business property damage, or other third-party bodily injury and property damage liability.
4. What Type of Insurance Do Answering Services Need?
Answering service companies usually require a combination of policies that can help cover basic requirements such as general liability, professional liability (errors and omissions insurance), cyber, workers' compensation and commercial property insurance. Other lines may be needed such as an umbrella or business auto.
5. What Does Answering Service Insurance Cover?
Answering service insurance covers a range of scenarios and expenses using a combination of various insurance policies such as General liability insurance which covers third-party bodily injuries and property damage. While professional liability insurance covers claims related to errors, omissions, or negligence in providing services that result in a financial loss to others. Cyber liability insurance safeguards against claims from data breaches and cyberattacks. Commercial property insurance covers damage to physical assets like buildings, office furniture and equipment. Depending on the specific coverage and circumstances, these policies can help pay for legal fees, settlements, medical expenses, property repairs, and other costs.
We Are a Trusted Insurance Provider