General Liability Insurance Workers Compensation Insurance Umbrella or Excess Liability Insurance
Computer programmers write the code for various apps and software for their clients. They turn their client's visions into reality with the help of their sharp technological skills. As their role is crucial in the ever-evolving technological landscape, there is always a chance of a mishap that could negatively impact the company.
Like all businesses, software developers and programmers, too, want to keep their business running smoothly. Having adequate insurance coverage can help save computer programmer businesses from heavy financial losses in an emergency.
Risks and Exposures Faced by Computer Programmer Businesses
Computer programmers write code for, test, design, and modify software for their clients. Regardless of the business scale, there is always a risk of something going wrong. Mishaps and unforeseen situations can happen anytime, and computer programming services companies are no different. They are vulnerable to various exposures to loss. Therefore, computer programmer insurance is a wise investment.
A professional programming business is exposed to the following:
Property Damage
Natural disasters such as cyclones, fires, riots, or storms could damage infrastructure. Building, contents, and computer hardware could be damaged, which can further cause loss of customer data and records. If computer programmers work from home, then the business property may not be fully covered by home insurance in case of a disaster.
Cybercrime
The most common and serious risk for software developers is a cyber-attack. Hackers could break into the systems and steal the programmers' work, clients' sensitive data, credit card numbers, social security numbers, coding information, etc. Theft of passwords, security breaches, phishing attacks, and ransomware attacks are all threats in today's connected world. Proper insurance will make it easier for computer programmers to survive a data breach or ransomware attack.
Professional Error
A computer programmer can make coding mistakes, causing a glitch in a particular software designed for a client. This glitch, in turn, causes service interruption, pricing errors, or other occurrences negatively affecting the client's revenue. In such a scenario, the client can file a lawsuit that could cost hundreds of thousands in damages. As a result, business owners should be able to rely on insurance to provide legal defense and pay damages.
Otherwise, computer programmers would have to defend the suit using their hard-earned money to recover from these unexpected events. Having proper insurance protecting their programming services will make it easier for them to overcome these unanticipated circumstances.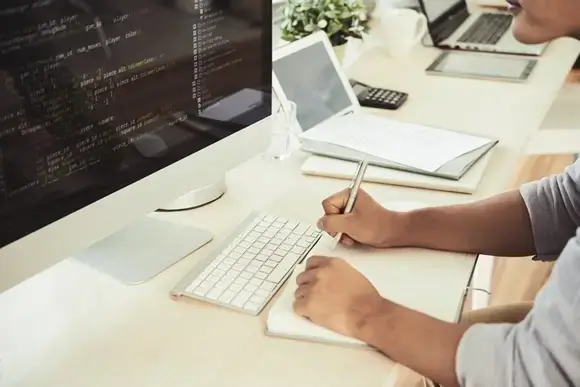 Insurance Coverage for Computer Programmers
Commercial General Liability Insurance
This policy provides coverage against third-party bodily injury and property damage claims. For instance, a client alleges an employee damaged his computer while dispensing programming services. Commercial general liability insurance would pay for repairing or replacing the computer if the client makes a claim if it is determined that the employee did damage the computer.
Likewise, suppose a customer slips at the office on a wet floor and breaks his hand. In that case, commercial general liability insurance will pay for the economic loss (lost wages) and non-economic damage (pain and suffering) and will provide the legal defense and settlement.
This policy also pays for advertising injury, copyright infringement, slander, and libel liability claims or lawsuits.
Commercial Property Insurance
Software developers need to protect their business property. The furniture, computers, printers, and phone systems should be insured whether it is a home office, owned building, or rented office space. Commercial property insurance covers buildings and contents damaged by fire, theft, vandalism, hurricane, and other perils.
Business Owner's Policy
A business owner's policy is an affordable policy that includes the following:
General liability insurance
Commercial property insurance coverage
Business Interruption Insurance
The general liability will provide coverage against client injuries at the office or accidental damage to the client's property. Commercial property insurance, also known as business hazard insurance, will pay for repairing or replacing business property that is stolen, destroyed, or damaged. Whether it's an intruder stealing a laptop from a web designer's home office or a windstorm breaking the office windows, commercial property insurance can come in handy with restoration or exchange.
Errors and Omissions Insurance
Also known as professional liability insurance, this policy provides defense when a computer programmer is sued for a mistake in services provided that financially impacts the customer. Insurance comes to the rescue for errors and omissions in case of negligence, software bugs, omissions, and programs that don't meet the contract requirements.
Cyber Insurance
Cyber insurance pays for the business liability in case of a data breach involving sensitive customer information such as credit card numbers, social security numbers, and health records. In addition, it provides coverage for notifying customers regarding the data breach, restoring the personal identities of customers, recovering stolen data, and repairing systems.
Workers' Compensation Insurance
A worker's compensation insurance can be helpful if a software developer has one or more employees supporting them. This policy will pay for the cost of medical treatment and lost wages in case an employee gets hurt while working.
Fidelity Bonds
Also known as Employee Dishonesty Bond, it pays for the reimbursement to the customer or business in case an employee steals money or property. In addition, fidelity bonds compensate the company or clients in case of fraudulent acts committed by employees, including forgery, unlawful data access, and theft.
Cost of Computer Programmer Insurance
The cost of computer programmer insurance depends on the following:
Type of services offered to the clients
Annual payroll and revenue
Types and limits of insurance needed
Experience
Loss history
Summing up
With such a pivotal business that involves sensitive information, computer hardware, data, and coding, it is essential to have insurance coverage that helps one overcome numerous risks. Business owners should assess their needs and requirements and discuss the recommended insurance and policy terms and conditions with their insurance agent before investing in an insurance policy. To get a quote for your computer programming business, please visit us at www.insuranceadvisor.com.
Frequently Asked Questions (FAQ) about Computer Programmer Insurance
1. Why might general liability insurance not suffice for computer programmers?
General liability insurance covers physical bodily injury, property damage, and personal and advertising injury claims, which doesn't address all exposures that computer programmers face. Furthermore, general liability excludes coverage for professional services. Computer Programmer professional liability insurance is designed to address specific concerns like coding errors, software glitches, omissions that cause a financial loss to others.
2.Can Computer Programmer Insurance be tailored to individual freelancers and software development firms?
Absolutely. Computer Programmer Insurance is adaptable to cater to the specific requirements of freelance programmers, small-scale software development enterprises, as well as larger programming corporations. The coverage can be customized according to the scale and needs of your operation.
3. Is having Computer Programmer Insurance important for building client trust?
Having Computer Programmer Insurance not only boosts your professional reputation but also shows your firm's dedication to consistently delivering top-quality work. Potential clients will expect you to provide evidence of liability prior to commencing work with them. By having the coverage, they are assured that you will uphold your responsibilities earnestly and are financially equipped to address unforeseen challenges.
4. How do I determine the appropriate coverage and limits for my Computer Programmer Insurance?
The right coverage and limits depend on many factors such as the size of your programming business, the complexity of projects you handle, if you have employees, assets or owned autos. Consulting with an experienced business insurance agent at Insurance Advisor will help you assess your business insurance needs accordingly.
We Are a Trusted Insurance Provider