Regardless of the industry, they operate in, all businesses and professionals are prone to risks. This is more apparent in the software development industry, where companies are exposed to various challenges such as data breaches, hacking, cyberattacks, and malware. Having proper business insurance for software developers and programmers is the best solution for financial protection against such liabilities.
Risks and liabilities related to software development
Technology and software development professionals and businesses should protect their assets with comprehensive business insurance because they can fall prey to numerous hazards. These include:
Cyber incidents: Software development professionals can fall victim to cyber incidents that hijack or wipe off crucial information from the system. If a cyber-attack occurs, professionals who handle sensitive information such as credit card numbers, bank account details, medical information, social security numbers, and customer names, would face many challenges. There could be regulatory fines, system damage, breach of private information, information held ransom, and resulting client lawsuits. Legal and recovery costs could wipe out a business as these can be massive and burn a huge hole in the pocket.
Accusations of negligence: Since programming involves offering advice and professional services to clients, software developers are at greater risk of being sued for negligence or unsatisfactory work. For instance, if a customer hires a software programmer to supervise the implementation of a new system, but the project gets delayed due to the programmer missing deadlines, the client who suffered a financial loss because of the delay can file a lawsuit against the programmer claiming negligence of duty.
Accusations of wrong advice: For example, a software developer recommends cloud storage software to a client. However, the software develops performance issues or lacks features such as file sharing. In this case, the client can sue the software developer to regain damages. This is a prime example of why programming companies should have software developers' professional liability insurance.
Fraud by employees: There could be an employee at a software development firm stealing money or setting up spyware or some other malicious software on a project that mishandles a client's sensitive information. The client could then sue the business owner for the loss, which could deal a major blow to the company if they don't have third-party employee dishonesty coverage.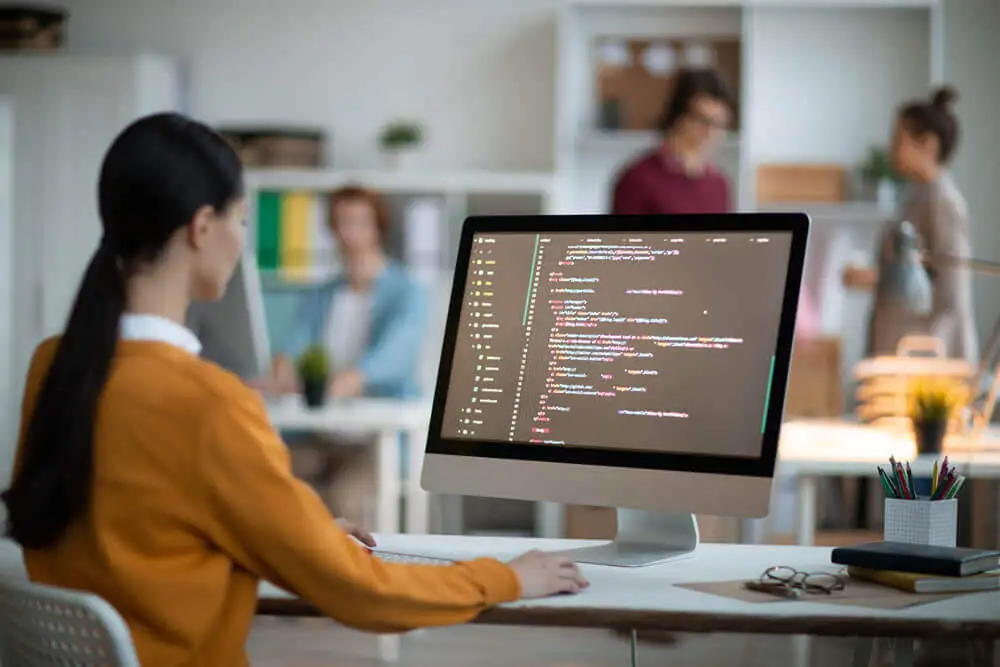 Type of business insurance for software developers
There are different types of software development business insurance. They include:
Errors and omissions insurance
Also known as Professional Liability, this type of insurance will provide legal defense if a client claims that the software developer negligently performed the work. Included programming errors, or didn't include contractually agreed upon features.
Lawsuits can be damaging to businesses, especially small companies that have fewer resources and funds. Errors and omissions insurance provides coverage against oversights and mistakes, failure to deliver promised services, professional negligence, intellectual property, and media liability (for some professions) that result in your clients' losing revenue.
For example, a Denial of Service attack at a web hosting company causes a long website downtime, resulting in financial loss for customers and possibly your business as well. Clients can sue the web hosting company citing professional negligence and lack of security protocols allowed the attack. Similarly, a client can file a lawsuit against a mobile developer for creating an app that causes users' smartphones to slow to a crawl. Errors and omissions insurance will come in handy to protect against liability lawsuits in such inprotectsrance.
This type of insurance provides protection against cyberattacks, malicious software attacks, data breaches, ransomware, and more. Cyber coverage can pay for first party damages such as customer breach notification, credit monitoring, damage to your hard or software and your loss of business income resulting from a cyber-incident. It also provides third-party liability coverage if your clients make a claim or file a lawsuit against you because their private information was compromised, it provides your legal defense and regulatory fines and penalties. For companies in the software development industry, it is a good idea to package your Professional Liability and Cyber insurance together on one policy or at least with the same carrier to avoid any potential gaps in coverage.
Fidelity bond
If an employee has access to sensitive information or steals assets or a client's property, since the business is responsible for its employees, it could be held liable for the damages. Fidelity bonds will pay the loss incurred from employee theft. This policy does not provide any liability coverage for having hired a dishonest employee, only the theft. A Crime policy can be customized to include coverage besides employee dishonesty such as computer fraud, electronic funds transfer fraud, and others.
A fidelity bond is known as employee dishonesty coverage and can be purchased alone or with other coverage on a commercial crime policy. First-party employee dishonesty coverage protects the software development business from dishonest acts of employees whereas third-party employee dishonesty protects a client's business from unethical employees.
General liability insurance
General Liability insurance provides coverage against third-party damages for property damage and injury claims. For example, a client falls off a staircase on the premises of the business owner's office alleging the ripped carpet caused the fall. The business, if found to be negligent (ripped carpet) will be liable to reimburse the claimant for the medical costs, pain and suffering, and economic loss resulting from the client's injury. General liability insurance provides defense and court-ordered judgments or negotiated settlements for covered claims.
General Liability insurance also provides limited coverage for Personal and Advertising Injury liability. Advertising Injury will provide a defense for claims that you used another business's trademark or copyright material. Personal Injury covers claims for wrongful detention, false arrest, invasion of privacy, libel, and slander.
Workers' compensation insurance
Workers compensation is governed by state statutes. Benefits, the amount of lost wages paid, and medical fee caps, are based on the state in which the business operates and the employee lives. If an employee suffers an injury at work, the business owner is usually liable, regardless of fault (there are always exceptions). Workers' compensation insurance pays the medical expenses of the injured employee, as well as a portion of missed wages if the employee is unable to return to work. The Employers Liability coverage included in this policy provides defense for employee filed negligence lawsuits against the employer. This insurance also pays the death benefits required in the state when it comes to fatal accidents and also disability benefits.
Commercial auto insurance
Business auto insurance provides the same statutory coverage required in your state that your personal auto covers, with the ability to buy increased limits and optional coverage. Auto liability will defend the business against property damage and bodily injury resulting when the driver is at fault for the accident. In addition to the defense, it will pay the court-awarded judgment or settlement reached. You can include additional options, medical payment, Personal Injury Protection (aka No-Fault), Uninsured Motorists, Comprehensive and Collision, Towing, Rental Reimbursement or Hired and Employers Non Owned Auto Liability. Software developer professionals need to commute to meet clients frequently, whether business-owned vehicles are used or employees are using personally owned vehicles for business use, there is a business auto exposure to consider, and being covered by commercial auto insurance is essential.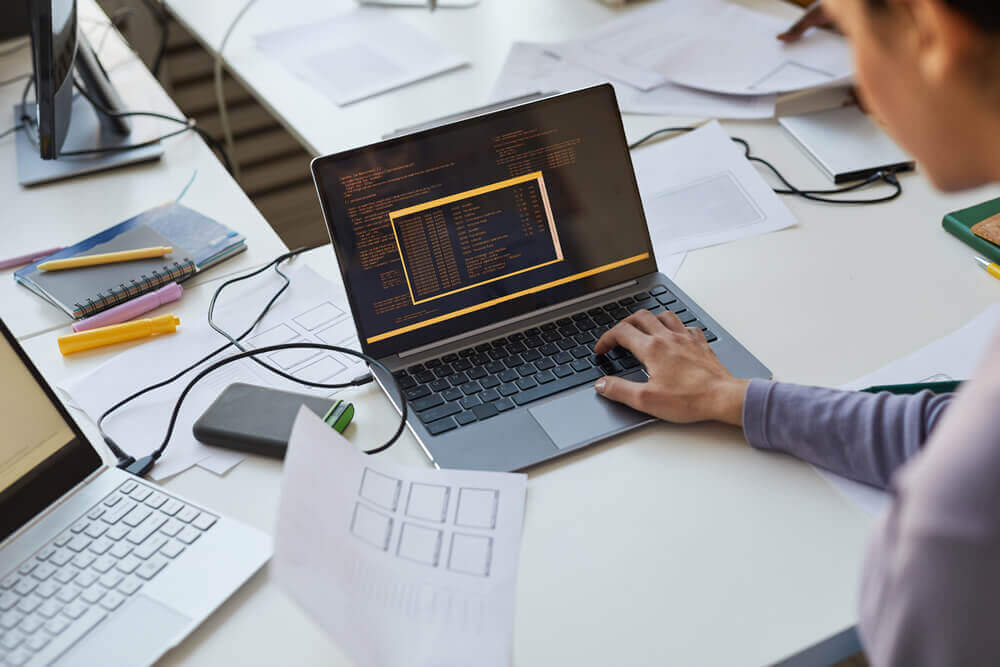 Costs of business insurance for programmers
The costs of business insurance for software developers and programmers depend on the following:
Services offered
Years of experience
Business property and equipment values
Business revenue
Payroll
Policy limits and deductibles
Summing up
It's a no-brainer that one should safeguard their business with the right insurance to be prepared for accidents, mistakes, and unforeseen occurrences. The same applies to software development firms. When investing in business insurance, software developers and programmers must weigh the coverage terms of each policy to see what fits the best.
To get a quote for software development insurance, please visit www.insuranceadvisor.com and let us handle your risks and liabilities for you!
Frequently Asked Questions (FAQ) about Software Developers Business Insurance
1. Why do software developers need business insurance?
Like many professionals, software developers are responsible for delivering programs that meet the specs of their customers. If a client claims that the software you developed caused them financial losses or other damages, this insurance will respond to covered claims with legal defense and potential settlements. Combine different types of coverage for your firm to get insured for third-party liability lawsuits, hacking and data breaches, damages owed from accidents, employee injuries and other expenses that could bankrupt the business.
2. How do I get software developer insurance?
You can get Software Developer Insurance by visiting our InsuranceAdvisor.com website, selecting "GET A QUOTE", choose your coverage and answer a few questions. Instant quotes are available for many industries, depending on the type of insurance requested. Call to connect with one of our agents at 855-600-2384. Our agents are there to help you choose the insurance options that work for your business.
3. What does Software Developer Insurance cover?
Software Developer insurance includes a variety of policies but the most common include professional liability aka technology errors and omissions and cyber insurance. Professional liability is a key component of software developer insurance. It covers legal defense and damages if a client sues you for errors, omissions, or negligence in your software development work that caused them a financial loss. Cyber covers liability if your clients sue you for compromising their private information in a cyberattack, data breach, or ransomware attack. First-party losses can also be insured with a cyber policy, such as the expense for customer breach notification, credit monitoring, hard or software damage, and business income loss. Software development organizations should bundle Professional Liability with Cyber insurance to minimize coverage gaps.
4. Is insurance mandatory for software developers?
Some insurance may be mandatory, such as workers' compensation. Depending on the number of staff you employ, check your state's requirements to comply. If you have company owned vehicles, you need to meet the financial responsibility laws for your state. Other insurance is not mandatory for software developers; however, your clients will most likely want to see evidence of insurance before hiring your firm for a project. It's recommended that software developers purchase the appropriate insurance to protect their business against potential losses.
5. What should I do if I need to file an insurance claim?
Contact your insurance agent or insurance company to begin the claim process. Most claims are reported online through a provider's website or by phone. Instructions on how to file a claim are included in your policy documents. Additionally, you should give the insurance provider any relevant documentation related to a claim or lawsuit, such as contracts, invoices, or other evidence of financial loss.
We Are a Trusted Insurance Provider