Understanding Psychologist's Insurance
Psychologists are professionals who specialize in treatment for patients relating to the mind and behavior and support people with mental health conditions. They treat people with emotional, behavioral, or cognitive difficulties. These professionals are crucial in promoting healthy behavior and improving the patient's quality of life. Hence, they make a significant contribution to society.
Even with societal contributions, your practice may still receive patient complaints. As with any business that involves direct patient interaction, your exposure to risk remains high. Wrong interpretation by the patient of the advice given, a course of counseling not delivering the expected results, or a mistake while treating the patient could lead to a claim or lawsuit filed against you and your practice. Depending on the legal structure of a practice, the psychologist or the practice could be held liable for errors or omissions while providing professional services. Commercial insurance may effectively respond to these risks — especially for independent psychologists and those who run a private practice.
Psychologist insurance can offer protection against common risks such as employee injury claims or malpractice lawsuits against the practice. Small business insurance gives you financial protection against legal liabilities arising from negligence, error, or omission in the performance of psychology services.
Key Exposures for Psychologists
Failure to provide support, advocacy, and information on a client's progress while the treatment program is ongoing
Offers incorrect psychological treatment programs
Irresponsible evaluation of the disorder
Inadequate patient monitoring
Incorrect diagnosis of a behavioral disorder or mental health issue
Sharing patient's confidential details or personal information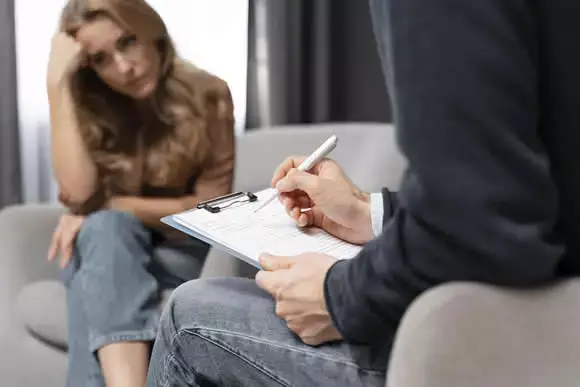 How can Psychologists Benefit from Insurance Coverage?
Being a professional psychologist, you should be able to focus on providing satisfactory service and care to your clients without worrying about risks. It is crucial for you to have the right psychologist insurance that provides the necessary protection tailored to your business's needs.
Our commercial insurance for psychologists includes coverage for the following:
Medical Malpractice Insurance
This coverage protects you against liability resulting from errors or omissions made while delivering professional services that cause bodily harm or death to a patient. Patients and their families have the right to claim damages for pain and suffering, economic losses, medical bills, replacement services, etc. Professional liability insurance will provide your defense in a lawsuit alleging wrongful acts. For covered acts, it will pay the consequential settlement or judgment.
Privacy/Cyber Liability Coverage
Your small business can be prone to the criminal activity of hackers and other cyber threats. This policy responds in the event of a breach of patients' personal information, halting online business functions, processing fraudulent fund transfers, damage to computer systems and hardware, and resulting in revenue losses, among other things. It covers first-party claims payable to you, the insured, as well as third-party liability claims resulting from a covered cyber "incident." By obtaining a cyber-policy, your practice can be helped in such situations and receive the assistance required to return to normalcy.
Property and Business Interruption Coverage
Business interruption insurance is designed to recover lost income when a business is impacted by a covered peril, such as a windstorm or fire. This insurance replaces net income to allow a business to cover its payroll, taxes, loan payments, and other financial responsibilities.
Employment Practices Liability Coverage
When faced with litigation from employees alleging wrongful acts by the employers such as sexual harassment, discrimination, a hostile work environment, or other employee-related issues, employment practices liability coverage for your organization will help. This insurance provides coverage for claims made by current or former employees for covered wrongful acts. Even if the lawsuit is dismissed, the expense of defense alone makes this coverage an excellent investment.
Business Crime Coverage
Business crime coverage safeguards your company against losses caused by robbery, forgery, embezzlement, extortion, employee theft, and computer fraud. If a business's financial assets are stolen, this coverage can protect those assets. A commercial crime policy can help businesses by providing coverage for theft of money and securities, including employee dishonesty, funds transfer fraud, and theft from inside and outside the premises.
Abuse Liability Coverage
This insurance protects businesses or organizations whose employees have been accused of abuse. This insurance covers various types of abuse, including sexual, psychological, physical, and corporal punishment. The insurance provider offers a defense for the covered abuse of workers for which the organization may be held accountable. This coverage may be available on your professional liability policy.
Workers' Compensation Insurance
Workers' compensation insurance protects your practice and you financially in the case of a work-related accident, illness, or death. It pays all medical expenses and replaces a portion of wage loss during the recovery period. Consider Worker's Compensation Insurance for your practice if you are:
Ready to hire your first employee
Have one or more full-time employees
Have one or more part-time employees
You don't want to be sued by an employee
How Much Does Psychologist Insurance Cost?
Psychology insurance premiums depend on various underlying criteria that insurers use to determine rates and annual insurance premiums. Some of them are listed here:
Annual and Projected Gross Revenue
Years of Experience
Number of Licensed Employees
Designations/Certifications Held
Claims History
Client base
Why Choose Insurance Advisor?
Online insurance agency Insurance Advisor quotes a wide range of business insurance policies, including General Liability, Property, Package, Workers' Compensation, Business Auto, and Umbrella policies. You get the following benefits when choosing us:
Quick and easy quotes
Get a quote at the desired time
No appointment needed
Automated secure transactions
Access your policy documents 24/7
Conclusion
A dissatisfied client can file a lawsuit against the psychologist, even when the psychologist is not at fault. This commercial insurance coverage will defend your practice against such malpractice claims or employee injuries, thereby keeping the high costs of lawsuits and damages at bay. Request a quote today!
We A
re a Trusted Insurance Provider