General Liability Insurance Workers Compensation Insurance Umbrella or Excess Liability Insurance
The creative world of art is supported by a wide range of suppliers (that are businesses in themselves) that cater to its infrastructure needs. Artists use materials such as paint, brushes, and canvases to bring their creations to life, as well as frames that safeguard their work at displays around the world. Hence, artists' retail outlets depend on artist supplies and material wholesalers, who play an important role in the art industry.
If you run a business that markets supplies to this industry, including art retail businesses and individual artists, then it is equally important to invest in art supply distributors' and wholesalers' insurance coverage to protect your business from potential losses and liabilities. In this blog, we explain how business insurance for artist supplies and picture frame distributors can be a valuable investment.
Potential Liabilities of Artists' Supplies and Picture Frames Distribution Businesses
Wholesale businesses market products in bulk and are a very important part of the supply chain. Since they deal in large volumes and their products may travel long distances, there is a potential for goods to be damaged in transport or at their warehouse.
Having your products damaged comes at a significant cost to businesses. There is also the potential for workers to get injured at your warehouse, during the loading, and unloading of goods.
Today, a lot of wholesalers are also leveraging online logistics management platforms to keep track of their shipments. Hence, there is potential for them to become victims of phishing attacks that can compromise sensitive data and their bank accounts.
There is also potential for accidents such as a fire breaking out, which results in the destruction of expensive property. Commercial property insurance for artists' supplies and picture frame distributors covers the loss of property caused by a covered peril.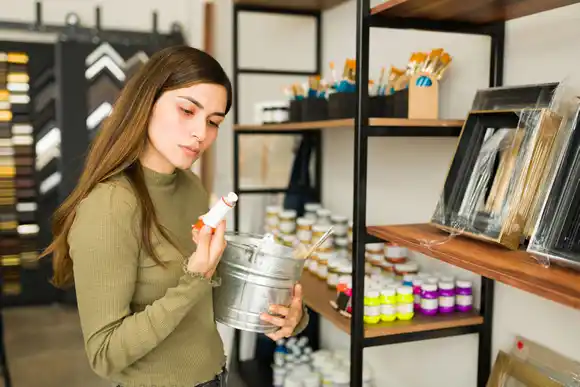 Types of Insurance to Consider
It is advisable for picture frame distributors and artist suppliers to invest in wholesalers' business insurance, which will shield the business against several potential hazards.
Here's a snapshot of what is covered under each insurance policy:
Commercial Property Insurance
This policy is designed to protect the owned physical property of a business. The policy covers a business' building, inventory, furniture, fixtures, and equipment while at the business premises. This may be the most important insurance policy for picture frame wholesalers and artists' material wholesalers who have a large inventory of products.
Investing in commercial property insurance means that a business's physical assets will be repaired or replaced when damaged by fires, hurricanes, vandalism, theft, or other covered perils.
Business Income Insurance
Building damage can sometimes trigger a situation where it is impossible to continue with business operations due to extensive structural damage. Business income insurance can be included in your property insurance policy. Often written with Extra Expense coverage, which assists in setting up operations at a temporary or new location. Business income coverage replaces your revenue stream and enables your business to continue meeting its financial obligations such as ongoing payroll, loans, mortgage, or rent. Damage to your building must be caused by a covered peril under your policy.
General Liability Insurance
As the name suggests, general liability insurance gives protection for claims made by a third party for bodily injury or property damage caused by your business. If your business supplies defective frames to a retail outlet that performs in-house framing service for clients, and the retailer advises you they have received multiple complaints. It appears the frames are coming apart and have fallen off of a client's wall, damaging the artwork and scratching the floor. As the distributor, you will be facing a claim from your retail client for the damage incurred by their client for the damaged artwork and floor. Another scenario is where a person gets injured on your business premises or may be hurt during an installation by your employee.
General liability insurance pays for defense costs incurred during legal proceedings. It covers damage to a customer's property while your employee is delivering a product to a customer or bodily injury to a visitor on your property. Limited personal and advertising injury liability is included as well. Since every business is unique, it is advisable to tailor your general liability insurance based on the needs and potential liabilities relevant to your business.
Workers' Compensation Insurance
This type of insurance covers medical expenses that are incurred if an employee gets injured on the job. It pays for immediate medical costs such as ambulance charges, emergency services, and tests; ongoing medical costs, as well as partial wage replacement if the employee is unable to work after being hurt.
Additionally, a worker may sue your business due to some form of negligence that leads to injury. In such a case, Employers' Liability coverage, usually included with Workers' Compensation insurance covers expenses such as defense costs, and settlement compensation for the employer if an employee sues for negligence. Workers' compensation insurance covers both your employees and protects your business as an employer.
Commercial Auto Insurance
If your business is engaged in the delivery of art supplies and frames, then it is advisable to invest in commercial auto insurance. For instance, a vehicle may meet with an accident en route to a delivery location. Insufficient coverage can lead to large financial losses, especially in the face of injuries and lawsuits arising from at-fault vehicle accidents.
Commercial auto insurance would cover expenses such as corporate auto liability, medical payments to those involved in the accident, property damage costs, and personal injury protection (PIP) or No-Fault (NF). It can also cover businesses for injury or damage caused by an uninsured motorist.
Commercial umbrella insurance
This is a type of insurance that can be leveraged in cases where you have already exhausted your existing general liability, auto liability, or employer liability policy limit. It is an additional layer of coverage to protect your company from catastrophic bodily injury or property damage occurrences. The cost of claims, like everything else these days is skyrocketing from a combination of distracted driving and the increased cost of vehicle repairs due to the standard technology included with most autos.
Cyber Insurance
With more businesses increasing their digital footprint, they are using email and text services for communication and sharing files, images, and other documents via various platforms. Hence, there is a growing threat of phishing attacks, ransomware demands, and data theft on businesses.
The attacks may be targeted at business owners or employees. Cyber insurance coverage can prove to be a necessary investment in the face of data breaches, cyberattacks, phishing, extortion, denial of service, and other types of cyber incidents that disrupt businesses and compromise private data. This coverage may also assist in maintaining the reputation, sustainability, and profitability of your business.
In Conclusion
No matter how well your business is doing, it can take just one or two incidents to disrupt one's business, reputation, and financial status. Customized insurance for artists' supplies and picture frame distributors is a worthy investment that can keep your business sustainable and profitable for a long time to come.
Wholesale distributors of art supplies and picture frames, can partner with an insurance provider such as InsuranceAdvisor to identify the right coverage for their evolving needs.
We Are a Trusted Insurance Provider