How to Protect Your Car Wash with Business Insurance
If you own a car wash business, having insurance is essential to protect it from operating risks and liabilities. Commercial insurance can help cover your business-owned property and equipment with property insurance; it can also help pay for bodily injury and property damage liability due to the company's or employees' negligence. Moreover, coverage for employees who get injured while on the job will be covered per state statutes.
Business insurance helps your company recover from financial losses caused by such events. Overall, it is a vital investment for any car wash owner as it can protect your business against risks and liabilities that could negatively impact your revenue.
How Car Wash Insurance Helps
The number of cars on the road seems to be increasing daily, judging by all the traffic. This increase in the number of vehicles on the road means more autos come to use your service, increasing your sales and, therefore, your business's exposure to claims. Having commercial insurance can provide the protection you need in these cases. Let's look at the various coverage options offered under car wash insurance:
1.
Commercial Auto Insurance

If you own or use vehicles for your business operations, it is important to have commercial auto insurance. This coverage protects vehicles owned by your business against liabilities for property damage caused by accidents and also helps provide compensation for bodily injuries.

Commercial auto insurance is necessary for vehicles owned by and used for business purposes. It covers various types of situations, owned vehicle damage from collision, comprehensive perils, and expenses for rental reimbursement when the business vehicle is in the shop because of an accident. If your state requires Personal Injury Protection (PIP), also known as No-Fault coverage, this will also be included in the policy.

For example, if your company van is damaged in a collision, having commercial auto insurance can help cover the cost of the repairs. This will help you avoid a considerable expense as well as return the van to work quickly.
2.
Commercial Property Insurance

If you own a car wash business, commercial property insurance can protect your physical assets from damage or loss by covered perils. For example, if a fire breaks out at your car wash and causes damage to the building and equipment, your property insurance would cover the cost of repairing or replacing these items.

Moreover, commercial property insurance can also protect your company against theft and vandalism. If someone breaks into your car wash and steals equipment or vandalizes the property, your insurance can cover the cost of the repairs and replacements.

In addition, commercial property insurance also helps you with financial losses caused due to unexpected weather conditions such as windstorms. The coverage applies to windstorm damage to the physical structure of a building, loss or damage to business equipment and inventory, and loss of income resulting from the interruption of business operations caused by the damage.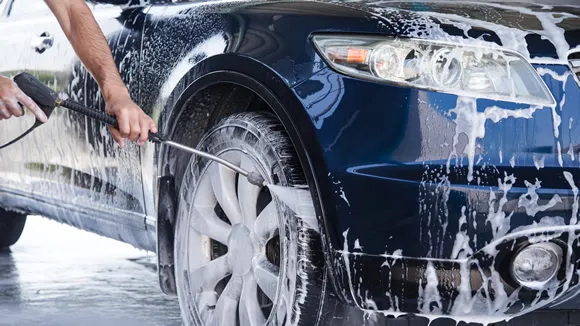 3.
Worker's Compensation Insurance

If you are the owner of a car wash and have hired employees, it is crucial to obtain worker's compensation insurance. This type of insurance provides coverage for employees who get injured or suffer disease from occupational hazards on the job.

For example, let's say you have an employee who is washing a car, and while doing so, they slip and fall, injuring their back. Since the employee was injured while on the job, they are entitled to benefits from your worker's compensation insurance as defined by the law.

These benefits include coverage for medical expenses related to the employee's injury and a portion of the lost wages. Without worker's compensation insurance, you would have to shell out for these expenses from your business's bottom line.
4.
GarageKeepers Legal Liability Insurance

As a car wash business owner, garagekeepers legal liability insurance can protect your business from paying for damage to your customers' vehicles while they are in your car wash.

For instance, imagine a customer bringing their vehicle in for a wash, and while it's being washed, a high-pressure washer comes loose, falls, and damages the client's car. In this scenario, garagekeepers insurance can cover the repair or replacement costs, preventing what could have become a significant financial crisis.
Benefits of Insuring Your Car Wash Business
Here's why you should insure your company:
1. Protection Against Losses: Commercial insurance can help protect your business from financial losses caused by property damage, liability claims, and other unexpected events.
2. Legal Compliance: Depending on where you operate, car wash insurance may be required by law. Commercial insurance meets legal requirements and avoids potential penalties.
3. Customized Protection: Car wash insurance can provide tailored protection for your business's needs. Insurance Advisor offers specialized coverage options such as commercial flood and cyber insurance.
What Are the Costs Of Car Wash Insurance?
Insurance premiums for car wash businesses differ due to a business's size, location, type of operations, revenue, and policy type. The premium amounts range from a few hundred to several thousand dollars annually, with varying deductibles.
Liability coverage limits range from $1M-$5M, and additional fees may come up to several hundred dollars annually for catastrophe-exposed locations for property insurance. Speaking with an insurance agent for a more accurate quote based on your needs is advisable.
Why Insurance is Key
Car wash insurance is a crucial investment for owners as it can help protect your business from unexpected financial losses and legal liabilities and ensure compliance with legal requirements.
By working with a trusted insurance provider such as Insurance Advisor, you can find the right coverage for your company, competitive quotes, and easy payment options. Visit InsuranceAdvisor.com today, and our friendly agents can help you protect your business correctly.
We Are a Trusted Insurance Provider