Understanding lawn care business insurance
Lawn care professionals manicure lawns, ground cover and shape and trim the hedging at the edges. (Tree trimming is typically not done by the lawn care company as this is a higher risk operation often involving use of lift equipment and ladders.) Maintaining a lawn is not always an easy or enjoyable task. Lawn care involves trimming, weeding, mowing, fertilizing and several other meticulous processes. Wealthy folks hire lawn care companies to maintain their lush lawn views. Landscapers typically deal with installation of sod, trees, ornamentals, hedging, etc. while lawn care companies mow the lawn and keep small plants and hedges trimmed and maintained. No matter how much experience you have had trimming and tending lawns, Lawn Care Insurance will protect you against client claims and liabilities. Insurance for lawn care business is designed to protect your business from property damage or bodily injuries resulting from your business operations. Include the following coverage in your Lawn Mowing Insurance program to protect your small business from financial losses:
General Liability Insurance
Commercial Auto Insurance
Inland Marine Insurance
Umbrella Insurance
Potential risks
Be it property loss or damage or if you cause injury to a person, there are several risk factors that this business insurance for landscapers package will shield you from. Examine these potential risk scenarios to better understand the importance of this insurance.
Scenario 1 - On the way to a job site, you ram into a car in front of you at a red light and completely damage their car's rear end. The driver also gets injured. Your business auto policy will handle these types of losses, damage to your vehicle, damage to the other vehicle you hit and bodily injury sustained.
Scenario 2 - You lose control of the lawnmower and run straight into the picket fence of a neighbor. The neighbor makes a claim against you for property damage to the fence. This is the reason you carry general landscaping liability insurance.
Scenario 3 - Your employee drops an electric trimmer, hurting his foot while maintaining the hedges. Your workers compensation will respond to this claim.
Scenario 4 - While taking a lunch break, your pickup truck and covered bed are broken into and your new riding lawn mower and several other expensive pieces of equipment are stolen. Your equipment policy, also called Inland Marine insurance will respond to the theft of your equipment.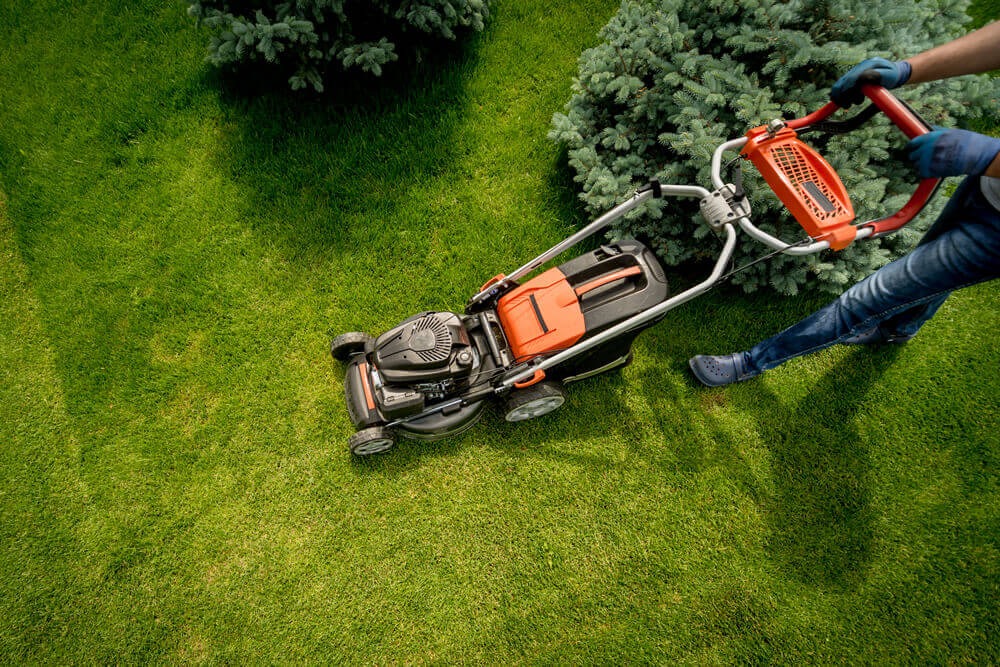 Recommended Policies
Lawn care businesses, like any other business, face a variety of risks and potential liabilities. To protect their assets and ensure they can continue to operate in the event of an accident, injury, or loss, it is essential for lawn care businesses to have the proper insurance coverage in place. The insurance policies typically required for lawn care businesses include Business Owners Policy, Workers' Compensation Insurance, Commercial Auto Insurance, and Umbrella Insurance.
Each of these policies provides specific coverage and protection, and it is important to understand what each one covers to ensure that your lawn care business is fully protected. An InsuranceAdvisor professional can help you determine which policies are most appropriate for your specific business and help you get the coverage you need to protect your assets and ensure your business can continue to thrive.
Business Owners Policy
General Liability Insurance for lawn care business covers claims against third-parties for property damage and bodily injury liability. It will protect your business if someone other than an employee suffers accidental damage to their home or gets hurt because of your business activity.
Inland Marine Insurance Since most of your owned assets are probably the equipment that travels with you from jobsite to jobsite in your truck, this insurance provides coverage for theft or sudden and accidental damage to the equipment that you need to run your business.
Worker's Compensation Insurance
Workers' Compensation is mandated in almost all states, be sure you check with your state's requirements. This coverage pays your employee a percentage of lost wages, medical expenses, and/or death benefits for employees provided they were injured on the job.
Commercial Auto Insurance
Lawncare businesses are often mobile and drive in pickup trucks with trailers attached to transport equipment from one job site to another. Commercial Auto Insurance primarily covers the third-party costs for vehicle repair and medical bills if you are at fault in an accident. You will also be reimbursed for the damage caused to your commercial vehicle when you buy comprehensive and collision coverage for your owned vehicle. Most states have some sort of financial responsibility law for owning and operating a vehicle, be sure to check your state's requirements.
Umbrella Insurance
If you have an extensive clientele, or perform work for mostly commercial business rather than residential, you may want to consider an Umbrella Insurance policy. This policy provides additional limits above and beyond the limits contained in your general lawn care liability insurance, commercial auto liability and employers liability coverage.
Comprehensive Costs
The Lawn Care Insurance cost depends on the scope of your business operations. We suggest you prioritize insurance coverage over lawn care business insurance costs when looking to safeguard your business. Our agents will guide you through the most feasible policies within your budget range.
Frequently Asked Questions (FAQ) about Insurance for Lawn Care
1. What types of business insurance do lawn care professionals need?
Lawn care professionals need different types of insurance for protection depending on the business's operations.
1. Business Owners Policy (BOP): A BOP safeguards against owned property loss or damage at your place of business, business interruption (loss of business income), and general liability insurance. This policy can be tailored to your business needs with optional coverage available.
2. Worker's Compensation Insurance: Worker's Compensation Insurance is essential for lawn care pros with employees. It covers medical expenses for employee injuries, and a percentage of lost wages. Benefits owed to the employee are statutory.
3. Commercial Auto Insurance: Commercial Auto Insurance is vital for lawn care businesses that depend heavily on their business trucks to perform daily operations. It covers bodily injury and property damage liability from at-fault accidents. A company can get physical damage coverage on company-owned trucks, rental reimbursement, and towing coverage.
4. Umbrella Insurance: Umbrella Insurance complements underlying general, auto, and employers' liability coverage. It provides an additional layer to pay claims when underlying limits are exhausted on paid claims.
2. How much does insurance cost for lawn care businesses?
Lawn care insurance costs vary based on location, revenue, payroll, and services offered. Essential lawn mowing businesses can cost a few hundred dollars annually, but services like pruning, seeding, fertilizing, and pest control can increase costs. Insurance premiums may reach several thousand annually. The types of insurance needed greatly affects what a lawn care business pays in premium. If the company has trucks, equipment, and employees, it will easily pay more than five thousand dollars annually.
3. How do I choose the right insurance provider for my lawn care business?
Selecting the right insurance for your lawn care business is crucial. First, determine needed coverage (liability, property, business auto, worker's comp). Second, get a quote at InsuranceAdvisor.com, compare costs, assess customer service, and scrutinize policy coverage details for optimal protection. You can contact us directly at 855-600-2384 or request an instant quote online.
4. Who benefits from Lawn Care Business Insurance?
Lawn Care Businesses: Owners need insurance to protect their assets and finances from potential losses and liabilities.
Landscaping companies
Customers: Insurance reimburses customers if their property is damaged or they suffer injuries from lawn care services.
The public: A lawn care company, can damage someone's car or injure a pedestrian while servicing a commercial shopping center.
We Are a Trusted Service Provider