Understanding Acupuncturists Insurance
Acupuncture is an alternative form of health treatment for ailments such as headaches or other chronic pain. Highly qualified acupuncture therapists use carefully and meticulously placed needles on specific body parts to alleviate pain or for overall wellness and stress management.
Many individuals opt for acupuncture treatments. Since the process involves highly skilled professionals and physical contact with patients, unique risks are involved. Insurance may protect your business when mistakes or accidents occur. All health care businesses benefit from getting insurance.
Risks and Liabilities
Let's look at the risks and liabilities that acupuncturists' insurance can cover.
Actuarial services compute the financial impacts of insurance companies' risks. An erroneous model is as much a risk for an insurance company as it is for the actuarial service provider. Insurance companies face the risk of inaccurate models that fail to capture the accuracy of premiums charged for insurance policies. Let's consider some of the threats actuarial services are exposed to:
Professional Services: Since acupuncture is a highly intricate procedure and form of treatment, there could be instances when the patient is injured. If the treatment makes things worse or causes new ailments, the patient could file a bodily injury claim or lawsuit against the acupuncture clinic.
Bodily Injury: Apart from the procedure, the patients could encounter an injury within the clinic premises. A patient could slip on a wet floor and injure them self. General Liability insurance protects against third-party bodily injury and property damage liability claims.
Perils Insured: An acupuncture therapist often needs a physical space for a clinic and tools for their practice. The clinic may suffer losses from fire, theft, tornadoes, or other perils insured in the property policy. Such incidents could certainly hamper regular business operations, resulting in damage to the building, contents and a loss of income.
Cyberattacks: Acupuncture clinics collect sensitive private health information from their patients, like health history, billing information, and social security numbers. They also collect important insurance information for filing claims for the patients. Cyberattacks can potentially leak such private information, leaving the acupuncture clinic with claims or lawsuits from patients whose information was hacked.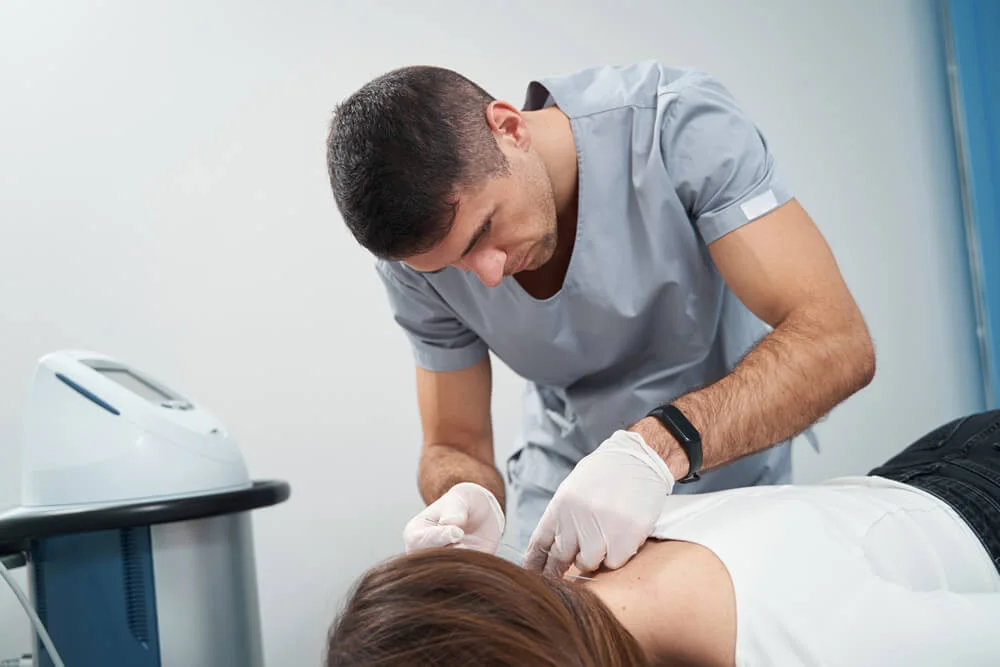 Recommended Policies
Professional Liability Insurance
Acupuncture specialists risk being exposed to malpractice lawsuits if they make a mistake during the procedure or if a patient files a lawsuit because of injury or distress resulting from it. Professional liability insurance protects acupuncturists from claims made against their practice for errors or omissions in the performance of professional services.
General Liability Insurance
Having a patient get hurt at the clinic (not during the acupuncture procedure) could result in a claim or lawsuit for bodily injury. These types of incidents would not be subject to the coverage provided for professional malpractice. Instead, they fall under general liability insurance. Forms of general liability insurance would also respond to claims of property damage liability and personal and advertising injury that may arise due to libel, slander, defamation of character, or accidental copyright infringement.
Workers' Compensation Insurance
Beyond protecting the clinic, workers' compensation insurance provides coverage for medical expenses and a percentage of the lost wages if an injured employee is not fit for duty, and death benefits to the family if a fatality occurs on the job.
Commercial Property Insurance
An acupuncturist uses a specific set of tools and equipment. The procedures require a physical space to perform the treatments. Damage to the premises or equipment of the acupuncture clinic could result in a loss of revenue until the damaged equipment is replaced, repairs are done to the building, and business is fully resumed. Business properties can be protected from loss of income by opting for business interruption coverage. Business Interruption compensates for the net loss of revenue if a covered peril damages the building and the business is inoperable.
Cyber Insurance
Cyberattacks can result in the clinic incurring expenses in the form of lawsuits, incident response expenses, system damages, restoration expenses, privacy liability, and regulatory fines. Suffering a cyberattack can negatively affect the clinic's reputation as well. Cyber insurance coverage may respond to these first- and third-party claims to help the clinic recover more quickly from a cyberattack.
Umbrella or Excess Liability
An umbrella or excess liability policy provides an added layer of coverage over the underlying policy limits for acupuncture clinics that wish to get additional protection by purchasing higher limits.
Premiums for Covering Acupuncturists
The premium costs for acupuncturist insurance policies vary based on several factors like:
Annual revenue
Location and asset values insured
Types of services provided and risks associated
Annual payroll
Prior loss history
Key Takeaways
Acupuncture is an increasingly popular form of alternative medicine and has helped many people. However, losses can come in any form, disrupting one's business. Due to their nature, acupuncture clinics could have more liability exposure, including lawsuits from patients.
It becomes imperative for acupuncture clinics to protect their interests with insurance that covers their specific needs.
Are you an acupuncture therapist? Speak to a licensed agent from Insurance Advisor today and get an insurance policy customized to your requirements.
We Are a Trusted Insurance Provider