Understanding Business Insurance for Appliance Technicians
When customers purchase an appliance for their homes or offices, trained technicians are sent to install it properly. A customer is only expected to know how to use the product with the help of a user manual.
However, installing an office or home appliance can go beyond plugging it into an outlet. Trained professionals deliver heavy appliances by placing them in a suitable place, assembling them, connecting them to appropriate gas or water lines, and leaving them functioning properly. The installation usually comes with the product, and a dedicated technician is assigned for the appliance installation at the customer's location.
Appliance technicians and installers deal with heavy equipment and electrical fixtures daily. Even after years of training, they can still be susceptible to unexpected accidents while at work.
Getting the right insurance coverage will give Appliance Technicians peace of mind by protecting their business against claims and lawsuits from at-fault auto accidents, damage to property in transit, and property and bodily injury liability arising out of installations.
Let's look at the types of claims that Business Insurance for Appliance Installers can cover.
Transportation Risks: When a customer makes a purchase, the appliance is transported from the warehouse, where it is stored, to the customer's desired location for installation. During this process, there is a risk of damaging the appliance, the vehicle it is transported in as well as injury or damage to third parties due to accidents on the road.
Bodily Injury: During the process of appliance installation, the installers could get injured. For instance, a dishwasher could fall on the installer's hands. An installer may dislocate their shoulder while lifting an air conditioner. The employer would be responsible by law to pay for expenses incurred for medical care and a percentage of lost wages for an employee injured on the job.
Employee Injury: Even though appliance technicians are trained to avoid such injuries, mishaps can happen at any time.
Cyberattacks: Appliance installers may store a lot of sensitive information about their customers, like their address, the value of their purchase, payment information, and other details typically collected at the time of purchase. These details could be exposed to cyber attacks wherein the customers' privacy is compromised. Cyber coverage responds to claims resulting from such threats.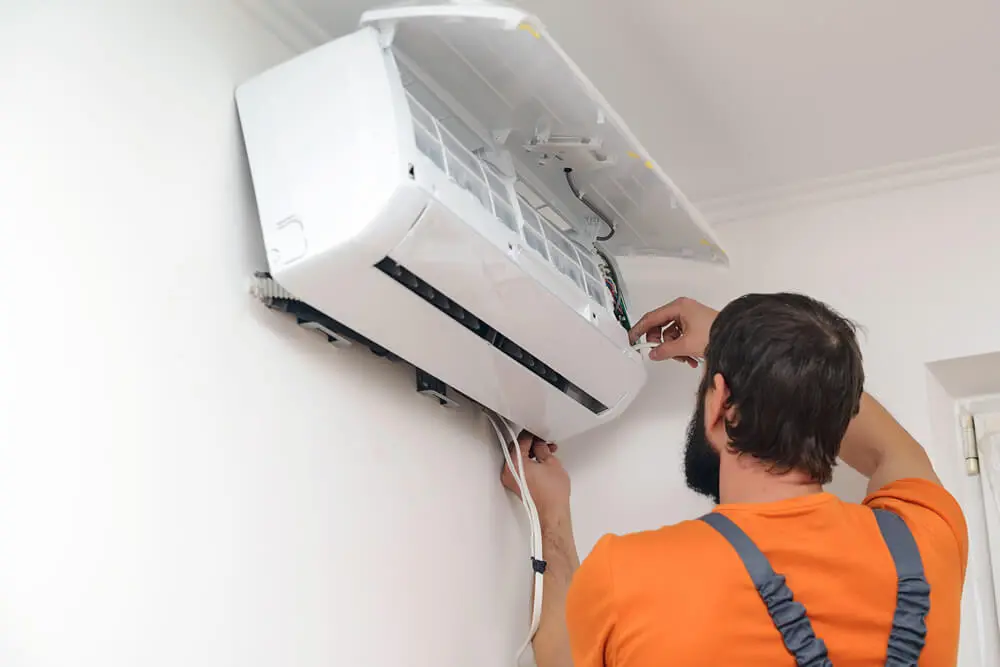 Recommended Appliance Installer Business Insurance Policies
Inland Marine Insurance
An installation or transit policy are types of Inland Marine insurance that will cover your products in the process of being installed or while in transit to the customer's location.
Commercial Auto Insurance
A vehicle used for business purposes can be covered for accidents by purchasing comprehensive collision coverage. Auto insurance protects the vehicle owners against at-fault accidents and the bodily injury or property damage liability that comes with it. Disclosing how the vehicle is being used, the driver's motor vehicle records and prior claims are essential in ascertaining the right premium for this type of insurance policy.
Workers Compensation and Employers Liability Insurance
While this insurance may be mandatory in some states depending on the number of employees, it would be wise to opt for this insurance even if not required by statute. Workers Compensation Insurance covers medical costs, a portion of lost wages if unable to work resulting from an injury on the job, and death benefits for the family in the event of a fatality. Employers are also insured for employee lawsuits alleging negligence caused an at-work injury.
General Liability Insurance
General Liability policy provides coverage for both bodily injury and property damage liability claims or lawsuits resulting from your business operations when the business is found to be legally liable. The cost to defend these claims is also included under this policy. General Liability insurance becomes especially useful when appliance repair or installation employees damage the customer's property during or after installation. General Liability Insurance could also cover advertising injury resulting from accidental copyright infringement in marketing materials and defense costs.
Cyber Insurance
Cyber insurance may cover first-party claims, including incident response expenses, cybercrimes, system damage, and business interruption losses, and third-party coverage extends to clients, the public, vendors for network security, privacy liability, legal defense, regulatory fines, and other external costs resulting from a cyber-attack. Cyber policies can be customized in many ways, make sure to do a thorough review of your operations with your insurance agent to uncover your needs. Businesses should focus on keeping their system and security software up to date to prevent unauthorized intrusion.
Cost of Insurance Policies Covering Appliance Installers
The comprehensive costs for appliance installer business insurance policies vary based on several factors like::
Annual revenue
Location and asset insured
Types of services provided and risks associated
Number of clients
Annual payroll
Number of vehicles
Cost of Insurance Policies Covering Appliance Installers
Appliance installers perform a range of services like transportation, installation, repairs, and maintenance. Choosing an insurance program to fit your business's needs based on the specific services offered could save you from paying claims out of your bottom line.
Request a quote for your business, complete the application for the insurance types needed, and we'll send you a proposal to review. If you have questions, don't hesitate to call. When it comes to the insurance you purchase, we want you to make an educated decision. If you are satisfied with our quote, you can pay the premium in full or make payments in installments, while enjoying the convenience of hassle-free online services.
Not sure what you need? Speak to a licensed agent today and get an insurance policy that protects your needs.
We Are a Trusted Insurance Provider