If you are operating a Pilates studio/center, it's essential to know the potential risks associated with your business and how to mitigate them. This is because no matter how experienced instructors are, there is potential for things to go wrong.
For instance, a client may tear a ligament while stretching during a session. Or a student may break a mirror in the studio, hurting themself. In the first case, your enterprise may receive a claim or be sued for wrongful instruction that resulted in injury, and your business will need to pay for legal fees, court fees, and the cost of a potential settlement.
Potential Liabilities
As outlined above, many unexpected incidents can financially drain a Pilates studio. Here are additional examples of what can go wrong:
One of your instructors has a slip-and-fall incident during work hours, necessitating hospitalization and time off work. As the business owner, you're responsible for compensating the injured employee for lost wages and paying for medical care by statute.
Your client injures themself while working out in your studio, resulting in hospitalization and prolonged treatment. They may sue you for wrongful instruction, the cost of medical care, and other damages.
Your studio is vandalized due to a riot in the neighborhood. Damaged property needs to be replaced or repaired before your studio can be up and running.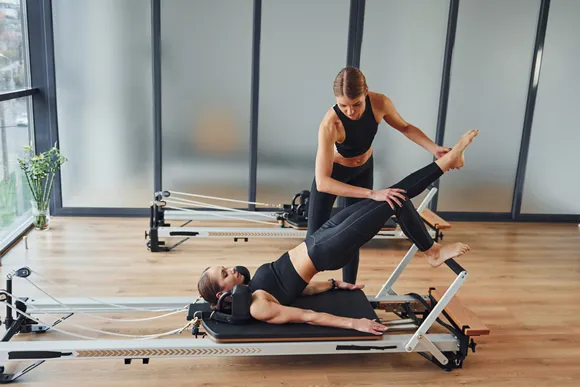 There are several other risky scenarios, too. But many of them can be mitigated by the timely purchase of Pilates instructor insurance, which combines a couple of key policies. In addition, investing in a mix of relevant coverages can increase your protection against various risks. But first, it's essential to understand what is covered in each category.
Key Insurance Categories
Pilates instructors and business owners can consider the following types of business insurance that help cover common hazards relevant to their business. Here's a snapshot:
1. General Liability Insurance
This type of insurance is relevant to all businesses, including Pilates studios, as it responds to third-party claims and lawsuits. Three types of coverage are included.
Bodily injuries sustained by a third party on your business property; for example, a potential client visits your studio and is injured in a slip-and-fall.
Damage caused by one of your Pilates instructors or the operations to a client's property.
Personal and Advertising Injury covers accusations that your business caused a financial loss or harmed another due to slander, libel, invasion of privacy, wrongful detentions, or copyright infringement. Personal injury coverage is for claims other than physical bodily injury.
In these cases, general liability insurance helps pay for awarded damages due to your business's legal liability to others, from medical expenses, economic loss, defense costs, and court fees.
2. Professional Liability Insurance
In some cases, clients may file a professional liability lawsuit. For instance, your client may have hurt themself while being incorrectly directed by an instructor. Or, they may believe they were offered incorrect advice by one of your Pilates teachers. It doesn't matter if the claim is false or frivolous; your business will need to defend itself, which will be costly without professional liability insurance.
Hence, this Pilates instructor insurance coverage category is crucial as it helps cover legal expenses, court fees, and settlements up to the policy limit.
3. Commercial Property Insurance
Your Pilates center can benefit from having commercial property insurance. This is because there's potential for damage to the studio and the property housed in it, including furniture and fixtures, inventory, and equipment.
Commercial property insurance covers the costs of loss or damage from incidents like burglary, vandalism, fires, and windstorms. However, damage caused by earthquakes and floods is typically excluded on a business property policy, and separate policies should be purchased. This coverage also includes loss of business income due to direct physical damage to the structure by a covered loss that prevents your business from operating.
4. Cyber Liability Insurance
With most all businesses experiencing a digital transformation today, cyber liability insurance is a much-needed safeguard against potential data breaches, malware, or other cyber attacks.
As a Pilates business, you may have access to sensitive client information.
This may include credit card or bank account information, health information, social security or driver's license numbers, and clients' names, email addresses, and phone numbers.
In case of a data breach, having cyber liability insurance helps pay for third-party lawsuits arising from the data breach from customers who say your negligence in securing their information caused them to suffer economic loss from identity theft, for example. A cyber policy may assist with customer notification expenses, forensic investigations, denial of service revenue loss, and ransom payments.
5. Workers' Compensation Insurance
Since your business may employ Pilates teachers and support staff, you may be required by law to have workers' compensation insurance. Most states require this when a business reaches a certain employee count, three or four, but other states may require it with one employee. Please keep in mind what your state requires and comply.
This insurance covers medical expenses and lost wages for injured employees. It can also provide a death benefit to their family in case of a fatal injury.
Employer's liability insurance typically included on workers' compensation policies, responds to third-party liability arising from an employee's injury. For instance, a hurt employee's spouse may sue the employer for negligence. The defense costs, court fees, and settlement costs for covered claims would be paid by this coverage.
Cost of Pilates Instructor Insurance
The costs will depend upon several factors, such as:
The revenue and payroll of your business; the more instructors and support staff employed and the more studios you have, the higher the premium
Whether your Pilates instructors visit clients at their homes
Location of the studio
Coverage limits for property and general liability
Final Thoughts
Pilates instructor insurance can be seen as an investment in the long-term sustainability of your business. It equips you to be better prepared for the various hazards that can disrupt operations and have an adverse financial impact on your venture.
However, rather than buying individual policies in different categories, go for one comprehensive commercial insurance package policy based on your business needs. The preferred approach is to purchase small business insurance from a reputed service provider that can help you realistically evaluate your commercial insurance requirements.
Pilates instructors and business owners will get the services of competent and credible insurance agents at InsuranceAdvisor.com. Our agents will review your business operations with you to offer coverage options to meet your company's needs. You can even get instant quotes on various policies and purchase online.
Visit the Insurance Advisor blog or explore more services on our website today. We have a nationwide team of licensed insurance agents specializing in commercial insurance for all businesses. Get insured today!
We are a Trusted Insurance Provider