What is clothing store insurance?
Men, women and children's clothing stores are located throughout the United States. Clothing businesses have been skyrocketing considering the demand for new fashion items in the market. It takes more than just dealing in apparel with clothing brands and designers to make a clothing store. As a small business owner, you need to rent out a commercial space for store setup and hire employees. It is important to consider that there may be several situations that may cause major disruptions in your business.
Your clothing store insurance will serve as a financial shield for your small business in case of any mishaps. It mainly consists of:
Business Owner's Policy (BOP)
BOP basically bundles up commercial property and general liability insurance in one policy.
General Liability Insurance
General Liability Insurance covers basic risks such as customer injury in the store and property damage for which you are liable.
Workers Compensation Insurance
Workers Compensation Insurance covers injured employees medical bills and a percentage of lost wages as a result of a workplace injury.
Umbrella Excess Liability
Umbrella or Excess Liability is an additional layer of protection that can be purchased to provide additional limits over general liability, commercial auto, and employer's liability policies.
What are risks in clothing business?
Following are some financially devastating scenarios that will help you better understand the importance of getting your clothing store insured:
Scenario 1 - The customer runs into a hanger in a hurry whilst scurrying through the rack of clothes and bears a deep wound. They sue you for for personal injury and you not only have to seek legal defense but also pay any court awarded damages to the claimant.
Scenario 2 - Your sales associate injures their back unloading a new shipment. You are now short of an employee and must pay for the medical bills and lost wages as the incident has occurred as a result of your business operations.
Scenario 3 - Your store suffers a complete fire loss due to lightning hitting the building's electrical system. It just happens to be your busiest season during the annual Black Friday sale. The Business Interruption coverage under BOP would kick in after the applicable deductible and waiting period are met to cover the lost income and extra expense if purchased would help you set up a temporary location to keep your business afloat.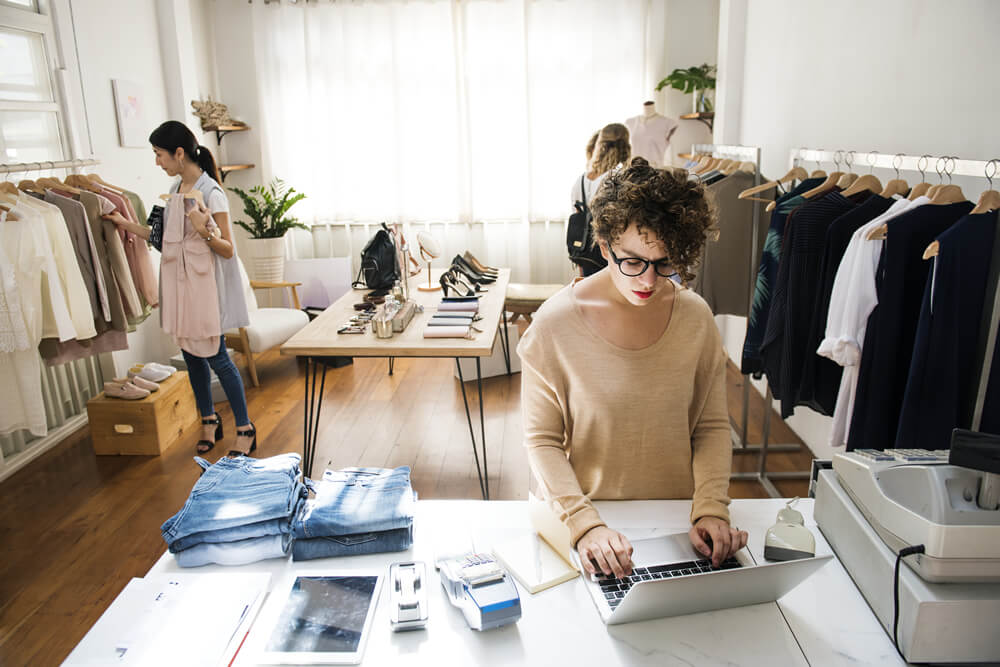 Best-suited policies
Business Owner's Policy (BOP)
A BOP bundles coverage for retail businesses to protect your small business against most common types of losses. It combines the best-suited policies for the risks that your business may pose.
A BOP mainly protects retailers against:
damage to inventories and other business property
lawsuits alleging bodily injury and/or property damage liability
advertising injuries including libel and copyright infringement
The coverage mainly includes:
Commercial Property Insurance
In case your clothing store catches on fire burning all your retail garments and inventories, commercial property insurance will cover for damage to your business property.
Business Interruption Insurance
This type of cover helps your small business to recover from the temporary shutdown due to an unavoidable event. It covers the cost of daily expenses, lost revenue, and relocation.
General Liability Insurancee
If a customer injures themselves severely due to a slip and fall incident on your business premises, general liability insurance will provide your legal defense and if found legally liable, any awarded judgements.
Umbrella Excess Liability
Umbrella and Excess Liability provide excess limit over your primary underlying liability coverage:
General Liability Coverage
This type of coverage shields you from liability lawsuits for customer injuries and property damage liability incidents. It also includes limited coverage for personal injury, such as slander, libel and advertising injury such as copyright infringement and false advertising claims.
Commercial Auto Insurance
Business auto insurance covers property damage and bodily injury liability for at fault accidents in your business owned vehicles. Various state required coverage will also be included depending on the laws of your state. Physical damage to your vehicle, can be included with optional comprehensive and collision coverage.
Employer's Liability Insurance
Employer's Liability Insurance is essentially an extension of Workers Compensation Insurance which covers legal costs and court awarded damages in cases where an employee sues the employer alleging gross negligence caused the injury.
State licensing and insurance coverage
Most states or local authorities have insurance requirements to be met in order to operate a business in their locale. Most states require workers compensation coverage depending on the number of employees and industry. General liability insurance is required by city or county laws to protect the public. Make sure you check with your state and local regulations to ensure your business' compliance.
Comprehensive Cost
All small businesses face various risks based on their line of work and other aspects. The cost of insurance for your clothing store may vary based on the following factors:
Nature of business
Annual Revenue
Location of the clothing store
Annual Payroll
Limit insured for Business owned assets
Who Benefits from Clothing Store Insurance?
Clothing brand stores, lingerie shops, boutiques, and wholesalers mainly benefit from this insurance. All small business owners who are in the business of selling apparel should consider the insurance available to protect your financial assets from third party liability claims and lawsuits.
We Are a Trusted Insurance Provider