Understanding Florist Business Insurance
Florists cater to events such as weddings, funerals, anniversary and birthday celebrations. Flower shop owners order and store unique flora and fauna for bouquets, corsages, standing sprays, plants and other grand decorations. These arrangements of assorted flowers and greenery must be protected along with the other contents of your florist shop. Just as every rose has a thorn, every florist business has its potential for loss. From your building and contents, to the refrigeration system, furniture and fixtures, all are susceptible to loss or damage.
General Liability, Commercial Property, Business Interruption, Workers Compensation and Business Auto Insurance are the basic insurance coverages that a florist should consider.
Business Risks
Most florists are unable to assess the upcoming business risks. As low-risk as the business seems, it is advisable to purchase Florist Insurance as a safety net. Just as any business owner should be vigilant to avoid potential losses, florists should be aware of potential risks to understand the importance of this insurance coverage.
Scenario 1 - A company-owned vehicle meets with an at fault accident on the way to a delivery. Not only is the company vehicle damaged, but the other vehicle was also damaged and the driver was injured.
Scenario 2 - A robbery at your shop leaves it in shambles destroying the flowers, vases, stands, furniture and equipment with some of the contents being stolen. Your business incurs a heavy loss.
Scenario 3 - The building collapses due to the weight of snow on the roof and completely levels your shop. You will need to close and temporarily relocate your business, buy new equipment, furniture and inventory.
Scenario 4 - A client enters your florist shop and accidentally slips and falls on the wet floor, breaking their wrist.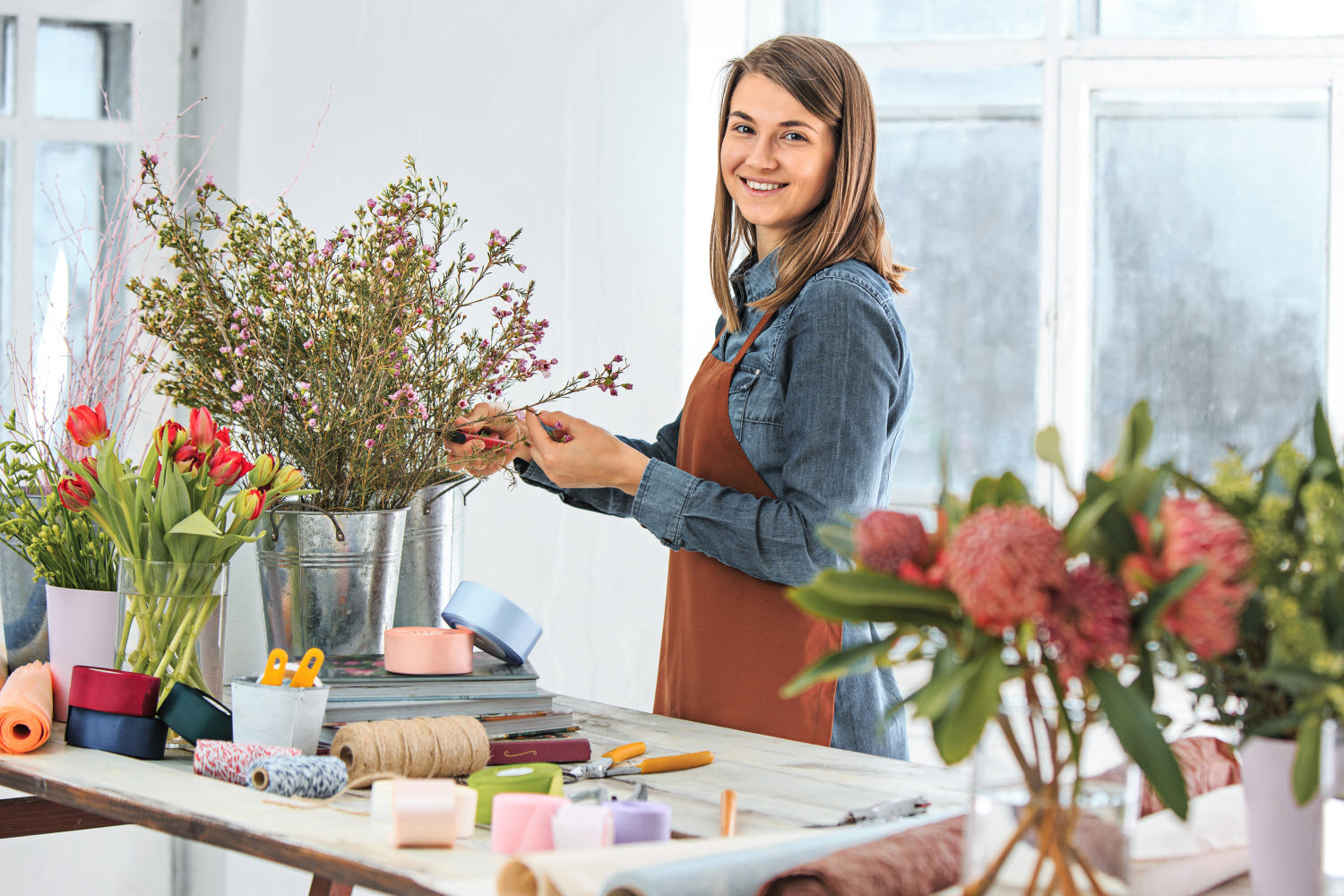 Recommended Policies
General Liability Insurance
General liability insurance will cover your business for property damage and bodily injury liability caused by your business operations. For instance, the customer who falls and hurts themselves in your flower shop because the floor was wet and who also dropped their cell phone, cracking it open. This coverage would pay for your legal defense when the lawsuit is filed and will pay for the economic and non-economic damages owed when your business is found to be legally liable.
Commercial Property Insurance
This type of insurance will protect the physical property of your florist shop, including building and contents, furniture, fixtures, and equipment. If you purchase spoilage coverage and your electric goes out because of a lightning strike, and your flowers are ruined, those can be covered as well. You can be worry-free and secure in case a calamity such as a fire wipes out your shop. Commercial Property Insurance will reimburse you to replace your assets lost or damaged from a covered peril.
Business Interruption and Extra Expense Insurance
Business Interruption Insurance mainly covers lost income due to the suspension of operations caused by a covered peril in the property policy. In case a major disaster like a hurricane blows off the roof and ruins the contents of your shop causing you to have to temporarily shut down the business. The Business Interruption insurance will provide temporary business income to allow you to continue to pay your ongoing expenses and the Extra Expense coverage will reimburse your business for the cost renting a temporary location to get your business up and running while your shop location is rebuilt.
Commercial Auto Insurance
Exotic flowers and bouquets are often transported in business owned vehicles. Commercial Auto Insurance provides coverage for auto accidents resulting in bodily injury and property damage liability, comprehensive and collision, PIP or No Fault, medical payments, and accidents involving uninsured motorists. If your employee making deliveries meets with an accident injuring the other driver, your auto liability will cover the other driver's injuries if your employee was at fault, as well as the damage to the other vehicle. If you carried collision coverage on your business vehicle, this policy will pay to have it repaired, less your deductible.
Comprehensive Costs
We offer customizable and tailored insurance programs for your varied business needs. We at Insurance Advisor, understand that each business is unique and requires insurance coverage based on your needs and exposures. We evaluate your insurance needs and provide quotes based on the following parameters:
Total property values insured
Annual Revenue and Payroll
Location and Type of Construction
Number of Vehicles Owned
Type of Products and Services offered
We Are a Trusted Insurance Provider