Oil Change Service Business Insurance: An Essential Investment
The market size of the oil change service industry in the US is predicted to grow to $10.6bn in 2023. So, if you own an oil change service station, you should know that it's imperative to protect your business against financial risks.
Oil change businesses maintain customer cars, exposing them to various risks and liabilities, such as vehicle and property damage. Insurance could help cover the costs of such damages, making it a crucial investment.
Risks and Liabilities Associated with Oil Service Businesses
Your oil or lube service station can be exposed to the following types of hazards:
A customer walks around his car and trips over a toolbox. He fractures his ankle and needs to go to the doctor. As the business owner, you could be responsible for paying for the medical costs. The customer could also sue you for the injury.
A competitor files a lawsuit against you for libel. You will have to hire a lawyer to defend yourself, which can cost thousands of dollars.
While changing the oil in a customer's car, you accidentally scratch the hood and cause visible dents. The customer would expect you to pay to repair these damages.
Suppose you accidentally put the wrong type of oil in a car, damaging the engine. The customer could sue you for faulty work.
Thieves could break into your oil changing station and steal tools and equipment, which you must shell out to replace.
Insurance could help you cover the losses caused by the above situations. You could also receive protection against other risks, such as lost income from closing your business because of building damage. If damage occurs to a client's vehicle when in your care, the company could be liable, or if an employee gets injured.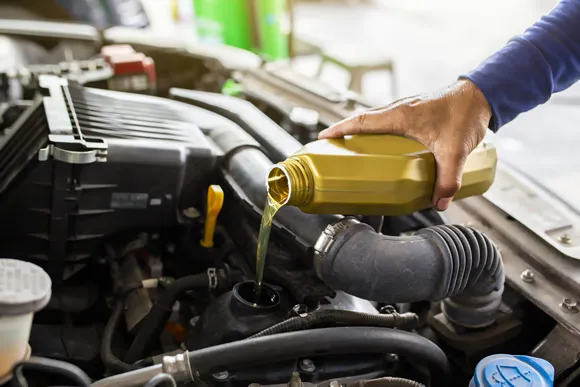 Coverages Needed for Oil Change Service Businesses
Take a look at the following coverages before buying insurance for your oil change shop:
1.
Garage Liability Insurance

A lube service station business has employees that interact with customers frequently, which makes garage liability insurance an essential investment for your business. This policy covers claims and lawsuits for third-party bodily injuries and property damage (other than vehicles) from your business's operations.

For example, a customer could slip on an oil slick and fall, injuring their back. In this case, garage liability insurance could respond to claims for the customer's medical care. It may also help pay attorney fees if the client sues your business.

Garage liability can also help cover accusations of libel and slander. While libel refers to written statements that damage another person's or business' reputation, slander refers to the verbal form of such information.

If you are sued for any of these reasons, this policy will provide you with an attorney to defend you for covered claims. Say you accidentally use a competitor's advertisement, and they sue you for copyright infringement; this coverage could help pay the damages awarded.
2.
Garagekeepers Insurance

This is a specialty type of business insurance for service stations, auto shops, and any business that temporarily stores vehicles on-site or provides vehicle repair services.

Garagekeepers' insurance provides three levels of coverage: legal liability, direct primary, and direct excess. It can help pay for expenses if a customer's car is damaged while in your care. For instance, if an employee scrapes the side of the auto when moving it out of the garage, and you had direct primary GKLL, your policy would pay for the damage first.

If you had direct excess GKLL, your policy would only pay after the customer's collision insurance paid for the damage. Your policy may reimburse the customer for their collision deductible.

With the legal liability option, it will only pay for customers' cars when your business is legally liable for the damage due to negligence. In the example where the employee damaged the car when moving it, that would be covered, but say the client's car was stolen from the lot, this sort of thing would not be covered with the legal liability option because you wouldn't be responsible for someone else's criminal acts.
3.
Professional Liability Insurance

Also known as errors and omissions (E&O) insurance, professional liability insurance can help pay for legal defense costs if a customer sues you for faulty work.

This policy can help pay for damages caused due to errors, omissions, negligence, misrepresentation, and inaccurate advice from your employees. Since the nature of your business involves servicing vehicles and thus poses many risks, professional liability insurance is an option worth considering.
4.
Commercial Property Insurance

This type of insurance can cover your business assets, including buildings, tools and equipment, furniture, and more. These assets may be covered in case of fire, lightning, theft, vandalism, and damages caused due to specific weather events such as windstorms.

Business interruption coverage is usually a part of commercial property insurance. It works by replacing a portion of your net income loss if covered damages to the building structure caused your shop to close.
5.
Commercial Auto Insurance

If your business owns vehicles, you must consider buying commercial auto insurance. It can help pay for bodily injuries, property damages, and lawsuits arising from accidents involving company vehicles in at-fault accidents. This type of insurance can also protect a business' vehicles against damages caused by collisions, fires, vandalism, and theft.
6. Workers' Compensation
If you have any employees, your business should have workers' compensation coverage, even if your state doesn't require it (based on the number of employees). As an employer, you can be held liable for the medical expenses incurred by an employee injured on the job and the lost wages. Just because the state doesn't require this coverage doesn't mean your business is off the hook when an employee gets injured while working.
How Much Does Oil Service Business Insurance Cost?
The cost of insuring an oil change station depends on the following factors:
Type of services offered
Location of the business
Value of equipment owned
Type of policy purchased
Limits and deductibles in the policy
Whether the coverage can be bundled.
Insure your Business Today!
Undoubtedly, having insurance for oil changing stations is essential due to the high risks of customer vehicle damage and lawsuits over negligent work. Additionally, certain landlords and banks may require proof of general liability and property insurance before you can open a shop, which means getting insured makes perfect sense.
Moreover, purchasing garagekeepers insurance can help if a customer's vehicle is damaged under your supervision. At the same time, professional liability coverage can provide protection if a client decides to sue you over what they see as faulty work.
Are you searching for the right coverage for your small business? Visit the Insurance Advisor website today. Talk to our friendly agents, who will help you purchase the optimum policy customized to fit the needs of your business. Use our digital-friendly platform and enjoy convenient payment options and coverage at attractive prices.
We A
re a Trusted Insurance Provider