Carpet and upholstery cleaning businesses are significant for both homeowners and business owners. It is a vital service for those who want their carpets and upholstery to stay looking new for years to come.
The market size of the carpet cleaning business in the US is projected to be $5.9bn in 2023 according to market research firm IBISWorld. With the explosive growth currently seen in this industry, it is expected that demand for these services will increase. Hence, carpet cleaners should protect their businesses against unforeseen circumstances that can hinder their growth. Small business insurance is one such way to ensure that your business is protected against insurable losses.
Primary Risk Assessment For Accountant Insurance
Carpet cleaning businesses are exposed to several risks that could adversely affect their business.
A client could accidentally trip against the tools brought by your company to clean their carpets and get hurt. They can then sue your business for the injuries caused.
Your employee could accidentally spill a cleaning solution on a customer's expensive rug, ruining it. The customer can then file a claim against you for the damaged rug.
Your employee could speak falsely about a customer at a social event. A friend of the customer overhears and informs them. The customer may sue your business for the comments that your employee made.
The carpet cleaning business involves traveling to the customer's location. Therefore, there is the potential of equipment being stolen or damaged at the job site. Paying for such replacements can get expensive.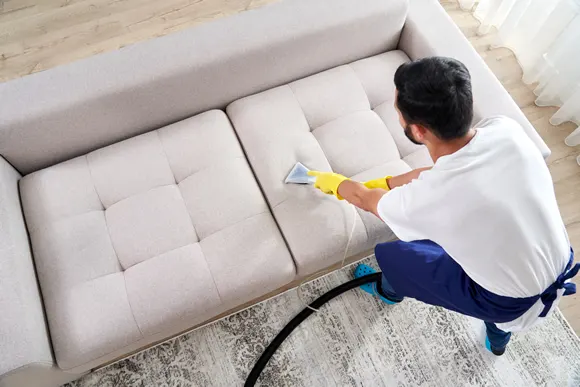 While driving to a customer's location, your employee could have a car accident and injure another motorist. As the business owner, you may be liable for the damage from the injured's medical expenses, pain and suffering, or economic loss of the injured person.
Thus, having carpet and upholstery cleaners' business insurance is a beneficial option for you as a business owner. It can help protect you from financial losses should any of the above incidents happen.
Coverages included in Carpet Cleaning Insurance
General Liability Insurance (GL)
Usually, the first insurance policy that you buy for your carpet cleaning business is general liability insurance. It can provide coverage against basic business risks such as customer injuries, customer property damage, and advertising injury.
A GL policy can pay for third-party damages for medical bills in case of bodily injury that your business operations caused. It can provide a defense, pay the court-ordered judgments, and negotiated settlements arranged outside of court in case a customer files a lawsuit.
This policy can pay for the cost of repair or replacement if your customer's property is damaged accidentally by an employee. This policy can also protect you against lawsuits filed over copyright infringement and defamation – both libel and slander.
Worker's Compensation Insurance
Most states require worker's compensation insurance for businesses that have a certain number of employees, it varies from state to state. Workers' Compensation for carpet cleaning firms provides coverage for an employee injury, which some health insurance carriers might deny. When an employee is injured on the job, this insurance pays for medical care, a percentage of lost wages while the employee is unable to come to work, and death benefits for fatal accidents.
Employer's liability insurance is typically included in a worker's compensation policy. It insures the employer for when an employee sues their employer for negligence involving a work-related injury. It can also cover attorney's fees, court costs, settlements or judgments, and court fees.
Commercial Auto Insurance
The carpet cleaning business involves commuting to the client's location regularly.
Business auto insurance offers protection for you or your employee's negligence in operating a company-owned motor vehicle. This policy can pay for the damages owed for medical expenses and economic loss of injured parties. If sued, this policy will provide a defense for your business if your driver is at fault. It also covers property damage to another person's vehicle or other property caused by your business when legally liable.
While your employee may be vigilant on the road, another motorist might not be and cause an accident. While the other driver might be at fault, what if they don't have any auto liability insurance? Luckily, if you carry collision coverage, it will pay for the damage caused by an uninsured motorist. In addition, Uninsured Motorists Bodily Injury coverage is available on this policy, as well as many other auto coverage options you can choose from.
Business Owner's Policy (BOP)
This is a bundle of General Liability and Commercial Property insurance and, as such, is a cost-effective policy. The GL portion of the policy can provide coverage against third-party injuries and property damage, personal and advertising injury, including defamation of character and copyright infringement.
The commercial property insurance component of a BOP protects against damage to the business's property and equipment for covered perils. The coverage protects your building, furniture, fixtures, inventory, and equipment while at your business location. If you have equipment that is permanently attached to a work van that you want to cover, you will need to either endorse your business auto policy with permanently attached equipment or purchase Inland Marine coverage.
The BOP also includes Business Interruption insurance, which is covered under the commercial property section. BI can provide coverage for lost revenue if the business shuts down because of covered physical damage to your business structure. A storm, fire, riot, or vandalism can cause significant loss to your business because of its closure. Business interruption insurance can help replace lost revenue, assisting with payment of day-to-day business expenses such as employee salaries, mortgage, loans, or rent, helping the business get back on track.
Janitorial bonds
These are third-party surety bonds that reimburse your company's clients for employee theft. The carpet and upholstery cleaning trade involves employees visiting clients' locations, often unsupervised. Clients may request evidence of this bond from companies before booking their services.
Cost of Business Insurance for Carpet and Upholstery Cleaning Firms
The cost of carpet and upholstery cleaning insurance depends on the following factors:
Type of services offered, such as residential or commercial property
Cost of equipment and property insured
Business revenue
Location of the business
Type of insurance purchased
Policy limits and deductibles
How to Buy Carpet and Upholstery Cleaning Insurance
Carpet and upholstery cleaners' business insurance is crucial for companies in this industry. The risk of property damage, liabilities, and the size of your firm are some of the factors that you need to consider before buying insurance for your company. You need to have a good understanding of your areas of risk before you start insurance shopping.
Looking to buy insurance for your carpet or upholstery cleaning business? We at Insurance Advisor are here to help! We offer commercial insurance for all types of business needs, along with comprehensive quotes, easy payment options, and helpful tips, guides, and business insights.
Talk to one of our friendly, licensed insurance agents to easily select a policy and make the right choice. Log on to our website www.insuranceadvisor.com and get a quote today!
We Are a Trusted Insurance Provider