Swimming pool cleaning services involve various activities such as cleaning the pool surface, vacuuming, removing dirt, brushing walls and tiles, cleaning the pool filter, maintaining water and pH levels, and repairing leaks.
While swimming pools are enjoyable, they can also be a site for accidents and injuries. According to IBIS World, a market research firm, the size of swimming pool cleaning services in the US is projected to be $7.2 billion in 2023.
Given the risks and liabilities of swimming pool maintenance and repair, purchasing swimming pool service insurance is crucial to protect your business from unexpected losses.
Risks and Liabilities
Swimming pool contractors are exposed to several risks and liabilities, given that they are involved with swimming pool maintenance, repair, and customer service. Some of the exposure to claims and losses include:
An employee smokes during work, which leads to a fire in the pool shed and causes damage to machinery and pool equipment. Your business could be held liable for damaging the client's property.
A new employee accidentally left a hose lying around, causing the client to fall and injuring his leg. If sued, your business could be held liable for the physical injury and may need to pay the medical bills.
An employee filling a pool leaves the water running and causing aol to overflow, resulting in overflow that leaked through the client's back door, causing damage to their property. The client could file a claim or lawsuit against you for property damages and repairs.
An employee who hurts his back moving the pool equipment around when servicing a pool leads to a worker's compensation claim. Without this coverage, your business is liable to pay for medical expenses and lost wages.
A client's family members fell ill after swimming, and the client claims that the pool water wasn't maintained properly, leading to a bodily injury liability lawsuit against your company.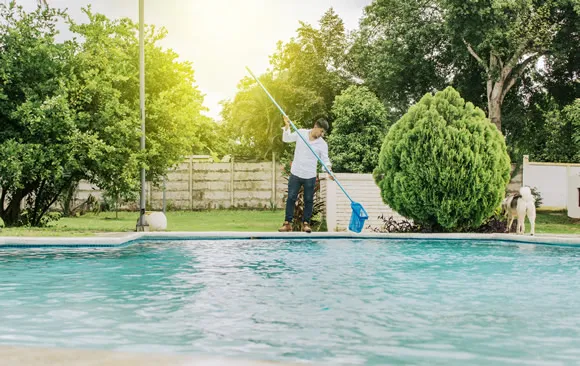 Recommended Coverage
Swimming pool service insurance protects against liability and financial consequences of injuries, property damage, and lawsuits that could arise out of your swimming pool cleaning service business. It is made up of a combination of the following policies:
General Liability Insurance
This insurance covers claims related to third-party bodily injury and property damage. Suppose a third party gets injured at your business premises or job location. In that case, this insurance covers liability claims and damages owed for medical bills, attorney's fees, court-ordered judgments, and negotiated settlements when you or your employee's actions were negligent.
General liability insurance can pay for replacement or repair costs if you or your employee accidentally damages a customer's or other third party's property. It also provides coverage for personal injury lawsuits arising out of defamation, both libel and slander and copyright infringement.
Contractors' Tools and Equipment
Add inland marine for contractor's tools and equipment coverage to a package policy that includes general liability and property insurance. Pool cleaners use expensive tools and cleaning supplies that may get stolen or damaged while in transit to and from the client's location. Contractors' tools and equipment insurance provides coverage against such incidents.
Business Owner's Policy (BOP)
A BOP combines general liability and commercial property insurance, providing coverage for lawsuits related to third-party injury and property damage and advertising injuries.
The commercial property insurance portion of a BOP protects business equipment, property, office furniture and fixtures, and the building if you own it, in case there is a theft, fire, or damage occurring from covered perils.
Worker's Compensation Insurance
Worker's compensation insurance: This type of insurance covers medical expenses and lost wages for work-related injuries or illnesses. It provides coverage for immediate medical costs, ongoing medical costs, partial lost wages while the employee cannot return to work, and death benefits for fatal accidents.
Employers Liability Insurance
This coverage is included in most workers' compensation policies. It protects your business if the employee or spouse of the injured employee brings a liability lawsuit related to a work-related injury. It covers liability associated with a work-related bodily injury or disease other than liability imposed on the employer by a workers' compensation law. Legal defense, court costs, settlements or judgments, and witness fees are paid for covered incidents.
Commercial Auto Insurance
Suppose your employees use company vehicles to travel to and from work locations. Commercial auto insurance includes auto liability which covers claims and suits for bodily injuries and property damage caused by your driver's negligence. Physical damage comprehensive and collision coverage can be included on your company's vehicle. Other state-required coverage can be included for Personal Injury Protection (No-Fault), Uninsured and Underinsured Motorists coverage, and optional coverage like hired and non-owned auto liability, rental reimbursement, and towing.
Professional Liability Insurance
Also known as errors and omissions insurance, this policy covers liability claims over mistakes, negligence, and faulty work. If your pool service company fails to deliver services or a client is dissatisfied with your work, this policy could pay for losses and legal costs associated with covered claims.
Cost of Swimming Pool Service Insurance
The cost of pool service insurance depends on a variety of factors, including:
Business income
Cleaning services offered
Project location
Types of coverages purchased
Policy limits and deductibles
Business property and equipment
The Last Word
Swimming pool service insurance is a vital investment for any pool service company. It can protect your business against liability and litigation costs arising from various claims, including injuries and property damage. Furthermore, it can mitigate financial losses in auto accidents involving company vehicles.
For expert guidance on coverage for your swimming pool cleaning services business, visit Insurance Advisor.com. They offer commercial insurance solutions, detailed quotes, user-friendly payment options, invaluable advice, and informative guides. Their small business insurance might be just what you are looking for.
We Are a Trusted Insurance Provider