Intended for businesses with owned vehicles, commercial auto insurance covers the liability to others, physical damage to owned units, and other statutory and optional coverages available by endorsement.
Commercial auto insurance will protect your business from the financial responsibilities that stem from accidents, including bodily injuries and property damage. Remember, a claim will be subject to your coverage limits and deductible options you purchased. Also, statutory coverage requirements are met which vary by state.
Here are commercial auto insurance coverages that every business should consider.
Liability coverage
There are two coverage parts in auto liability insurance, coverage for bodily injury and property damage. Most states require some liability coverage to meet the financial responsibility laws of ownership and use of a motor vehicle. Let's imagine that your employee is driving a corporate vehicle and doesn't stop fast enough coming up to a red light and hits the vehicle in front of him. Bodily injury coverage satisfies the cost of the other driver's damages which include medical needs, lost income, and pain and suffering. The other driver's vehicle damage caused by the accident is paid through the policy's property damage liability coverage. Auto Liability will pay for:
Repair costs for the other person's damaged vehicle or property
Legal defense if you're sued by the other driver
Settlement or awarded judgment
Court costs, legal expenses
Collision coverage
Collision coverage will fix or completely replace your vehicle if it is damaged or a total loss following a collision accident, subject to the deductible.
Comprehensive coverage
Comprehensive coverage responds to non-collision auto damage, such as theft, fire, vandalism, flood, hurricane, or hail. For instance, if a storm moves through and hail damages your company vehicle, comprehensive coverage can assist you with paying for the repair, less your deductible
Uninsured/Underinsured Motorist (UM/UIM)
Uninsured and Underinsured motor vehicle coverage (liability and property damage) is required in some states, and optional in others. When required, your business may still have the option to reject this coverage.
Uninsured motorists' bodily injury (UMBI) will pay for claims to injured parties in your own vehicle when they are injured in an accident caused by an uninsured motorist. The damages for injuries that should have been paid by the uninsured motorist's insurance get paid from the UM coverage of your own policy. Underinsured coverage is a little tricky because each state defines what underinsured is and when this coverage is triggered, and what limit is available.
Optional Coverage
A good commercial auto policy can protect your business from liability arising from vehicles you own for bodily injury and property damage. In addition to basic coverage such as comprehensive, collision, and liability, many commercial auto policies offer optional coverage, which may be included at extra cost. These include:
Rental reimbursement
If your company vehicle needs repair after an accident, rental car or rental reimbursement coverage helps your organization function with a rental vehicle to serve as a replacement until your automobile is fixed. This coverage usually has a daily maximum, for instance, $50 per day, and a maximum number of days, so 30 days for a total payment of $1,500. Carriers may offer different limit options so you may be able to increase these.
Hired and Non-Owned Auto Coverage (HNOA)
Business owners and employees often drive business vehicles that aren't owned by the business. Whether you want to rent, lease or borrow a car for business, or if it's your personal vehicle you're driving, you'll have liability exposure when these are used for business activities.
That's why hired/borrowed auto liability coverage is necessary. It covers property damage or bodily injury liability when your driver is at-fault for the accident and harms someone or their property while driving a hired, rented, or borrowed vehicle.
Hired coverage means your business has liability protection when you or employees drive a rented, leased, or borrowed car for business. If involved in an at-fault accident, the business's auto policy, more specifically the hired auto liability would respond to liability claims.
Non-Owned Employers Auto Liability coverage acts as excess auto liability when an employee is using a personal auto for the business's benefit and they are involved in an at-fault accident. The employee's liability coverage on their car would respond. However, since your employees may only choose a minimum liability limit as required by the state, it could mean the limit is $10,000-$25,000 per accident. If it is a serious accident, those limits may not be sufficient to cover the injuries and damaged property. The business auto non-owned auto liability would pay for damages above what the employee's auto policy pays.
Non-owned vehicle coverage pertains to employees who use their vehicles for work. It includes an additional limit of liability for bodily injury and property damage when the employee was ticketed for the accident. Lease or loan gap coverage
When a car your company is leasing or making payments on is totaled, and the book value of that automobile is less than the amount you owe on the lease or loan, with this endorsement on your policy, the insurance will meet the amount that you owe on the lease or loan. For example, if you were involved in an accident and totaled your car but had a remaining balance of $10,00 to pay off but the actual cash value of your car was $5,000, the insurance would pay the additional $5,000 to pay off your loan.
This coverage protects your permanently installed electronic equipment, such as a satellite, navigation system, or CD/DVD players, if they are stolen or damaged by a vehicle crash.
Since vehicle wraps have become so popular, these also add additional value to your vehicle that would not be automatically covered if damaged in an accident. Your insurance would pay to repaint with normal factory paint, but without this endorsement, you would have to pay out of pocket to repair or replace the wrap.
What's not covered under Commercial Auto Insurance?
In most cases, if your employee is injured in a company car while using it for business, the workers' compensation policy would be the primary coverage to pay for injuries to your employee since they were injured on the job.
Commercial auto insurance coverage does not address damage to an employee's personal vehicle if wrecked while using it for work.
Commercial auto liability will not cover liability arising out of the use of mobile equipment. This term is defined in most policies but generally means equipment that is not licensed for road use, backhoes, front-end loaders, caterpillars, forklifts, etc. Liability for use of these is found under the general liability policy.
Not every event is covered by a standard commercial auto insurance policy. While coverages vary based on the state you live in, the following expenses and scenarios are usually excluded or require additional endorsements to be added to your policy.
The contents of your company vehicle
Liability for use of mobile equipment
Repairs to a rental vehicle (Hired Car Physical Damage endorsement)
Illegal use of company vehicle
Racing, legal or not
Who needs Commercial Auto Insurance?
Depending on what kind of business you're in, you might be able to benefit from commercial auto insurance. Businesses that need this policy own vehicles, regularly rent vehicles or have employees that use personal vehicles for the business's work:
Artisan/specialty contractors
Realtors
Restaurants with delivery
Contractors providing delivery services
Taxies, limos, airport vans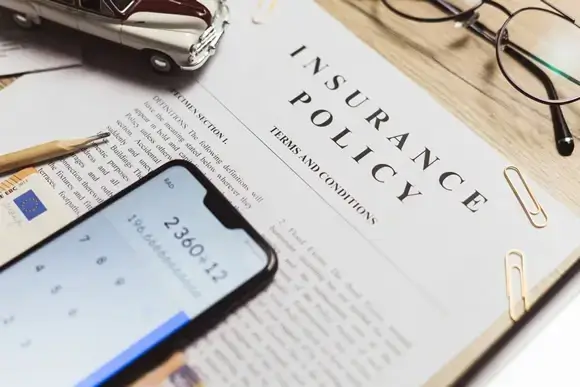 What is the risk if I don't have commercial auto insurance for my business?
Without commercial auto insurance for your business, you will be responsible for the monetary consequences when accidents occur. That's because a personal auto insurance policy typically doesn't provide coverage for business use of vehicles. Here are a few risks you and your business may face without commercial auto insurance.
State fines, penalties, loss of license
Payment of bodily injury and property damage claims/suits
Payment of vehicle repairs or replacement
No legal defense if sued for an accident
How much does commercial auto insurance cost?
There are several factors influencing the premium of your business-auto insurance. These include how many vehicles are owned, how they are used, the radius of operations, the driver's motor vehicle records, the coverage you have chosen, your coverage limits (the maximum amount the insurance company will pay for a covered claim), and your deductibles (the amount you pay out-of-pocket for a covered claim).
What type of vehicles are covered by commercial auto insurance?
Companies make use of different types of commercial vehicles. These are some of the most common types of vehicles covered by commercial auto insurance.
Cars
SUVs
Vans
Pickup trucks
Box trucks
Service trucks
Like any insurance policy, it's essential to study the details of your commercial auto insurance policy thoroughly. Hence, you know what is covered, the limits payable, what your deductibles are and what the exclusions are.