What is Commercial Umbrella Insurance?
Umbrella insurance, often called personal liability insurance, functions as a hedge against your assets. If an accident that leads to a lawsuit incurs costly claims for damage which go beyond the liability limits of your auto and Homeowner insurance coverage or other policies, Umbrella Insurance may help pay for what you owe.
Umbrella insurance provides excess liability coverage beyond your standard liability limitations with respect to your car, home, or other insurance. It helps you pay for injuries or damage you are subject to that may need additional coverage that your regular plans do not cover.
Umbrella insurance is almost the same, but not identical to excess liability insurance, which offers you ways to expand the limits of the coverage you already have. The difference is that Umbrella insurance often includes extra protection, which is not offered by your primary insurance plans. For example, additional coverage may consist of legal fees and compensation for damages caused by false accusations of slander or libel.
What is covered under Umbrella Insurance?
Homeowner's insurance ensures that you and your household members are safe against lawsuits involving injury and property damage, along with other claims such as defamation, landlord liability, and false imprisonment based on the specifics of your policy.
Umbrella insurance often covers third-party fees and expenses in addition to your liability limit. If you have an umbrella policy with a limit of $1 million, and get sued for the full extent of the coverage, your insurance company would pay out your $1 million plus mount a legal protection or cover your fees. You might be required to pay a "retained limit," which is like a deductible. It is an installment you will be required to pay for before your policy begins to pay.
Coverage and exceptions change from one policy to another, however here are some examples of situations that would likely be covered under an umbrella policy:
There has been a serious automobile accident, and the cost of injuries to the other driver is above your automobile liability insurance limit.
A guest falls down your stairs and sues you for medical costs and pain and suffering, over and above your homeowners' insurance limit.
A restaurant sues you after you leave a negative review online.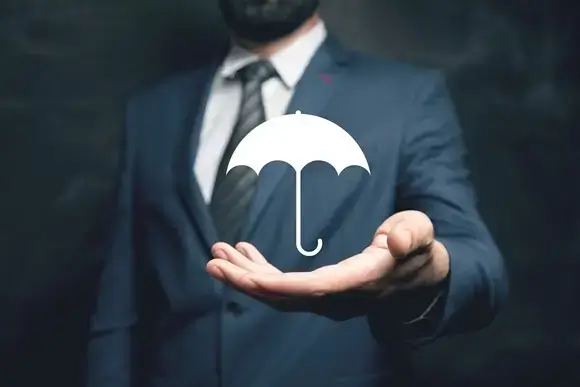 What is not covered under Umbrella Insurance?
Insurance policies don't normally cover all injuries and property damage sustained as a result of an event, which is why you would need additional coverage (notwithstanding health or collision coverage on your automobile insurance). The policy will not cover liability associated with your business unless you have a business umbrella policy rather than a private insurance one.
Umbrella insurance policies rarely cover liability stemming from breach of contract. For example, if a contractor sues you because you've not paid for its tasks under the terms of the agreement that you signed, your umbrella insurance probably won't assist you. And if you were to harm someone else willfully or commit a crime, you're unlikely to have coverage.
Boats are also included in quite a few companies' exclusions. Some companies exclude certain sizes or kinds of boats, while others do not cover them unless you have a current watercraft insurance.
How much does Commercial Umbrella Insurance cost?
Commercial umbrella insurance costs approximately $40 per month for each $1 million of extra coverage. The level of risk and how much you insure yourself determines the cost of this policy. Coverage increases when you reach the maximum policy limit on your underlying
, commercial auto insurance, or employer's liability insurance. To satisfy a client's upper limit exceeding $2 million, many small businesses purchase this policy.
Many small businesses (17%) pay less than $500 per year for umbrella insurance and roughly 36% firms have premiums between $500 and $1,000.
Factors Affecting Average Umbrella Insurance Cost
Once you have decided that it is a smart financial investment to cover the cost of additional insurance protection for your hard-earned work. There are a number of things that will influence your umbrella insurance cost, including your net worth. Best-case scenario is that you have insurance equal to or greater than your net worth. If you're not sure how many assets you have, reach out to a lawyer or financial advisor for help.
Your location: Because of the Cabot Act, insurance rates may vary across the nation. Umbrella insurance in Louisiana may not be the same price for the same coverage in California.
Your credit history: You may not be able to obtain the lowest rates for umbrella insurance coverage if your credit history is not ideal. Standard liability criteria evaluate your credit history to gauge risk. If you improve your credit rating after purchasing your umbrella policy, be sure to speak to your agent about reducing your insurance policy rates.
Driving records in your household: Because your current umbrella policy is based on your family's driving history, traffic tickets, citations, and accidents, this may affect the cost.
A teenager in your household: If you have one or more teenagers who drive, you're already aware of how teens affect your auto insurance rates. Umbrella insurance prices will be affected likewise. But now is an incredible time to buy additional coverage.
Your risk profile: Do you have pets? Do you have a trampoline, swimming pool or waterslide in your backyard? Do you frequently hold parties? Are you the owner or rider of a boat or a personal watercraft? Do high-powered vehicles, such as a snowmobile or all-terrain vehicle, interest you? Discuss your potential concerns with an insurance agent.
Insurance company you choose: Unless you compare policies, you run the risk of overpaying for coverage. Adding your policies to one insurer can help you save money through a sizable umbrella insurance discount.
Tips for saving money on umbrella insurance
Different factors will affect the cost of commercial umbrella insurance. The following suggestions can be used to keep costs down:
Pay your entire premium upfront: You can make monthly installment payments on your monthly or annual insurance premium. As you make the monthly payments, it is tempting to go with a smaller sum, but it's best to strive regularly for the largest possible lump sum. Many insurers provide premium discounts as an annual lump sum.
Proactively manage your risks: Umbrella insurance covers multiple risks under a single plan, which results in lower rates. Business owners can construct a risk management strategy to lower the number of claims over time. For example, you might:
Train your employees extensively to enable them to perform their jobs efficiently.
Put a security system in place.
Compile the requirements for posting to social media.
Create procedural checklists and reviews.
Inspect your business premises for potential hazards.
Avoid increasing the cost of your motor vehicle insurance policy by authorizing only licensed drivers to operate the vehicle.
Finding the Best Umbrella Insurance Value
Buying umbrella insurance is a balancing act in which a savvy individual must determine the amount of money needed to provide safety without compromising assets of decent worth.
Umbrella insurance can help protect your savings, but discovering the best policy for your requirements and budget can be challenging because no two insurance companies are alike.
An insurance agent who is an independent contractor can help you locate an affordable umbrella policy. A local agent has access to quotes from multiple insurance providers and will help you find affordable umbrella insurance that will protect your assets.