What Is Commercial Umbrella Insurance?
A Commercial Umbrella insurance policy can provide extra coverage for any organization, from small businesses to substantial commercial firms. Accidents happen, and there is always the risk of a lawsuit against your company.
Your company's budget (and other factors) ought to be evaluated to determine whether commercial umbrella insurance is worthwhile. Essentially, this coverage is a risk transfer strategy, as is all insurance. You must consider the amount of risk your business has. For example, a company with a fleet of delivery vehicles has more auto liability risk than a company whose employees all work in an office. Having drivers on the road increases your company's risk of being held liable for auto accidents, which additional limits might be needed to fully cover the damages involved?
Your company may have to get a commercial Umbrella policy under certain circumstances. For example, if you have a contract with the government or a client and the contract might require a higher limit than your primary liability policies can go. A Commercial Umbrella will solve the need for higher limits over $1,000,000.
Umbrella insurance is designed to be on top of Commercial General Liability (CGL), Commercial Auto Liability, Employee Benefit Liability and Employers' Liability. An Umbrella can covers numerous locations or properties, just like you would have multiple locations on the General Liability policy. Without this coverage, your company will have to pay out-of-pocket for any costs that go over your underlying policy limits. An Umbrella provides excess limit above:
General Liability
Employee Benefit Liability
Auto Liability
Employers' Liability
How Does Commercial Umbrella Insurance Work?
Commercial umbrella insurance extends the limits of specific liability policies, called underlying or primary policies. It's also called business umbrella insurance.
Commercial umbrella insurance differs from excess liability insurance in that excess liability policy may be more limited than the underlying in what is covered. In contrast, commercial umbrella insurance may provide broader coverage than what is included in the underlying policies.
An employee sustains an injury while travelling to a client's location. They accidentally crash into someone else's vehicle, causing significant damage and injuries to the occupants. Your employee is ticketed and at fault for the accident. The costs to fix the vehicle and damages owed to the other parties for medical bills, loss wages and pain and suffering exceed your company's auto liability limits. Umbrella liability coverage can cover the costs that exceed your commercial auto insurance.
Commercial umbrella insurance can cover the damages' costs surpassing your commercial vehicle's limits and liability coverage.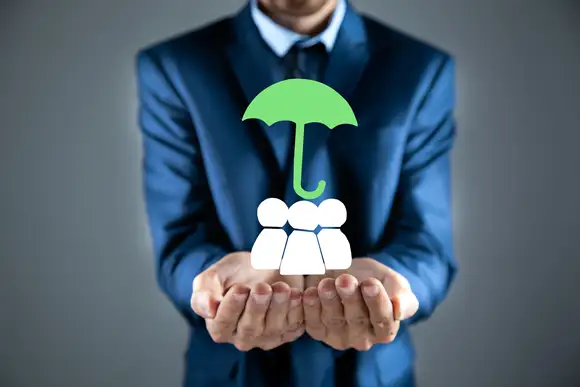 What Businesses Should Purchase a Commercial Umbrella?
Small businesses typically interact in person with their clients and customers, possibly increasing their liability risks. This likelihood is even greater if employees utilize heavy machinery or work at client locations.
If you consider the likelihood of a claim exceeding the liability limits of your primary insurance policies, you will be nearer to deciding if purchasing a commercial umbrella is warranted for your business. This coverage may help if your business:
Frequently interacts with customers
Works on someone else's property
Have a fleet of vehicles on the road
Types of vehicles, dump truck, semi-trailer or small pickups
Uses heavy equipment to perform work
If potential customers visit your business, it increases the risk of injuries or property damage. If you rent out tools or equipment to customers, the possibility of liability may be heightened by lack of training or instruction to renter. Customers' operating this machinery could result in significant medical expenses and legal challenges that could go beyond your general liability insurance limits.
Working away from the business location may also increase your business liability risk. For instance, if your employees work at customer's home or business, there is a greater risk of property getting damaged. The employee may accidentally:
Put holes in the walls
Damage wood work
Break a window
Damage cars
What Does Commercial Umbrella Insurance Cover?
The terms and conditions of a commercial umbrella insurance policy are usually the same as the terms and conditions of the underlying business policy. Umbrella insurance will provide additional limits for the following:
Third-Party Injuries
Adding business umbrella insurance (or excess liability insurance) to general or auto liability insurance can cover the damages and legal expenses associated with an individual making a claim for an injury occurring on your property, at a jobsite or in an auto accident.
Third-Party Property Damage
Adding commercial umbrella insurance to general or auto liability coverage can help pay for property damages and legal fees resulting from operations or auto accidents.
Employee Injury Lawsuits
Adding commercial umbrella insurance over the employer's liability coverage (typically included in workers' compensation insurance) helps pay for the employer's defense for allegations of negligence realting to an employee's injury.
An example would be if an employer was aware of a dangerous condition like the presence of asbestos on a jobsite and did not notify employees of the known danger and didn't provide protective equipment. There could be multiple employees that were later diagnosed with cancer. These claims would easily exceed the underlying Employers' Liability limit.
Business Umbrella Insurance Limits
Any limit is available on a business umbrella policy. While most business will purchase anywhere from $1M to $25M, other businesses may opt for even higher limits. There is no maximum limit that can be purchased, it will depend on the insurance companies that will take the risk.
What Is Not Covered by a Business Umbrella Policy?
Commercial umbrella insurance does not provide excess limits for all types of liability claims. It also does not supplement the limits of specific policies. For instance, an umbrella policy does not cover the following:
Damages within the underlying policy limits
Umbrella liability insurance only makes compensation payments once the initial policy has met its limits. Like any other policy, umbrella liability insurance does not extend beyond its shareholder limits.
Commercial Property
Commercial property insurance covers a business's owned assets. An umbrella is a type of liability policy paying third-party claims. It does not cover owned commercial property. You buy commercial property coverage up to whatever limits you need to insure.
Professional Liability
Professional liability insurance, also known as errors and omissions insurance, or malpractice insurance, can cover lawsuits over professional mistakes, including missed services and delayed deliveries.
You can increase the limitations on this policy with extra liability insurance, also referred to as excess E&O.
Employee theft
Insurance for fidelity bonds may be required to financially protect your company from criminal activities of your workers against your customers or clients. In contrast to insurance, there is no deductible with bonds, which may be subject to deductibles. An additional layer of protection in the form of umbrella insurance could be utilized to cover damages beyond the limit of the purchased coverage.