Cabinet Maker Insurance: Protect Your Business and Focus On Your Craftmanship
A cabinet maker is a skilled craftsman who creates cabinets of various shapes, sizes, and designs for their clients. This includes built-in cabinets and drawers with complex designs customized for the customer's needs. If you are in the cabinet-making business, you should consider protecting your business, workers, and assets from potential risks through cabinet-maker insurance.
Cabinet manufacturing insurance is a set of insurance policies created to fit the needs of cabinet production businesses. When choosing the policies for your business's risks, it can be customized with optional coverages.
Risks and Challenges Faced by Cabinet Makers
Here are some potential risks faced by cabinet businesses.
Physical Injuries
As a cabinet maker, one has to work closely with power tools, saws, nail guns, and other potentially dangerous tools. One sleight of hand can lead to severe injuries to any worker using the tools. They were usually built in the shop with only employees exposed to the danger. However, sample cabinets are often on display on the sales floor. A visitor to the showroom could get hurt while viewing the option. Depending on the situation, if the injured party was hurt because they slipped on a wet floor or a drawer fell out on their foot, they may expect your shop to pay for their medical costs.
Property Damage
You or your workers could accidentally damage a third party's property while installing the cabinets at the job site. Imagine one of your workers accidentally damages an electrical line in a customer's house during installation. The customer will likely demand that you pay for the repairs caused by your employee.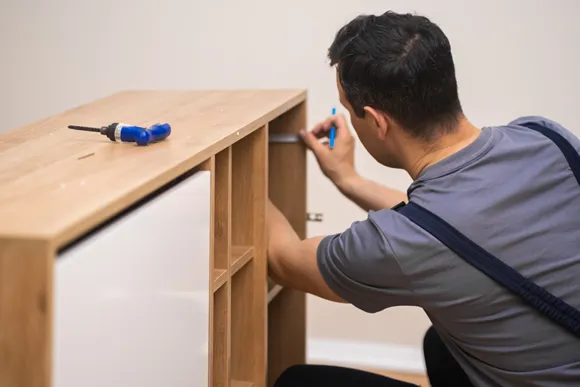 Equipment Breakdown
A large cabinet manufacturing company must rely on assembly line equipment to produce cabinets. What if the machinery malfunctions, shutting production down? The entire business will come to a standstill. Also, the equipment will have to be repaired or even replaced, which can be expensive.
Getting cabinet maker insurance can help reduce these risks' impact on a cabinet business.
Business Insurance for Cabinet Makers
This type of insurance is designed explicitly for cabinet-making companies. It is a set of insurance policies that cover the risks a cabinet business faces. You choose the insurance policies included based on the business's operations and specific needs.
Types of Insurance Policies That Can Help
Though there is no uniform set of insurance policies that a cabinet business has to get, here are some insurance policies that can be helpful.
General Liability Insurance
A general liability insurance policy can defend your company from third-party claims of bodily injury and property damage liability. It typically includes coverage for incidents caused by your business operations.
This policy pays for those sums that a business is legally liable for, and it will provide a legal defense if your business is sued for damages from economic loss, medical bills, and other expenditures associated with an injury your company caused.
Similarly, general liability insurance can pay for repairs or other costs associated with property damage caused by your staff. This policy would respond to third-party lawsuits for personal injuries, such as libel, slander, and copyright infringement.
Inland Marine Insurance
This policy is an integral part of business insurance for cabinet makers because cabinet companies depend heavily on their tools and equipment. Only the building, contents, and equipment located at the company's physical location are covered by commercial property insurance. But, an inland marine policy covers your equipment and materials in transit and at your job sites.
For instance, if you make the cabinets in your shop and they must be transported to the job, this policy can provide coverage for those cabinets while in transit for covered perils like theft or collision. This policy can also cover the cabinets while waiting to be installed at a house under construction if stolen, vandalized, or destroyed by fire.
Commercial Auto Insurance
Your could require business auto insurance if you use a vehicle to deliver cabinets or to transport your tools and equipment to the place of work. Except for New Hampshire and Virginia, practically every state requires that business vehicles carry this insurance.
If someone is physically hurt by your business vehicle after an accident, this coverage may be able to pay their medical bills. You may also pay for your medical expenses if you are hurt in a car accident. This policy can pay for the repair expenses and legal fees when your company car unintentionally damages someone else's property. It can also cover the damage caused to your vehicle due to vandalism, weather events, and collisions.
Workers' Compensation Insurance
This policy is a crucial component of cabinet maker insurance because there is a more significant risk of injury when working with power tools and manufacturing machinery. This insurance pays the medical costs for a worker injured on the job. It also compensates the employee for wages lost due to missing work because of the work-related injury.
How to Choose Cabinet Maker Insurance Policies?
Hundreds of insurance policy types are available in the market. These options might feel confusing at first. Select insurance policies after considering the factors mentioned below.
Coverage
Make a list of all possible risks that you face while running your business. For example, as a cabinet maker, you face risks like property damage, employee injury, vehicular accidents, equipment breakdown, etc. Your insurance policies should cover the most significant losses your business faces. You can design your insurance coverage accordingly.
Cost
Cost is an important factor when getting insurance for cabinet makers. Get an insurance quote for workers' compensation, a business owners' policy, or general liability here on our site. You will get an idea of the costs for the coverage needed. Most insurance can be paid in installments to make it affordable.
How Much Does Cabinet Insurance Cost?
Naturally, you must be curious about how much this insurance will cost. However, there is no uniform cabinet maker insurance cost. The cost of insurance policies depends on various business factors, such as.
Value of business assets insured
Location
Annual revenue
Insurance policies selected
Loss experience
Limits and deductibles
Annual payroll
As each policy's rating basis and cost differs, get your quote today and purchase insurance within your budget that also provides good protection.
Protect Your Business Today!
Cabinet maker insurance can provide a financial cushion to a business during tough times. Unfortunate situations come unannounced, and having the right insurance coverage can help you navigate them. Appropriate insurance coverage, sound risk management practices, and loss prevention will go far in keeping your business successful.
Are you confused about choosing the right insurance coverage? Talk to an Insurance Advisor agent today and get your questions answered. We have a team of licensed insurance agents to guide you through the process. Head to the Insurance Advisor blog to access helpful guides, informative articles, and other resources to understand insurance better. At Insurance Advisor, we offer a variety of business insurance policies that suit your needs. Choose us for comprehensive quotes, easy payment methods, and helpful resources.
We are a Trusted Insurance Provider