The Ultimate Guide to Insurance for Drywall or Wallboard Installation Companies
Drywall and/or wallboard installation insurance is essential for companies working in this construction industry. It protects drywall or wallboard businesses from financial losses arising from their installation projects.
On any construction project, accidents or damages can always occur; having the right insurance coverage can help mitigate those risks. This article will provide a comprehensive overview of drywall or wallboard installation insurance, including what it is, how it works, and why industry professionals need this coverage.
Policies for Drywall Installation Companies
Drywall installation business insurance includes various coverage options to protect businesses and professionals from potential risks and liabilities. The coverage can help drywall and wallboard installation businesses avoid potential financial losses and liabilities.
This blog post will explore the primary forms of insurance coverage available for drywall or wallboard installation and help you identify suitable small business insurance coverage for your needs. A few of the general types of coverage are listed below.
General Liability Insurance
General liability insurance is a type of insurance policy that protects a business or individual if held liable for causing bodily injury or property damage to a third party. In the context of drywall installation, general liability insurance would cover any accidents or damage that may occur during the installation process.
For example, suppose a drywall contractor installs drywall in a client's home. During installation, one contractor's employee accidentally drops a piece of drywall onto an expensive antique table, causing significant damage.
In this case, the client may expect the drywall company to pay for the cost of repairing or replacing the table. Here, the contractor's general liability insurance policy responds to the claim, usually before the incident gains momentum into something more serious like a lawsuit.
Worker's Compensation Insurance
Worker's compensation insurance is essential for employers and employees because it can provide a safety net for injured employees and protects employers from costly lawsuits that may arise from such incidents.
For example, suppose a drywall installation company employs several workers responsible for installing drywall in various locations. While working on a job site, one of the workers falls from a ladder and suffers a broken arm. The worker's compensation insurance can cover the worker's medical expenses, lost wages, and rehabilitation costs associated with the injury.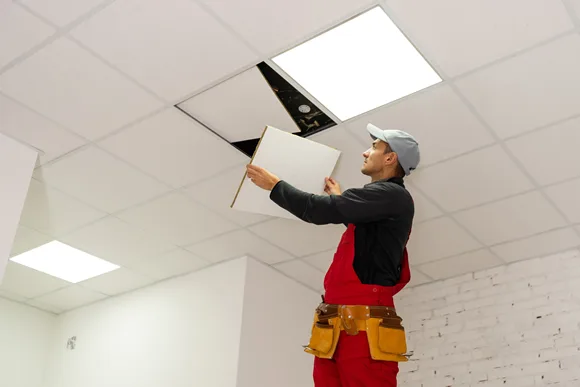 Commercial Auto Insurance
Commercial auto insurance is a type of insurance that provides coverage for vehicles used for business purposes. For drywall or wallboard installation businesses, commercial auto insurance can provide coverage for accidents and other incidents that occur while using your vehicles for business purposes, such as transporting equipment and materials to job sites.
Let's say that you are driving your company truck to a job site to install drywall. While you are driving, you run a stop sign and accidentally hit another vehicle, causing damage to both vehicles and injuries to the other driver.
this case, your commercial auto insurance policy can provide coverage for the bodily injury liability and property damage resulting from your employee being at fault for the crash. Specifically, the policy would provide coverage for bodily injury liability, property damage liability, and collision coverage on the company vehicle.
Inland Marine Insurance
Tools and equipment insurance is a type of Inland Marine Insurance that covers mobile tools, equipment, and other valuable items that a drywall installation company uses at job sites. This insurance policy can cover repairing or replacing damaged or stolen tools and equipment when caused by a covered peril.
While transporting the tools and equipment to a job site, the company's truck is involved in an accident, and some of the tools and equipment are damaged or destroyed. Your business auto policy does not cover the contents of the vehicle.
In this case, the tools and equipment insurance policy would cover repairing or replacing the damaged items within the policy limits.
Perks of Having Drywall Installation Insurance
Having drywall or wallboard installation insurance can provide several benefits for businesses in this field. Here are some ways that having this insurance can help your business:
1. Protection against financial losses: Accidents or damages can be costly, and a business may face significant financial losses without the right insurance coverage. Drywall general liability insurance can help cover costs related to property damage, bodily injury, or other accidents on the job site, helping protect businesses from unexpected expenses and liabilities.
2. Improved credibility: Insurance coverage can help demonstrate to clients and partners that your business takes safety and risk management seriously. This can help improve your business's reputation and credibility in the industry.
3. Compliance with legal requirements: Depending on where you operate, there may be legal requirements for businesses to have certain types of insurance coverage. Your business can ensure compliance with these regulations by having the right small business insurance coverage.
Key Takeaways
Drywall installation insurance is crucial for businesses in this field, providing financial protection against associated risks and liabilities. Insurance Advisor offers reliable and comprehensive small business insurance options to meet unique business needs.
Businesses can partner with Insurance Advisor because we understand the various challenges faced by Drywall or Wallboard Installation companies. We provide commercial insurance, comprehensive quotes, and easy payment options for all business needs.
Licensed agents provide comprehensive quotes and easy payment options. At the same time, the website offers valuable resources, including guides, tips, and insights, enabling businesses to make informed decisions about their insurance needs and select the right coverage to align with their business goals. Visit our website to learn more today!
We Are a Trusted Insurance Provider