Working as a handyperson or building technician can be creative and fulfilling. But there are quite a few challenges that are unavoidable in this field. You may get injured on the job, cause damage to other people's property or inadvertently cause injury to others.
Getting the right insurance coverage for your business is a wise idea. It can reduce stress and minimize the burden of sudden expenses.
What is Handyman Insurance?
This type of coverage is designed for professionals such as handypersons, home services providers, and building technicians. The policies are intended to cover the industry's most common risks, i.e., employee injuries, loss of tools and equipment, third-party physical injury, and property damage.
Why do Contractors Need Insurance?
Here are some common reasons why insurance is vital in this industry:
Property Damage
Since the job involves close contact with property owned by other people, there is always the risk of damage. Say you accidentally break a client's antique sofa while moving it, or one of your employees breaks an expensive vase while working in a customer's house. Insurance can help you cover the costs of the claim to repair or replace, as well as lawsuits if the client decides to sue.
Physical Injuries
Contractors work closely with dangerous tools such as power drills, saws, etc. The possibility of causing bodily injuries to yourself or others is high. Insurance can help you cover your medical expenses and the liability to others.
Advertising Injuries
You may end up causing a client to get upset, for example, by uploading a picture of their home without their knowledge or permission, on your website as a sample of your work. Insurance can help respond if you receive a claim or lawsuit for damages in such cases.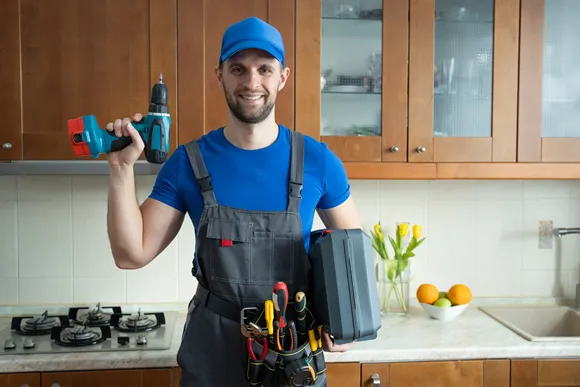 General liability coverage can also help protect against claims or suits due to copyright infringement or using other people's advertising ideas, slogans, or logos without permission.
Reputation
Being insured can help show your customers that your business is reputable and serious about your work. Even better, they'll be secure in knowing that insurance coverage is in place if something goes wrong.
Recommended Policies for Handypersons
The following policies should be considered:
General Liability Insurance
This is a basic insurance policy preferred by most business owners. It protects the business from third-party bodily injury and property damage liability arising from negligence while performing your work. Since most of your work will be performed at your client's property, the chances of getting third-party damage claims are high. This policy can cover the following:
Legal liability for causing bodily injury to someone
Claims made by customers for property damage caused by you
Personal or advertising injuries claims or suits
Worker's Compensation Insurance
If you have employees, you'll want to get workers' compensation insurance, as the probability of injuries in this field is relatively high. If a worker gets severely injured during a job, your business or you personally could be liable for payment of the worker's compensation benefits in your state to the injured employee.
In this case, worker's compensation insurance covers the following:
Ambulance or emergency room costs due to work-related injuries
Ongoing medical care, doctor visits, prescriptions, rehabilitation
A percentage of missed wages while the employee is unable to work
Commercial Auto Insurance
Business auto policy protects the business from liability due to negligence in the use of business-owned vehicles. Most states have auto financial responsibility laws requiring various limits for auto liability insurance. Bodily injury or property damage liability could be mandatory. Virginia and New Hampshire have not made the purchase of insurance compulsory. However, your business will still be liable when your driver is at fault for the accident to other people for their injuries and vehicle damage.
Business auto insurance generally covers the following:
Repair costs for damages caused to third-party vehicles due to at-fault accidents
Legal costs for lawsuits filed by third parties for bodily injury or property damage
Vehicle repair or replacement for theft, collisions, vandalism, fire, and certain weather events.
Contractor's Tools and Equipment Insurance (Inland Marine Insurance)
Commercial property insurance only covers property and equipment at the company's business premises. Inland marine insurance is a better option for building contractors since their job because it covers their tools and equipment wherever it is. Since the work requires them to transport expensive equipment and tools to client locations to complete jobs, a commercial property policy does not cover mobile equipment.
This coverage protects equipment that is in transit or at a job site. It covers the following:
Replacement of equipment stolen while in a vehicle
Damages caused to tools and equipment for perils like lightning, fire, wind, or vandalism
Coverage can be provided for long-term leased or rented equipment.
How Much Does Insurance Cost for Handypersons?
The premium depends on a variety of factors, such as:
Company revenue
Business location
Value of equipment insured
Deductibles
How to Get Handyman Insurance
Follow these guidelines:
Step 1: Pick the type of coverage you need for your firm.
Step 2: Request a quote or complete an application for your business online
Step 3: You will receive affordable quotes based on these requirements
Step 4: Pay your premium using a credit card or bank account
Step 5: The coverage will commence from the date you select after receiving your quote. Congrats! Your company is now insured
Safeguard your Handyperson Business From Risks
Maximize the security of your company by getting it insured with Insurance Advisor. We offer various insurance policies on our user-friendly website and handy resources to help you choose the proper coverage.
If you still need assistance, our licensed insurance agents are ready to help put your mind at ease. By choosing Insurance Advisor, you can get the following:
Comprehensive quotes
Easy payment options
Tips, guides, and business insights
Affordable prices
We Are a Trusted Insurance Provider