Understanding the importance of obtaining Locksmith Business Insurance
Many professions require precision and intricate work processes, just like Locksmithing. It is the art of opening, installing, adjusting and repairing locks. Locksmiths also replicate keys, change lock combinations and do lock bypass. They work on every type of lock, commercial, residential and industrial. Locksmithing is an ancient occupation that dates back to 704 BC. This profession used to involve forging metal locks; however, it has now evolved, using technology to enhance security systems. As a result, electronic locks and digital security systems have become an integral part of locksmithing today.
Setting up a locksmith business is not an easy task. It involves a lot of planning, purchasing expensive tools, setting up accounts, hiring employees, defining the brand, buying vehicles etc. With so much time and effort put into establishing the business, one should also protect it against financial hazards in the future. Locksmith Business Insurance comes in handy in such circumstances as it can provide coverage against claims from bodily injury, damage to property, damage to equipment, lost business income, stolen tools etc.
Risks and liabilities
Locksmiths are exposed to several risks on the job. Their work involves using expensive equipment such as key duplicators, car door opener tools, drill-bit cutters etc. The use of power equipment comes with the chance of user injury. Apart from that, most locksmith work occurs on the client's property, whether a house, car or business. Therefore, there is also a high risk of a liability claim if the locksmith inadvertently damages a client's property.
As part of the job, locksmiths must often commute to their client's places. What if the locksmith's employee suffers a car accident while commuting to the job? Since the employee was on the job at the time of the accident, workers' compensation would be primary coverage for the employee's injury. What if that employee was at fault for the accident? Then, the locksmith is responsible for paying for medical care for the bodily injury to occupants in the other vehicle that was hit and repairs to the car. Unfortunately, personal auto insurance may not be enough or cover such situations. Therefore, getting business auto insurance coverage for such liabilities would be prudent.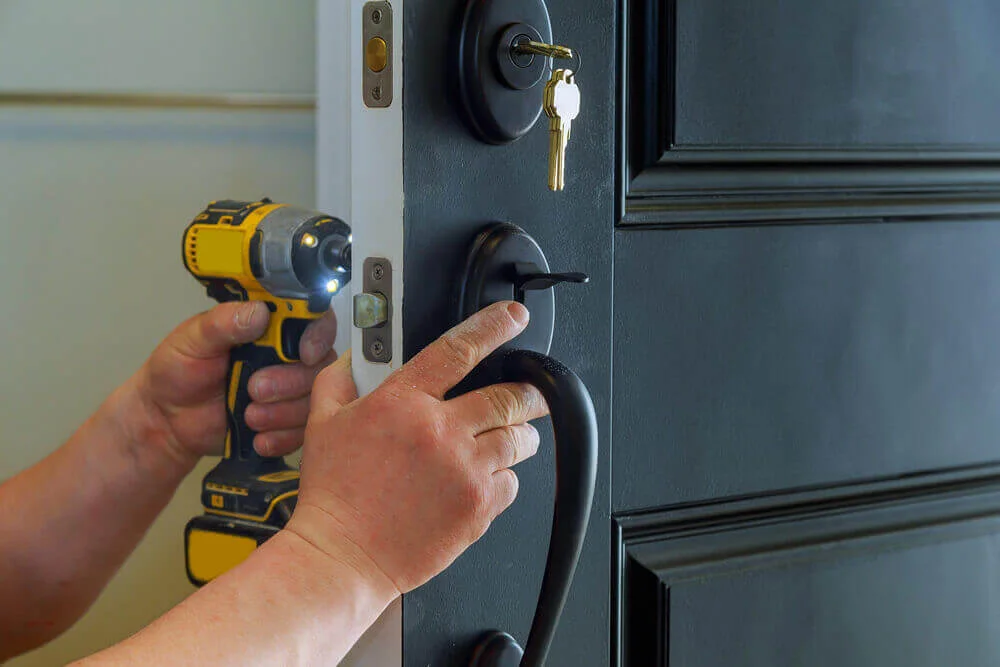 Recommended policies
There are many types of business insurance that locksmiths can opt for depending upon their needs and requirements.
General liability insurance
This type of insurance offers coverage for injury to clients, client's property damage and personal and advertising injury liability. Suppose a client trips over the locksmith's toolbox, hurting them self; the locksmith might be blamed for the injury. If the client sues him and wins, he must pay court-awarded damages for medical care and legal expenses. Therefore, general liability insurance covers bodily and property damage liability, attorney fees, court-ordered judgments, and death expenses in lethal accidents.
There can be situations when an employee of a locksmith damages a client's property. For example, if any employee damages a client's door while installing a new lock, the client can make a claim for the damaged property. General liability insurance can cover the costs of repair or replacement. It can also cover litigation in case the client takes him to court.
While advertising a locksmith business, there might be a situation when the business owner mistakenly mimics the competitor's tagline or logo. The competitor may file a lawsuit against the locksmith business for trademark infringement in such a situation. General liability insurance can pay for legal defense and settlement costs for covered claims.
Workers' compensation insurance
There is a high risk of locksmiths sustaining physical injuries while working. For instance, many metal shavings are produced while shaping a new key. If these shavings come in contact with the eye, they can cause serious injury. Workers' compensation insurance can provide financial security against the massive hospital bills the locksmith business would need to pay for the employee's injury. It will cover the hospitalization charges, emergency room, physical rehabilitation etc. It will also provide for a percentage of lost wages when the employee cannot return to work due to an on-the-job injury.
Commercial auto insurance
Commercial auto insurance offers coverage for the cost of accidents caused by a business vehicle that is at fault. A locksmith business involves a lot of commutes to visit clients. What if a collision happens between a business vehicle and a car, and someone gets injured? Commercial auto insurance can cover medical expenses and repair the property damage to the other vehicle involved in the wreck. Apart from these, it will pay for the defense and additional costs related to auto liability lawsuits. Comprehensive and collision coverage for the business's owned vehicle can also be included.
Contractor's tools and equipment insurance
Tools and equipment coverage is a type of inland marine insurance wherein the insurer pays the repair or replacement cost of tools and equipment if they are damaged or lost by a covered peril. However, the equipment typically should be less than 5 years old to get replacement cost; if not, the actual cash value is given. Locksmith businesses usually provide services away from their primary business location and thus, need this policy to cover their expensive tools while on the road. For example, if a locksmith's toolbox is stolen from the back of a pickup, the contractor's tools and equipment insurance can provide coverage for replacement.
Comprehensive costs
The cost of locksmith business insurance depends on a lot of factors. Small businesses with lower annual sales pay less for general liability insurance, whereas large companies with higher revenue need to pay more. The premium also depends on the services offered, the business property and equipment insured, the number of company-owned vehicles, types of insurance bought, deductibles and limits.
Similarly, workers' compensation insurance cost depends on the annual payroll for all employees and the business classification based on the level of risk involved with their jobs and other factors. For commercial auto insurance, the premium depends on the number of vehicles owned by the company, driving experience, coverage and limits purchased.
The cost of a contractor's tools and equipment insurance depends on the value of items. So, locksmith business owners/locksmiths need to thoroughly study each policy, know their coverage requirements and assess their needs to make a sensible decision.
We Are a Trusted Service Provider