Marketing is an important function of any business. It helps businesses keep long-lasting relationships with their customers and maintain strong brand recall. Likewise, the job of a marketing consultant is not an easy feat. It involves helping companies understand their clients better, devising effective marketing campaigns to reach potential targets, and promoting the business.
Marketing professionals produce media messages, develop goals and strategies, execute tasks, and monitor outcomes. They also prepare reports and marketing materials, implement brand management strategies, and deliver marketing presentations.
A small mistake by a marketing consultant when devising marketing strategies can lead to heavy financial losses for the client. A slip and fall accident at the office, leading to physical injury to the party or damage to their property, is always a possibility. Hence, there is a need to buy business insurance to safeguard oneself from an expensive lawsuit by the client in case of a professional error or other mishaps.
Why Do Marketing Consultants Need Business Insurance?
Regardless of the nature of the job, accidents can happen at any point in time. An error or omission in delivering services can cause a client to file a lawsuit and in turn, jeopardize the reputation of a marketing consultant or firm. Marketing consultants should obtain business insurance to shield against loss scenarios in their consulting business.
Whether someone owns a small marketing consulting company or a larger firm with a substantial client base, there are a variety of risks and liabilities associated with this industry, including:
A consult creates a marketing plan for a client's new product and targets specific regions of the US. However, in the interim, the client changes several features of the product. When those marketing strategies are implemented, generated sales are far lower than anticipated. The client sues the consultant for negligence in creating the campaign.
Common risks such as fire or hurricanes that cause property damage to business-owned assets can adversely impact businesses.
Suppose a consultant creates a marketing campaign for a celebrity. In the campaign, they use images of the celebrity photographed by a particular photographer without getting his authorization and post them on social media. The photographer could sue the consultant for image copyright.
Marketing services may involve organizing big events and conferences. If one of the events gets canceled due to an emergency such as a hurricane or other significant occurrence, this could lead to a financial loss.
As the world is moving towards digital inclusion, the chances of data breaches and cyber-attacks are high. Hackers may steal sensitive information about clients from systems that could lead to claims and lawsuits against the consultant.
Suppose a consultant hosts a brand-promoting event and contracts a company that does special effects for the show. Suppose the pyrotechnics cause burns to the audience. Those people may sue the marketing consultant promoter for other medical bills and damages.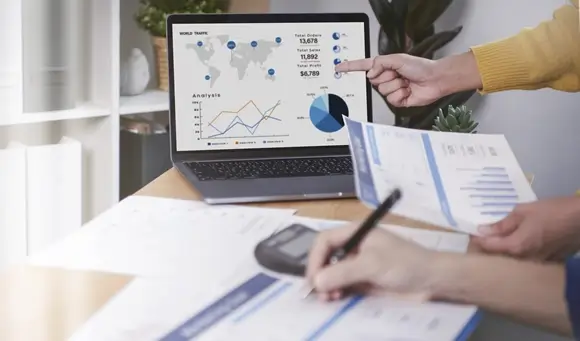 When operating a business, it's important to consider these unforeseen situations to save oneself or a firm from expensive lawsuits. The right selection of marketing consultant insurance can help consultants survive unexpected setbacks.
Coverages Offered Under Marketing Consultant Business Insurance
Various coverages are offered under marketing consultant business insurance to provide a cushion against unexpected shocks for the business. Some of these include:
1. Errors and omissions insurance
Several companies rely on marketing to position their products and services for the target audience. When providing advice on marketing strategies, consultants open themselves and the company to the risk of making a mistake that could result in a client's financial losses.
A client could file a lawsuit against the consultant for negligence, unsatisfactory work, delay in delivering services, omissions, or errors in work. Lawsuits are financially taxing and consume a lot of time, which could take a heavy toll on the business.
Errors and omissions insurance can help by providing a defense and paying the court fees, award, judgment, or settlement. Errors and Omissions insurance is also known as professional liability insurance.
2. General liability insurance
General Liability protects against third-party property damage, physical injuries, and advertising injuries. This is an important coverage to consider as marketing consulting involves interaction with clients at their office, your business, or an event site. Since advertising is an essential part of the marketing consultant's deliveries, the general liability often excludes the advertising injury coverage because this exposure is more appropriately covered under this type of consultant's professional liability.
One may accidentally damage a client's laptop while discussing a marketing plan at their office. The client would ask for the repair or replacement of a laptop, which could be expensive.
There could also be slip-and-fall accidents at the office, resulting in an injury to the client. General liability insurance also provides coverage for medical payments where legal liability does not have to be established. Typically, this coverage is for smaller limits, maybe $5,000 to $10,000, and is often referred to as "goodwill" coverage. It can easily be paid out for an injury without getting the lawyers involved.
3. Business owner's policy
A business owner's policy bundles general liability and commercial property insurance into one policy. It is typically offered at a lower cost than it would be if the two insurances were purchased separately. The policy provides coverage against customer injuries and property damage, damage to the business's property, and personal or advertising injury liability. Other coverage may be built in at no additional premium; sub-limits are given for employee dishonesty, money and securities, electronic data processing (computers), and business income. Other types of insurance may be added or increased for an additional cost.
4. Fidelity bonds
There are many types of surety bonds, but this type is referred to as employee dishonesty coverage. A type of Crime coverage, employee dishonesty bonds pay claims when an employee steals from their employer (first-party) or a client (third-party). This coverage may be required in client contracts, the third-party coverage.
Suppose an employee of your firm has access to the financial or private information of a client or your internal company records and uses that information for criminal gain. The client will look to the marketing consulting firm to reimburse for the loss or liability incurred. It will reimburse your business for the loss caused by that employee and pursue criminal charges and restitution against the employee.
A fidelity bond provides compensation when an employee steals from a client. It provides coverage related to theft, fraud, unauthorized electronic funds transfer, forgery and alteration of monetary instruments, and unlawful data access.

5. Workers' compensation insurance
Many states mandate workers' compensation insurance for marketing firms that have several employees. It protects business owners from paying the required employee benefits when a worker gets injured on the job. These benefits include medical care, rehabilitation, transportation expenses, and replacement service if the employee is unable to care for them self. It also provides coverage for lost wages, death benefits, and funeral expenses for fatal accidents.
6. Cyber liability insurance
Cyber liability insurance pays for third-party liability losses arising out of a data breach or malicious software attack. The policy carrier will provide defense in the liability lawsuits brought by clients when they are harmed by a leak of their private data.
Cyber insurance can cover two types of losses, first-party and third-party. First-party cyber insurance provides coverage for the insured's damage resulting from data breaches and the business expenses incurred for client notification and credit monitoring services. If the insured's computer systems or networks are damaged, the policy can usually be endorsed to cover those costs, as well as loss of business income, statutory or regulatory fines, computer fund transfer fraud by unknown actors, and more. For instance, if a hacker steals the consulting firm's banking and password date, they may initiate a fraudulent bank transfer.
Third-party cyber liability insurance provides coverage when a client suffers a data breach and files a lawsuit against the business owner for the damages they suffered from the breach. For instance, a marketing consultant recommends software to a client who later suffers a data breach. The client can sue the consultant for recommending insecure software. This type of policy provides coverage against attorney's fees, court fees, and settlement costs.
How Much Does Business Insurance for Marketing Consultants Cost?
A small marketing consulting firm with lower revenue and fewer clients will have a lower insurance premium compared to a larger marketing firm. A variety of factors affect the insurance cost, including:
Type of services offered
Business property and assets insured
Business revenue
Annual payroll
Number of client records
Type of insurance policy purchased
Policy limits and deductibles
Summing up
Having comprehensive insurance for marketing consultant professionals can help save a firm from many costs caused by claims. It's essential to consider the unique needs of the business when choosing insurance policies, whether it's professional liability insurance or general liability insurance. For more information regarding choosing the right policy, visit us at InsuranceAdvisor.com and check out our resources or request a quote.
We Are a Trusted Service Provider