One type of insurance for drafters is professional liability insurance, designed to protect drafters, architects, and engineers against claims made against them by their clients related to the professional work performed for financial loss. As a draftsperson, you may be held responsible for mistakes or errors in your work that can lead to expensive lawsuits or legal settlements. Drafter insurance can cover legal defense costs, damages, and other expenses associated with these claims.

This type of commercial insurance coverage is essential for drafting specialists who work on large-scale projects, such as commercial buildings or public infrastructure, where even a tiny error can result in significant financial losses. Draftsperson insurance lets you focus on your work without worrying about potential financial risks.
Importance of Drafter Insurance for Your Business
As a draftsperson, you can protect your business from financial losses due to claims and lawsuits with the right commercial insurance coverage. This lets you focus on your work, knowing you're protected against risks in your profession. Business insurance for drafters is a critical investment today, so let's explore its different coverages.
1.
Valuable Papers and Records Coverage

Valuable papers and records coverage is a type of commercial insurance that can be included in a drafter's insurance policy to protect important documents, blueprints, and other valuable papers you use in your work. If your documents are not kept electronically, this coverage provides financial compensation if these documents are lost, damaged, or destroyed due to covered events like fires, wind damage, or theft.

For example, imagine you are a drafter working on a project requiring you to keep copies of essential blueprints and specifications. One day, a tornado hits your office, and most of your documents are destroyed. Without valuable papers and records coverage, you may have to spend a significant amount of money and time to recreate these documents, which can cause delays in your project and impact your reputation.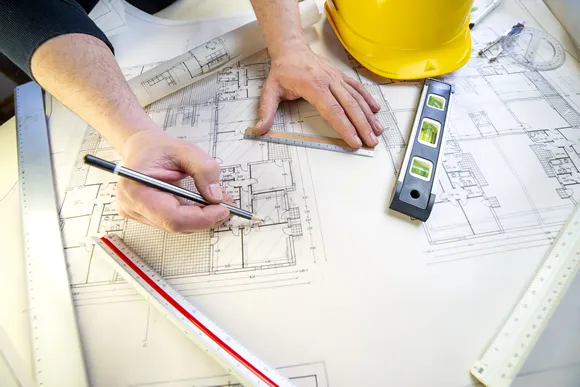 2.
Workers' Compensation Insurance

As a drafter, you may work for a company or as a freelance contractor, and you may be required to carry workers' compensation insurance depending on the laws in your state and the requirements of your employer or clients. If you suffered an injury while working, this commercial insurance would cover the costs of your medical treatment and a percentage of lost earnings when you must take time off from work to recover. For example, if you were working on plans for a building at a site and you tripped and broke your leg, your workers' compensation insurance would cover the costs of your hospital bills, physical therapy, and lost wages you experienced while you were unable to work.
3.
Cyber Liability Insurance

Imagine you are a drafter working at an architecture firm where designs and blueprints are stored digitally. Your business is responsible for ensuring the security of these critical files. Unfortunately, a hacker manages to gain access to your firm's system and steals the designs and blueprints, leading to significant financial losses for the firm and exposing clients' confidential information.

As a result, your firm could be held responsible for the breach and its consequences, which is where cyber insurance comes into play. If your firm has cyber insurance, it can cover the liability exposure associated with the breach, defense costs, court fees, notification costs, and credit monitoring for the affected parties.
4.
Professional Liability Insurance

Professional liability insurance is crucial for drafters, as design mistakes can have significant consequences. This commercial insurance protects against liability for financial losses of your clients and others due to negligence or errors in work. For example, suppose a drafter's drawing error causes delays and added costs during construction. In that case, professional liability insurance may cover legal fees and settlements if the client sues for damages.
Draftsperson's Benefits from Insurance
1. Protection from claims of negligence or errors: As a drafter, you provide a professional service that involves working with architects and drawing plans, which can have significant consequences if mistakes are made. Drafters' insurance can help protect your business from the financial losses resulting from a lawsuit due to negligence or errors in your work
2. Increased credibility: Having drafting technicians' insurance can increase your credibility with potential clients, demonstrating that you are a responsible professional who takes your work seriously and is committed to protecting your clients' interests.
3. Cumulative Coverage: Combining professional liability with general liability coverage helps protect against financial losses due to errors, omissions, and negligence in the professional work while general liability covers third party bodily injury or property damage arising from your operations. They both covers the costs of lawsuits, settlements, and judgments, but for different types of claims. Thisensures that draftspeople can focus on their work and maintain their reputation without the added burden of legal and financial troubles.
Business Insurance Cost for Draftsmen
The costs involved in obtaining drafting technicians' insurance depend on several factors, such as the type of coverage, the business's revenue, the kind of work done, and the level of risk. Other things to consider regarding the insurance premium are the limits, deductible, and additional coverage purchased. Endorsements or riders can also add to the costs. The cost of draftsperson's insurance can vary widely, so it's important to work with a reputable insurance agency to find the coverage that fits your needs and budget.
To Wrap Things Up
Insurance for drafters is essential for professionals to protect them from potential financial losses due to errors, omissions, bodily injury, and property damage. InsuranceAdvisor.com can help businesses find the right coverage with their team of licensed agents and valuable resources like guides and tips on choosing the right commercial insurance for their needs. With the right coverage, drafters can better focus on their work, knowing they are protected from specific risks. Working with InsuranceAdvisor.com can help you navigate the complexities of commercial insurance and find the coverage that fits your business requirements.
Frequently Asked Questions about Draftsmen Insurance
1. Why Do Drafters Need Insurance?
Draftspersons need insurance to protect them from potential liabilities that may arise from their work. This includes errors and omissions, bodily injury, and property damage liability. Insurance provides coverage for liability claims and lawsuits arising out of your operations. It can provide legal defense in the event of a lawsuit and, if found to be liable, pay for the associated settlement on covered claims.
2. What Exposures to Loss Do Drafting Firms Face?
Drafters are exposed to various potential risks, including copyright infringement, data breach, employee injuries, and third-party liability. Additionally, they may be liable for any mistakes made during the drafting process, which could lead to costly professional liability claims or lawsuits. If the company has an office, business property insurance should be considered, and workers' compensation if there are company employees. Cyber insurance is always needed for the cyber threats faced today.
3. How Much Does Draftsman Insurance Cost in the US?
A small drafting company's average general liability policy premium is $42 per month or $500 per year. Premiums vary greatly for all coverage based on location, limits insured, revenue, payroll, and business operations.
We Are a Trusted Insurance Provider