No matter how passionate or skilled an interior designer is with their business, there is potential for things to go wrong. Say an interior designer has several expensive paintings stored in their workspace. They may plan to decorate a client's office with the artwork. Now, imagine that all the paintings are stolen.
Without access to commercial business insurance, the interior designer will need to bear the cost of these losses out of pocket. Such losses can take a significant toll on the business's finances.
On the other hand, by investing in Business insurance for interior designers, practitioners can safeguard their businesses from common hazards of the profession. These may include property damage or theft, errors, and cyber security breaches.
This blog delves into the potential risks. It also outlines what type of insurance interior designers should buy to protect their businesses.
Potential risks for interior designers
Interior design consultants building their businesses face various threats as follows:
An accident at a client's project venue may result in bodily injuries to workers and clients. It may also result in property damage. The client may decide to sue the interior design practice to claim damages.
An employee or client may meet with an accident and experience a bodily injury at the interior designer's workspace. They may sue the business for medical compensation damages.
A fire may break out at the interior designer's workspace. This occurrence may result in the destruction of property, such as furniture, office equipment, inventory, and laptops. Replacing all the damaged property comes at a hefty cost. Delays may negatively affect clients' projects and business revenue.
A phishing attack may result in the compromise of sensitive client data.
Early investments in interior designers' & decorators' insurance can help business owners protect their firms from financial setbacks.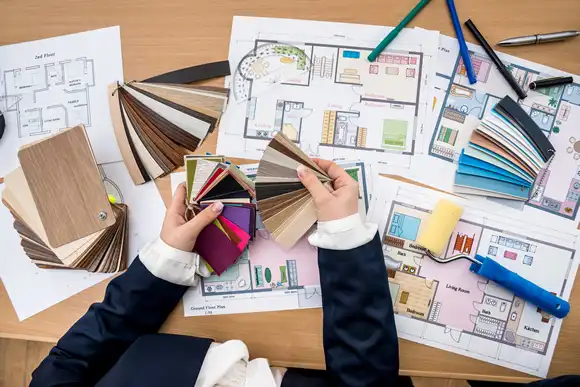 Types of insurance for interior designers
Interior decorating consultants may specialize in commercial, residential, hospitality, healthcare, retail, and education spaces. Irrespective of the specialization, common scenarios expose them to risks. Here is a snapshot of interior designers' & decorators' insurance and the benefits:
Professional Liability Insurance
This is an important insurance category for any professional building a business around their expertise and services, such as interior design. No matter how credible one's practice is, errors can happen during consultations. For instance, a project may exceed the time frame that was identified for it. A client may still be unhappy with the outcome despite all efforts made.
There may also be a case of negligence or a professional mistake, or an alleged one. Either way, a client may sue the business, which can come at a significant cost. Professional liability insurance goes towards funding defense costs for a potential lawsuit. It covers attorney fees, court-related expenses, and the cost of compensation/ settlement resulting from the lawsuit for covered professional acts. Professional liability for interior designers only pays for clients' financial losses, not bodily injury or property damage liability claims, because these are covered by general liability insurance.
General Liability Insurance
This type of insurance covers potential scenarios involving third parties as follows:
Bodily injury: Say a client hurts themselves in an interior designer's office; their medical/ hospitalization bills can be covered if the insured was negligent.
Property damage: It covers property damage to another's property while delivering services.
Legal defense fees/ compensation: The cost of defense and settlements will be covered for third-party lawsuits.
Personal and advertising injury: Claims such as libel, slander, or copyright infringement are usually covered here, though these may be excluded on the General Liability and covered on Professional Liability for interior designers.
Business Owner's Policy
This comprehensive insurance comprises general liability and commercial property insurance. Damage to property due to storms and hurricanes, theft, vandalism, fire, lightning, and riots are covered, among other property perils. The assets include furniture and equipment such as laptops and computers. The policy also covers bodily injury, property damage, personal injury, advertising injury, and defense for third-party liability lawsuits.
Commercial Auto
Interior designers may need pickup trucks or vans to transport furniture and other decor items to projects. Commercial auto insurance covers accidents involving bodily injury or property damage to others because of the interior designer's driver who caused the accident. Some states require No-Fault, also called Personal Injury Protection, to cover injuries to passengers. Still, usually, with a business auto policy, the driver and other employees in an accident will be covered under workers' compensation for their injuries. Including comprehensive and collision coverage, vehicle damage is covered due to accidents, vandalism, theft, fire, and flood.
Workers Compensation Insurance
Interior designers may hire accountants, receptionists, marketing professionals, and drivers to fulfill various roles. There is potential for staff members to experience bodily injury due to accidents that occur while working.
Workers' compensation insurance is a safeguard against employee injuries and associated costs. This line of insurance covers the cost of medical care, including emergency ambulance services, hospitalization, diagnostic testing, and more. It also compensates workers with a percentage of lost wages when unable to perform their work duties.
Cyber Insurance
A growing number of interior designers are leveraging technology to grow their businesses. They may use smart devices, communication and accounting software, email, messaging apps, social media, and other tools to bring efficiency. A lot of sensitive data is being saved locally or on the cloud.
With the rise in global cyber attacks, there is a potential for data compromise, which can jeopardize the future of the business. Cyber insurance can cover many resulting costs from a cyber attack, including third-party liability, breach costs, cyber extortion, hardware damage, funds transfer fraud, business interruption, and data recovery. This is a growing need in an increasingly digitalized interior design firm.
In conclusion
The cost of not investing in business insurance for interior designers is expensive. Interior design consultants can experience financial losses that can lead to the interruption and shutdown of their businesses. Timely investment in commercial insurance enables interior designers to safeguard business assets. They can continue to build a thriving practice in the face of all challenges.
Frequently Asked Questions about Interior Designer Insurance
1. Do Interior Designers Need Insurance?
Yes, interior designers need various types of insurance to protect their businesses from unexpected losses. Interior designers work in their clients' homes or businesses, and there is potential for liability arising from accidents or injuries. Employed staff would create a need for workers' compensation insurance.
2. How much does interior designer insurance cost in the USA?
The cost of interior designer insurance in the USA varies depending on the coverage, limit, and size of the business. On average, interior designers in America spend between $400 and $1,500 per year for $1 million in general liability coverage.
3. Who Needs Interior Designers & Decorators Insurance?
Interior designers, firms, and decorator businesses require insurance protection from risks such as third-party property damage, bodily injury liability, and employee injuries. Professional liability may also be an exposure that needs to be considered. Insurance can cover the cost of defense, court fees, and settlement for covered claims.
We Are a Trusted Service Provider