Cafes and coffee shops are frequently visited places. As daily traffic keeps growing, so do the risks of accidents and injuries. For instance, a customer may enter the coffee shop and trip on a slightly loose tile. If the customer is injured, they may need to get medical aid and have to miss work to make a full recovery.
To compensate for such losses, they may decide to sue the owner of the coffee shop. In response, the cafe shop owner will need to fund a legal defense and pay out compensation. This process can be expensive, and without insurance, the business owner will incur significant costs on their own. On the other hand, if business owners purchase commercial general liability insurance, they will be prepared to face this type of incident. They won't worry about having to fund such expenses out-of-pocket.
This blog covers the spectrum of liabilities and losses that can impact coffee shop and cafe businesses. It also delves into how adequate small business insurance can protect coffee shops and cafes from significant financial losses.
Snapshot of Potential Losses
Cafes and coffee shops are subject to many exposures. They are popular meeting places where people meet, enjoy a beverage and food, and where things can go wrong, examples follow:
Coffee shops and cafes have several appliances on the premises, including coffee makers, ovens, gas stoves, refrigerators, freezers, and air-conditioners. They also have furniture - chairs, tables, and storage cabinets. All these items are subject to damage in the case of natural calamities such as fires, lightning strikes, wind damage, riots, or vandalism. They may also be subject to burglaries or robberies when cash is stolen.
Coffee shops and cafes are also prone to food spoilage due to refrigeration units breaking down or other damage. Remember, there is a possibility of serving customers spoiled food, making them ill.
Cafes and coffee shops hire employees to fulfill functions such as customer checkout, food preparation, and waiting tables. There is potential for employees to meet with accidents on the job. It could be in the kitchen during food preparation or while serving in the dining room.
There is also a huge potential for customers to be hurt in an accident. These can include physical accidents as well as illness due to eating the food or existing allergies. Third parties, visitors, or customers may consider suing the coffee shop or cafe for damages.
Customers also share some sensitive information, credit and debit card payment information, or if they are using your phone app, other private details too. With the rise of cyber-attacks, this information can be compromised.
Coffee shops and cafes may own vehicles to transport supplies or do deliveries. The vehicles may get damaged in an accident and hurt another driver and damage their vehicle. The employed driver may also sustain injuries. There is also the potential for a vehicle to be stolen or damaged by flood or fire.
Food Service establishments can protect their businesses from such risks by investing in adequate coffee shop business insurance.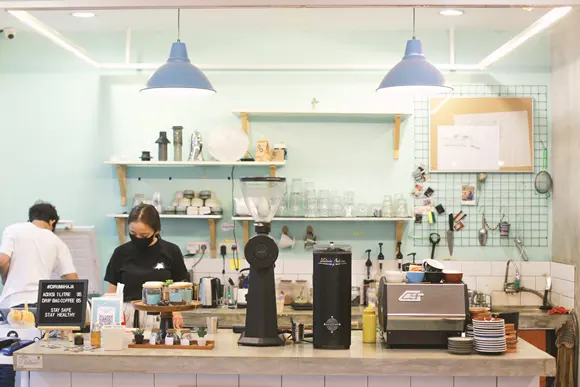 Comprehensive Insurance is Key
Coffee shop insurance costs vary based on the specific needs of the enterprise and the type of insurance they choose. Here is a snapshot of commercial insurance recommended for coffee shops and cafes:
General Liability Insurance
The need for bodily injury liability insurance to pay for subsequent liability claims and lawsuits is a reality in the case of coffee shops and cafes. General liability insurance is a category of small business insurance that protects small businesses from the financial fallout incurred due to common third-party bodily injury or property damage liability claims. General Liability insurance covers expenses such as lawyer fees, court fees, and awarded compensation.
Business Owner's Policy
This is a type of comprehensive insurance that includes both general liability as well as commercial property insurance. The latter protects coffee shops and cafes from extensive damage to owned physical assets such as furniture, inventory, fixtures, and appliances for losses caused by windstorm, fire, theft, lightning, or vandalism, among other covered perils. A business owner's policy can also protect businesses through add-on insurance types such as computer coverage, crime/robbery, employee dishonesty, and sometimes non-owned auto liability. This policy is a perfect fit for small to mid-size businesses in lower-risk industries.
Workers' Compensation Insurance
Coffee shops and cafes have employees working onsite. They include servers, cashiers, food preparation staff, and cleaning crews. Employees are at risk of getting injured on the job. It could be during the process of food preparation or serving customers. Sometimes an accident can happen due to basic clumsiness. Workers' Compensation pays benefits regardless of fault as long as the injury occurred on the job.
The consequences of such incidents can include physical injury, emergency transport, hospitalization, medical bills, and inability to continue working. Workers' compensation insurance covers expenses such as ambulance services, medical expenses, lost wages, and death benefits to the next of kin. The Employers' Liability coverage included in the workers' compensation policy provides liability coverage for potential employee lawsuits alleging employer negligence.
Commercial Auto Insurance
A coffee shop and cafe business may own vehicles to transport food and beverage inventory. They may also offer a home delivery service. Auto accidents, which result in damage to the company vehicle and, when at fault, bodily injury and property damage liability to the other party involved. Drivers may also sustain injuries, but if these occur while working, your driver's injuries are covered by workers' compensation.
What if the vehicle that hit your auto is at fault and doesn't have insurance? Having Uninsured Motorists (UM) Coverage is a good idea, and this will cover claims that someone else is liable for but didn't have the insurance to cover their liability to you. Adding to the UM insurance, Bodily Injury and Property Damage Liability, Comprehensive and Collision physical damage, Rental Reimbursement, and Personal Injury Protect (also called No-Fault in some states) is a solid business auto policy. Having adequate Commercial Auto insurance for coffee shops and cafes is good protection against such outcomes.
Cyber Insurance
Today, coffee shops and cafes often ask customers to share their data. The data comprises emails, phone numbers, birthdays, and home addresses. Your shop may accept digital payments and have client credit card or bank account information. With the growing incidence of cyber-attacks worldwide, there is potential for such sensitive data to be compromised. However, cyber insurance covers critical expenditures incurred in cyberattacks, including expenses, defense costs, awarded judgments, and public relation management.
In Conclusion
Starting and running a coffee shop or cafe business is a challenge as it is. Even if the enterprise has cultivated a stellar reputation and attracts many customers daily, this journey can get sidetracked without the right insurance. Purchasing appropriate insurance coverage for coffee shops and cafes is crucial in contributing to a successful, long-lasting enterprise. It allows business owners to focus on their business goals without worrying about common risks adversely impacting the finances and the basic existence of the business.
Coffee shops and cafe businesses can connect with a reputable insurance agent at InsuranceAdvisor.com to access competitively-priced insurance products to meet their business's needs.
We Are a Trusted Insurance Provider