The small business unit is one of the most popular business formats in the world. Not only needs this, but small business owners are the backbone of the US economy and cater to multiple consumers. One small business that is customary in most countries is a dairy product store providing consumers with milk, cheese, clarified butter, bread, and so on—which are indispensable menu items. For instance, no town, village, or city is complete without the local dairy product stores, which cater to the dairy needs of the neighborhood. Some of these retail outlets are only selling ice cream or frozen yogurts. Now, most stores that used to sell only dairy are now convenience stores offering an abundant choice of products.
Yet dairy, ice cream, and convenience stores are vulnerable to several potential exposures to financial loss. This is where investing in commercial insurance coverage is an important step toward protecting the business from many hazards. In fact, by purchasing needed insurance, you are making your store a sustainable and profitable business. In this article , we delve into the various potential loss scenarios as well as how to purchase small business insurance coverage based on the company's budget and needs.
Potential Hazards Facing Dairy Stores
Several things can go wrong when it comes to the smooth running of a dairy product store:
Any commercial space has the potential for accidents that can affect a customer's well-being. For instance, a customer could slip on ice cream on the floor or water that has leaked from a broken freezer.
Small dairy store business owners can incur losses due to hazards such as a fire breaking out from an electrical problem. The building and contents could be completely wiped out by such an occurrence.
At times, employees in the store may get injured due to an accident. They may require medical care and compensatory wages until they recover.
Milk bottles, ice cream, and yogurt need to be continuously stored in a temperature-controlled environment. If storage equipment breaks down or the electricity goes off, it can lead to spoilage and loss of inventory. This could even result in spoiled food being unknowingly sold to customers who may become very ill.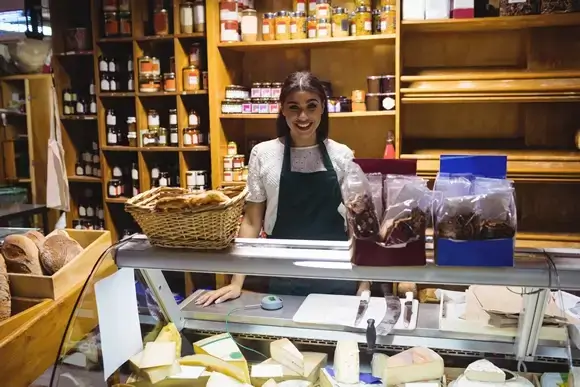 Impact of Losses on Dairy Product Stores
When dairy stores experience any of the above issues, it can impact the business in multiple ways:
Reduced profitability: All these occurrences come at a cost, which eats into a store's profits.
Closure of the business: When a property gets damaged, it can lead to the temporary or permanent closure of the store (at worse) if the store owner does not have money to make the repairs immediately. The loss of income incurred while the store is closed prevents the owner from paying bills.
Loss of reputation: It can lead to a loss of reputation when the store owner is not in a financial position to compensate employees and customers directly for the injury or property damage suffered.
Increased expenses: Lawsuits filed by aggrieved parties are expensive to defend if conflicts are not addressed early on. Besides legal expenses, there are awarded damages or settlements to pay also.
How Does Dairy Products Store Insurance Help
As you can see, small businesses such as dairy shops, which run on a tight budget, are especially vulnerable to several hazards. Investing in small business insurance is a key safeguard against the various problems that can culminate in financial loss, loss of reputation, and closure of the business. Businesses need to get adequate insurance coverage through good small-business insurance policies to protect their business
Insurance Policies for Dairy Products Stores
There are three types of insurance policies that are relevant for small businesses such as dairy product stores:
1. General Liability Insurance
A dairy product store is frequented by the general public. Hence, there is a potential for accidents to occur on the property. General liability insurance, also known as commercial or business liability insurance, protects small businesses from losses that occur due to bodily injury or property damage occurrences for which your business can be held liable.
For instance, if a customer gets injured on the store's property, general liability insurance will cover claims for damages due to medical expenses incurred by the customer.
Additionally, it can cover aspects like defense against lawsuits seeking liability damages and court costs, to name a few. However, it does not cover worker or employee injury or compensation, criminal acts, or employers' liability; you will find these coverages under separate policies. It also covers a business against liability due to personal injury caused by libel and slander.
2. Business Owner's Policy
This type of insurance combines general liability and property insurance to offer more comprehensive coverage. Dairy products store owners should consider taking out a business owner's policy. Merely having general liability insurance leaves them vulnerable to the impact of property losses such as inventory and business personal property.
Property insurance coverage is an extremely important protection policy for any enterprise that owns a commercial space and has money invested in fixtures, refrigeration units, inventory, point-of-sale systems, or any other assets. Remember the loss of business income is reimbursed when damage to the structure by a covered peril forces a temporary or permanent closure. Replacement of lost income could be the difference in your business surviving or going under.
Remember to get spoilage coverage on your perishable stock in case of power failure. With a BOP, you get some built-in coverage like business income or employee dishonesty and can endorse other types of coverage, such as spoilage, onto the policy for an additional premium.

3. Workers' Compensation Policy
Instituting a workers' compensation policy can prove to be a win-win for both small business owners and employees of dairy stores. This policy offers workers statutory benefits in their state if they injure themselves in the course of their work.
The compensation goes towards payment of medical care, prescriptions, physical therapy, and wage replacement in case they are temporarily or permanently disabled or even if they can't work for a short time because of their mishap.
While workers' compensation policy protects small business owners in such cases, it is also an incentive to attract and retain workers. Additionally, sometimes the law requires small business owners to offer workers' compensation. If they don't, they could be subject to certain penalties.
Key Takeaways
While buying insurance, small businesses need to understand their business's risks and invest in relevant commercial insurance based on their needs. The cost of not having small business insurance is high, and store owners could be at risk of losing the business altogether.
Small business owners can partner with an insurance provider such as InsuranceAdvisor.com to identify the small business insurance coverage that meets their needs.
We A
re a Trusted Insurance Provider